As a follow up to my article "Frugal Tips: How To Make 10 Ordinary Things Last Longer", I bring you this awesome guest post by Mrs. Accountability. She writes at Out of Debt Again, a personal finance blog where she details her family's journey to getting out of debt and living frugally. If you find the following tutorial on button sewing as impressive as I do, please consider subscribing to Mr's A's Out of Debt Again RSS feed. I'm one of her fans!
A Stitch in Time Saves Nine
One of the things I do when I buy a new (or used) piece of clothing is to check that the buttons are sewn on properly. Losing a button can ruin an outfit (thereby costing you money), so this is something you shouldn't overlook.
Just before Christmas, my hubby bought me one of those long cardigan style sweaters. It was a gorgeous brown color, very flattering to my figure, but as is my custom, I checked the buttons to find that they were attached rather haphazardly. One of the buttons was attached by only one set of holes, while the others were threaded with just a few loops of very lightweight thread. I knew it was only a matter of time before one or more of these buttons would be lost.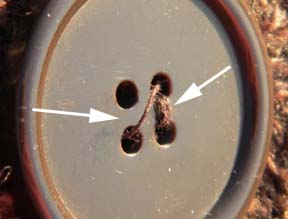 Unfortunately, I've noticed that this is becoming more common with clothing especially when purchased from stores such as Walmart or Target. As a frugal person, I don't want to lose buttons which would devalue the product, in some cases rendering it unusable (unless of course I find a replacement button or replace all the buttons). So here's my frugal tip: when I find a loosely attached button, I take a few minutes to sew it on properly. Sometimes an extra button comes with the article, so I will spend another minute or two attaching the button to a hidden area; this pretty much negates my chance of losing the spare button. Plus, if I decide to donate this sweater at some time in the future, I know the spare button will go with it to the next owner.

Just a note: most buttons are probably sewn on with machines, so that is why in the next photo you see the one strand of thread going from the bottom right buttonhole to the upper left buttonhole. This is not the correct way to sew on a button, so don't do it this way.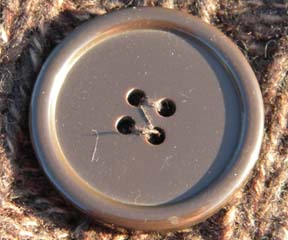 Guide To Sewing Buttons: How To Sew On A Button Correctly
Okay, so let's get started on sewing your buttons!
You'll need a needle and thread, and a pair of scissors. If you don't have these items, you can easily find them in just about any store you shop — your local grocery or drugstore will usually have at least a sewing kit for sale. You can be a little more choosy if you go to a crafts store, like Joann or Michael's. I would recommend keeping at least a spool of white and a spool of black thread on hand. Choose a needle that has a large eye for ease in threading; or if you don't see too well up close, pick up a needle threader.
First thread the needle. The thread will feed through the eye of the needle more easily if you cut it rather than pull to break.
Once the thread is in the eye, pull a length of thread about 12-16 inches long. If you are using a needle threader, put the needle threader first through the eye of the needle, then feed the thread into the needle threader. Now pull the needle threader out of the eye of the needle and your thread will come through the eye of the needle as well.
Double the thread over so that you have 12-16 inches of doubled thread.
To make a knot at the end of the thread, wrap the ends of the thread around your index finger.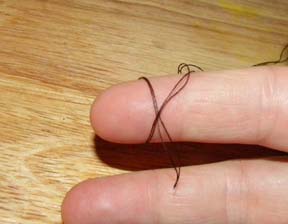 Then roll the thread down to the end of your finger, using your thumb.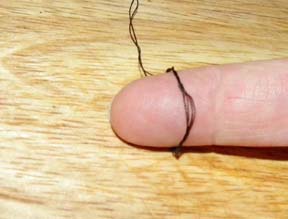 Take the little mass you've produced and pull on it lightly to tighten it into a small knot.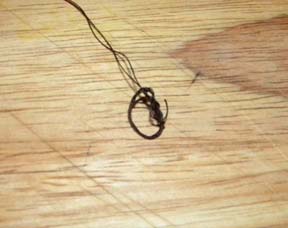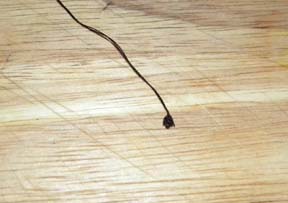 Take the article of clothing and insert the needle on the underside, threading it out through one of the holes in the button.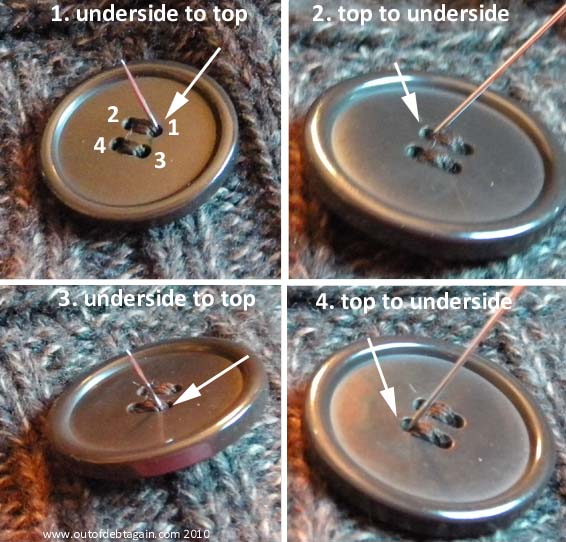 Continue to feed the needle into the button from one side and then the other. Do this six or seven times until you are satisfied that the button is attached properly. Now on the wrong side under the button, make a knot by sewing into the material and making a loop with the thread, several times. When you feel confident that the thread won't break loose, cut the thread.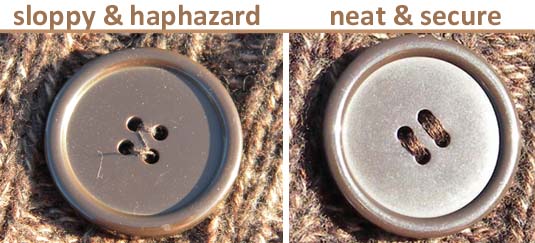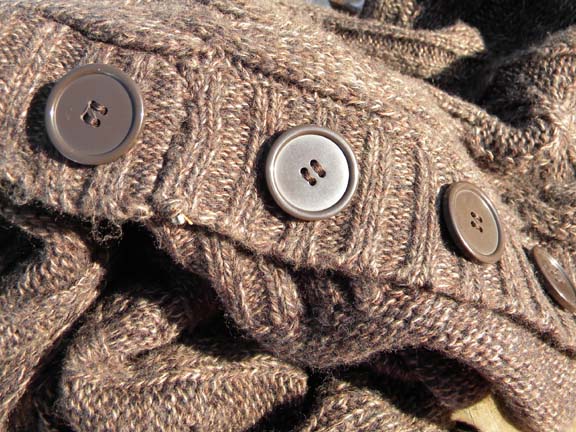 If an extra button was included with the garment, sew it onto a hidden place on the inside of the garment using the same method. I usually sew one set of holes, so it will be easier to slip a pair of scissors under the button to snip it free if I need to replace a lost one.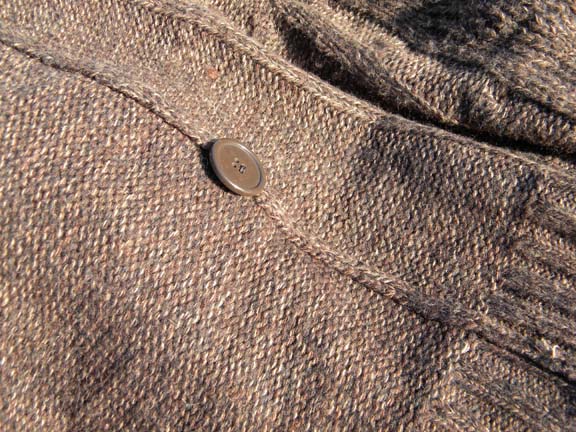 By taking a few minutes to attach your buttons properly, you will prolong the life of your garment, and the next time you need to replace a button, you'll be able to do it yourself!
Copyright © 2010 The Digerati Life. All Rights Reserved.