We all want to stretch our bucks as far as we can even as we replenish our grocery supplies every week or replace old items that we need to make our lives function smoothly. It was surprising to me how much money we can save if we just make some everyday things last longer.
Take for instance this 84 year old fellow who has driven the same car all his life: a 1929 Ford Model A with 200,000 miles on it. Clarence Cleveland Curtiss bought a used car for $10 during the Depression when he was 15 in the year 1938, and has kept it ever since. And based on these figures, he's probably saved at least $31,000 by doing so.
So clearly, the bigger the item and the longer you try to preserve its life (within safety guidelines), the less money you'll have to fork out for replacements. Your high interest savings account and the environment will both be happy.
This fellow has a car that is lasting as long as he is!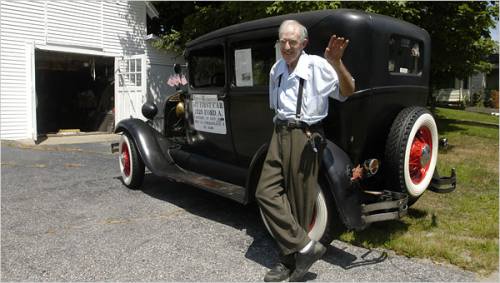 Frugal Tip: Make stuff last longer!
The biggest savings tip here for anything you own — see if you can consume less than is recommended, just as long as it doesn't affect the potency of the item or material you're using. Other tricks involve caring and maintaining your everyday things in a way that lengthens their shelf life.

Here are a few interesting pointers on how to get the most out of some common household items:
Soap
If you're using a soap pump, then try putting a rubber band around the base of the pump, looping it tightly. This will prevent the pump from going down all the way, but should still cause it to pump out an adequate amount of soap. Expect this to make the soap in your pump last longer.
I've actually tackled this topic in full in my article: "Cheap Ways To Watch Your Hygiene" where you can get even more tips on getting clean the frugal way!
Scented Candles
Get your candles to last longer by chilling them!
This is an old trick that is used by frugal people and the candle companies themselves. Chilling the candles before you use them makes the wax burn more slowly and evenly. Some say that the best way to do this is to freeze the candles for 24 hours before burning them. Others say that just storing them in the refrigerator for eight hours before you burn them is enough to do the trick.
Clothes
The biggest culprits to your clothes' wear and tear are what you'd expect: the acts of drying (even at low heat) and washing. Since fabric does not regenerate, the constant whirl and tumble experienced by clothing in cleaning machines will gradually erode fabric.
If you want to preserve your clothes, then line dry them. This isn't the most convenient or practical way to dry your clothes, but it will slow down their wear.
Most of the time you find a hole in a sock, it's when you're folding it warm from the dryer. You know all of that lint that you clean from the dryer filter? It used to be fibers in your clothing. Think of how many bags of lint your clothes lose in a year. Hang your clothes, and you will save them to clothe you another day. Every wash leeches color and fibers from your clothing. There is not much you can do to get around this one, unless you want to alienate everyone around you with smell. You can wash your clothes in cold water. You can wash them on the gentle cycle with gentle detergent or you can wear them more than once before washing.
Carpet
Cheap carpets will typically last you from 3 to 5 years while good quality carpeting may have a life lasting 10 to 20 years, if you take good care of it. At this time, our own carpets are approaching 9 years old and they still look pretty good! These tips should help add some life to your fabric flooring:
Rearrange your furniture, so that wear becomes better distributed.
Vacuum regularly.
Avoid tracking in dirt.
Shampoo your carpets and rugs.
Snip loose threads.
Treat spills and stains quickly.
Designate eating areas.
Car
You can save several tens of thousands of dollars if you decide to drive your car to the ground. These days, both our cars have logged 100,000 miles each and are still going strong. There's even a used car market out there for cars that have over 200,000 miles in them! If your car is regularly well-maintained, you'll most likely extend your car's lifespan:
Change your air filter yearly.
Rotate your tires.
Change the oil regularly: depending on your vehicle, that's around 3,000 miles or 3 months to 7,500 miles or 6 months.
Change your transmission fluid generally once every 30 or 60 thousand miles, depending on manufacturer's recommendations.
Drain the radiator.
Change your spark plugs.
Check your exhaust system.
Clean your car: wax and wash.
Light Bulbs
The trick to longer lasting bulbs is to simply invest in greener, more efficient alternatives. I also covered frugal lighting in my article: "Trim Your Energy Costs".
When choosing the greenest option for lighting your home or office, look to the new light emitting diode (LED) light bulbs as the next generation green alternative. Currently, compact fluorescent bulbs (CFL) get attention as a lower-energy bulb than traditional incandescent bulbs. However, new LED bulbs are on the rise as the green bulbs of the future and the replacement for CFLs.
Food
Statistics show that American families end up throwing out 14% of their food because of spoilage. So here are some tricks to keep your food fresher, longer:
Store fruits and vegetables separately to slow down the "ripening" process.
Store food at proper temperatures.
Vacuum seal food in zip lock bags to better preserve them.
Protect dry goods from insects and pests.
Chill bananas after they ripen. The peel will darken but the fruit will last longer.
Store leftovers in airtight food containers.
Mattress
Mattresses are expensive — I just bought a couple of twin mattresses for my kids, and it ran me several hundred bucks each. I'm hoping I don't replace them for a really long time. To maintain them well, I'd try this:
Redistribute the mattress wear so you can get the most out of your bedding. You can flip your mattress every other week or month. You can also try rotating it without having to flip it. Also, use a mattress pad to keep the mattress clean and away from stains — a great idea since mattress pads can be laundered.
Flowers
I love fresh flowers and often have them in my home on a regular basis. We get ours from our garden but once in a while we get them from the local stores as well, where they can cost $5.00 and over. Allow frugal displays to brighten up your room longer by doing the following:
Cut off all leaves that will be submerged in the water before putting flowers in a vase. Rotting leaves speeds up the deterioration process.
Cut flower stems at an angle for better water absorption by the plant.
Change out the water in the vase or plant container regularly.
Keep flowers away from direct heat or sunlight.
Add flower preservers to your arrangement.
Razor Blades
Anyone who shaves may want to know how to stretch the use of their razor blades. Here are a few interesting pointers I picked up from a frugal forum:
People try all kinds of tricks to make razor blades last longer, including storing them in oil or even placing them on a prism to channel pyramid power into the blade. However here is a simple technique that seems to work: dry the blade after use. According to the Chicago Tribune, the concept is this: razor blade dullness stems more from oxidation and microscopic rusting, rather than from contact with whiskers. Water that sits on blades between shaves causes the oxidation. Corrosion can cause metal on the blade to flake off and the edge to become blunted and jagged. That results in blades pulling and tearing hairs instead of cleanly slicing through them.

By blotting his blades on a towel after use, someone extended the use of a blade from ten days to five months.

Or you can also "rinse the razor in water, shake excess droplets, dip it in alcohol, give it a good swirl (it really does clean far more thoroughly than water), then shake out and prop it in its holder. The alcohol drives the water out and then quickly evaporates."
All sound easy enough? If you've got frugal tricks like these up your sleeve, I'd love to hear them!
Image Credit: New York Times
Copyright © 2008 The Digerati Life. All Rights Reserved.