How often does this happen to you? You buy a nice, fun, fancy toy for your kid. He or she ignores it for the box and wrapping paper.
It happens so often that I suspect there's some evolutionary basis for what I've been observing at home.
I pride myself on hunting down just the perfect thing I know will thrill and impart knowledge to my kids. I got it down pat: check catalogs for the "perfect" toys, then scour Amazon.com and other online retail sites for the best deals on these very items. I pat myself on the back when I get a cool bargain or two.
Upon receipt of the shipment, my kids are keyed up and ready. They're excited alright. But not for the treasure in the brown delivery box on the doorstep. No… they're crazy about the box. The plain, old cardboard box that they'll be spending hours hiding in.
Kids are easier to please than you think, so imagine all the money you'd save if instead of this,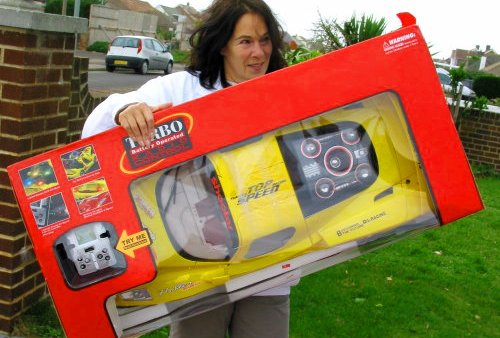 Photo by themikemendozashow.co.uk
you went for some other alternatives:
The Humble Cardboard Box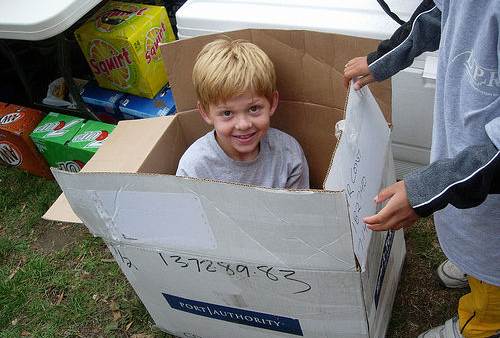 Photo by Casual Key Strokes
Bubble Wrap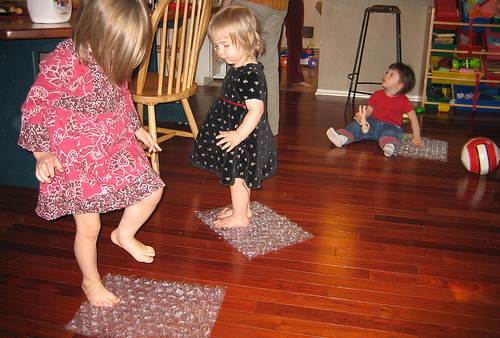 Photo by Entropyman
DIY Suit of Armor or Robot Outfit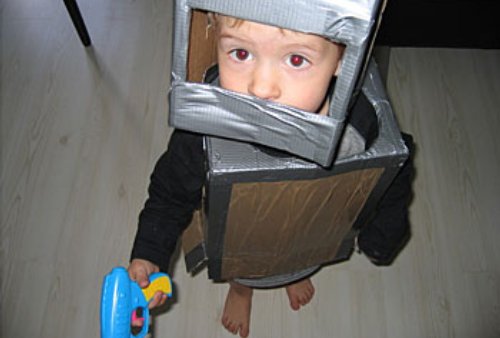 Credit: BoingBoing.net
Furthermore, experts say that the classic, old-fashioned toys are indeed healthier for your children than electronic, expensive toys and gadgets that are the rage these days. This Science Daily article describes this finding:
"Old-fashioned retro toys, such as red rubber balls, simple building blocks, clay and crayons, that don't cost so much and are usually hidden in the back shelves are usually much healthier for children than the electronic educational toys that have fancier boxes and cost $89.99," says Temple University developmental psychologist Kathy Hirsh-Pasek.

The overarching principle is that children are creative problem-solvers; they're discoverers; they're active, says Hirsh-Pasek, the Lefkowitz Professor of Psychology at Temple and co-director of the Temple University Infant Lab. "Your child gets to build his or her imagination around these simpler toys; the toys don't command what your child does, but your child commands what the toys do."
From the article, these additional recommendations jumped out at me:
Toys that allow kids to explore help them learn those lessons needed to function in our world.
Pick up a toy that is 10 percent toy and 90 percent child. A great toy would be something that triggers and develops your child's imagination. The more uncomplicated and simple toys (which are typically much cheaper) are of this kind.
Be skeptical of toys that make grandiose promises, such as those that claim they'll turn your child into a whiz kid or jock.
While observing my kids' play patterns, I've noted that they can be pretty fickle about what they play with. They can have short attention spans, with toys suffering limited lifespans in their clutches. You may therefore want to think twice before getting them stuff that's pricey or even brand new!
The benefits of toning down our toy choices go beyond the economic. Besides being more affordable, basic toys help round out our kids better. And they can be fun to make yourself! If you've got junk lying around, you may find that with a dash of creativity and enthusiasm, you and your children can wring hours of fun from it.
A long time ago, we survived without XBoxes or Gameboys or even Talking Elmos. My favorite plaything was a cheap set of jackstones. What makes today's kids any different from past generations?
Copyright © 2008 The Digerati Life. All Rights Reserved.