Do you love gaming, but want to do it for less? Here are a few suggestions on how you can enjoy the best video games while keeping an eye on your budget.
When I was younger, my parents brought home an Intellivision gaming console, thereby turning me into a gamer for life. Fast forward a few decades, and imagine my surprise when they gave me a Sony Playstation 3. Although I'm fortunate to have such generous parents, I'm interested in finding out how to get a new gaming console for less than full price, and whether it's possible to be a "gamer" on a budget. Electronic toys have fairly short lifespans, so it's always good to pick up money saving tricks before you shop for that next big toy or gadget.
How To Get Into Gaming Without Spending A Lot
1. Figure out which features you want.
What features do you want for your next video game console? If you want to play games as well as watch Blu-ray movies, you should check out the PS3. If you want a bigger catalog of video games and a media center, the XBox 360 might be your thing. How about the Wii? It has games for a wide variety of age groups. In addition, handhelds like the Nintendo DS and the PSP offer connectivity with their console siblings. By narrowing down your choices, you can allocate your money to those items you really want.
2. It's worth it to study the available games.
A large number of games are available on multiple consoles, such as Star Wars: The Force Unleashed and Madden NFL 09. However, if you're a fan of a certain series, you should check to see if it's out on the console you're eyeing. For example, the popular game Metal Gear Solid 4 that was released only on the PS3 and Halo, is actually an XBox franchise. If you want to spread your Mario addiction to the next generation, then catch your gold coins on the Wii. Don't forget to peruse the low-priced games that you can download via the Playstation Network, XBox Live Arcade, and the Wii Shop Channel.
You can also learn about games at rental places like and in stores like Blockbuster.com. Going through the list of rental titles can be a barometer of what's popular on the game systems.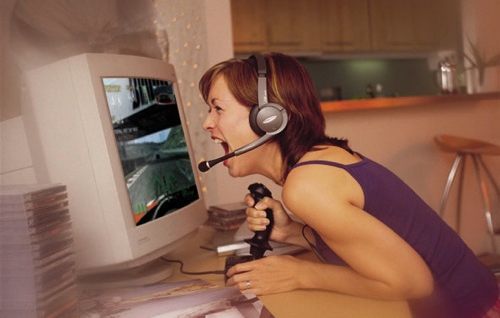 Photo by Gaming Today
3. Will you still love Wii tomorrow?
I'd love for Wii Fit to tell me how I could be healthier, but I won't buy a console for just one game. I'd have to convince myself that I'd still be using the Wii a year from now. One way to do that is to make a list of five must-have games. Also, I could ask people I know who own Wiis if they think it's a good match for my family. Other good sources of console talk are the gaming blogs like Kotaku.com and Joystiq.com, which will let you know what's going on at the moment with your console of choice.
4. Find the best prices for video games or pick up second-hand titles.
Retailers like Best Buy and Walmart usually have a steady supply of consoles available. However, a little patience and price-tracking can be more rewarding in the long run. A peek at Google Product Search turns up a ton of listings for the Xbox 360 in a range of prices. But for an even better bargain, purchase a used system from marketplace favorites like eBay or Craigslist, or go through second-hand titles and offerings at stores like GameStop and Blockbuster.com.
5. Don't forget the accessories.
Before you finish console shopping, see if you need accessories like extra controllers, a remote control, headsets, keyboards, or memory cards. I just got an e-mail from Buy.com listing some great prices on a Memory Stick that my PS3 would eat up.
6. Customer service may not have to cost extra.
One other factor to consider if you own a console, is how best to get it fixed if the need ever arises. The good news is that customer service departments from the game console companies are usually quite responsive.
Sony made things easy for me when I had problems with my PS3's Blu-ray drive. After I called customer service, they sent me a shipping box for the defective console and mailed me a replacement unit within a week or so. Since I was still in the warranty period, it didn't cost extra.
Although the Xbox 360 got some flak for the well-known "Red Ring of Death" problem, the warranty coverage for the console seems generous with regards to this matter. Nintendo also offers a one year warranty for its products. These warranties usually apply to the original purchaser, so keep those receipts handy.
On the flip-side, there's at least one downside to owning a used gaming system: those of you who buy a second-hand console may need to pay extra for repairs — ask the seller before you commit your money.
7. And finally, don't be an early adopter.
Remember the headlines when the PS3, the XBox 360, and the Wii first came out? In some cases, the consoles were hard to find. If they weren't in retail stores, they were popping up on eBay sporting some tremendous prices. To avoid the rush the next time a new console releases, and to sidestep the shortages and the stratospheric prices, wait until the shopping frenzy dies down.
By watching the prices, listing what you want ahead of time, and making room in your budget for games and accessories, you can start gaming with your family in confidence. As for me, I'm off to find some treasure and explore some abandoned dungeons while I wait for Final Fantasy XIII!
Copyright © 2008 The Digerati Life. All Rights Reserved.