Use grocery coupons and save a bundle on your shopping bill. Here are some online coupon resources to help you save on groceries.
How Do You Save On Groceries?
I'm always amazed (and a little jealous) when I read about those clever grocery shoppers who manage to get $200 worth of goods for $3.24. Then my mind conjures up images of frazzled individuals racing through the aisles of a grocery store pushing a cart full of canned goods and convenience foods ahead of them while towing a second cart full of carefully clipped scraps of paper behind them, and paying with 324 pennies at the checkout.
I'm sure this is not really the way these smart shoppers really navigate the aisles. If you'd like to do more to join their ranks, maybe these articles on the topic of frugal grocery shopping can be of help:
From these posts, a common money saving tip I've come across is to make use of coupons. I clip coupons when I think of it, which isn't often, and I use them even less often (I forget I have them — I call it couponesia). See, I don't buy newspapers, which is where I've always thought coupons come from. I tend to read my news online to save paper and money. But I've discovered that I can get grocery coupons online, too! Here are just a few sites that offer the printable kind: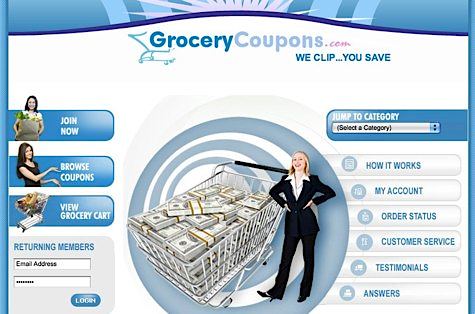 GroceryCoupons.com
Where To Get Printable Online Grocery Coupons
One of the most popular coupon resources around, Couponmom offers a free membership, and strives to be the one stop shop for all your coupon needs. They maintain a grocery coupon database, forum, blog, free ebooks, coupon and deal alerts you can sign up for and of course, printable grocery coupons and free samples. I like the wealth of information here and helpful tools, but a lot of their offerings just point to (and lead to) other web sites and software that provide you the actual coupons. Many of these resources will require you to register.
Here's an online coupon clipping and delivery service — a custom coupon service, if you will. They charge a $9.95 annual membership and also charge you a 10% processing fee plus 75 cents for shipping. However, they'll reimburse your additional processing and shipping costs by sending you extra coupons. Still, bear in mind that you're paying for the coupons via those additional fees since the extra coupons that come to you may not exactly be what you're looking for. You're really paying for the convenience of having someone else find, clip and send you the coupons you need.
SmartSource offers coupons on lots of name brand products with no registration required. However, printing the coupons requires the installation of software which some anti-spyware programs may flag. I also found that the vast majority of the available coupons were for products that I would never buy, though there were a few good ones.
Coupons.com also features coupons for many products with no registration required. Much like SmartSource, Coupons.com requires the installation of software for you to be able to print the coupons; however, there is a claim on the installation page stating that the software is not adware or spyware, and that it will not collect any personal information about the user.
Eversave requires registration. When I checked it out, I registered, and then the site forced me to go through no fewer than eight pages of affiliate offers before dumping me at the SmartSource coupon site. Depending on your requirements, you may find some of the offers valuable (e.g. a good number of items were baby-related), but I didn't find anything of particular interest to me. If you don't mind jumping through a few hoops, they may be worth checking out.
TheCouponClippers has the same premise as GroceryCoupons.com, where you buy just the coupons you can use and they are mailed to your home via the good ol' USPS. For instance, a coupon for $1.00 off a purchase of two boxes of General Mills costs $0.12. You can also buy more than one of any given coupon, so if there's a specific product that you use a lot of, you can still save, even if you buy in multiples. No scissors needed.
There are other sites out there that do a whole lot of work for you. TheGroceryGame, for instance, compiles information about coupons and your local stores' sales, both advertised and unadvertised, to help you find the best possible deals on groceries — for a fee. A four-week trial costs $1. After the trial period, the price increases to $10 for eight weeks for data collected for a single store. Additional stores can be added for $5 for eight weeks. The site claims that the average member saves 67% on their weekly shopping. The downside is that not all areas get great coverage (the only store that is listed in my area, for example, is Rite Aid), and you still have to clip your own coupons.
After checking around, I've realized that grocery coupons are so easy to find online that I really have no excuse for not joining those supermarket savvies who could feed their entire extended family for a week for what I spend on a spaghetti dinner for two. Except for the couponesia, that is.
Copyright © 2009 The Digerati Life. All Rights Reserved.