Here are some of our ideas and tips on how to set up your home office.
Earlier on, we shared some general pointers on how to start an online business, where we talked about how to open an eBay store or build a website or blog. This time, I thought to put together a resource list for what we'd need to equip the home office. What kind of equipment do you have in yours?
Start An Internet Business: How To Set Up Your Home Office
Here's a simple list of typical things you'll need for a home office:
1. Use a dedicated computer.
Although it's tempting to use the family PC to run an online business, you'll run into potential problems if you decide to share the computer with someone who loves to do free downloads or who hogs it to play video games. If you need to go computer shopping, you can let your fingers do the walking by computer shopping at well-known sites like Sony and Dell. By going through the listings for new and refurbished computers, you can gain a general idea of how much to budget for this purpose and the sort of options you'd like.
For instance, if you don't plan to do a lot of high-end graphics editing or gaming on this computer, then you could live with a less-powerful setup that costs less. Also, you should check to see if the company will throw in cheap or free extras, like a memory upgrade or a webcam. And don't forget to ask about rebates before you pay for anything!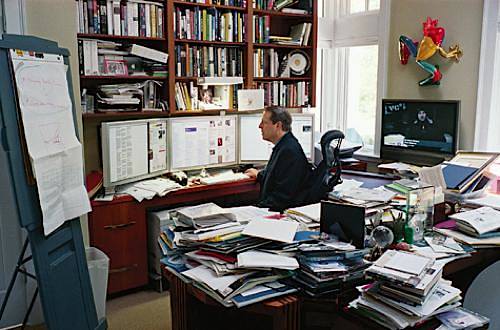 Office of the guy who started the internet. Image from Time.com
2. Keep your data safe.
If you're going to spring for a new computer, you'll also need to figure out how to back up your data on a regular basis. Newegg.com has everything from external hard drives to memory cards at reasonable prices. And once your online business expands so much that you need your own server, you can either buy one here, or decide to lease the space you need at Amazon.
For online backup solutions, I'd suggest either Mozy and Carbonite; I've had to make sure to use this kind of service, especially since my area of the country suffers through turbulent weather every so often.
3. Which software do you use?
Of course, you can't work without software. Some folks may be comfortable with Google Docs, but most standard computer installations also need an office suite that can go a little further. Microsoft Office Small Business works for Windows XP and Vista; Microsoft Office for Mac can help you if you go for an Apple offering; and if you run with Linux or just want an alternative, there's OpenOffice. To manage any accounting you need to do, you can turn to QuickBooks Pro 2009.
In addition, it's wise to install an antivirus program. I've heard good things about Kaspersky Anti-Virus 2009 and ESET Nod32.
4. Shop for a printer or all-in-one.
If you need to print ad copy or invoices, you'll need a printer. We have the Epson Workforce 600 Printer, which we like a lot; but if you're interested in some other models, check out HP.com. They have a lot of models to choose from, including all-in-one models that can fax, scan, and copy or laser printers for those times when you have lots to print. Since I only send a few faxes a month, an all-in-one model makes more sense for me than a separate machine, but your situation may be different.
You can also look at the ink and toner choices and their suggested costs. To help control your costs for ink, you can consider a model that lets you refill the cartridges at home or through a vendor like Cartridge World.
5. Bring in the furniture!
Could your budding online empire need some extra furniture? If you've got a limited shopping budget, you may try out a chain like Target or Ikea to buy a few simple pieces such as a desk and chair. You'll also need some sort of filing system, a shredder, and a trash can. Also, if you're keeping any sort of inventory on hand, you'll want storage options that are pet-proof and can withstand nosy family members. One more thing that can help with organization: for convenience, you can try out a portable, mobile receipt and document scanner or digital filing system such as those offered by Neat Receipts.
6. Get connected with phone equipment options.
Right now, I'm happily using the VOIP service Skype because it's convenient and a lot of people use it, but there are other options you could also consider, such as Vonage or a landline service. Handsets are readily available, but if you go for a headset, read the reviews first to find a comfortable brand.
7. Stock up on office supplies.
I hate to start a project only to run out of the office supplies I need, so I like to stock up. I don't have a Costco nearby to buy in bulk, so I typically make a monthly run to an office supply store for the basics.
One place I like to shop is Buy.com. I like to scope out its prices for computer accessories and electronics, and the store often has good prices on shipping.
Well there's my to do list for the home office. When you're setting up your internet business, you don't have to spend thousands to get the office you want. Start with the basics and upgrade as your business expands, and set up a simple budget for your office supplies. And the biggest money saver of all? Don't forget to check with your tax consultant to see what qualifies for a tax deduction!
Copyright © 2009 The Digerati Life. All Rights Reserved.