Those of us doing any kind of work on our personal computers know how crazy things can get when the "infrastructure" goes down. Perhaps you want to start an online business or more likely, you care a lot about what you've got stored in your machines. If so, then you should get into the habit of backing up your data. Once, I actually had to shell out $1,450 for data recovery when my computer crashed without a back up system in place. Ouch! On this note, I thought to share the following guest post by Millie Kay G., about a couple of software options one can look into for managing online back ups.
~ooOoo~
For a lot of us, losing our important computer files means losing money. I keep many of my documents and pictures backed up in a portable hard drive, but using a computer backup service like Carbonite or Mozy is something I've been considering lately. I took a closer look at these well-known services to see if they are worth trying out.
Carbonite Backup Service Overview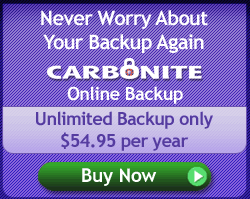 Carbonite is a popular choice in the data backup arena. Their service will back up your documents, emails, pictures, and even data from programs like Quicken. Once you pay for the service, you can elect to have it back up your music, videos, program files, and other types of data as well.
You won't run into limits on the amount of data you can back up. However, if you try to upload more than around 20 gigabytes of data, you might find the process slow going. As far as security is concerned, your data is protected by encryption. So if someone doesn't have your account password, you won't have to worry about them snooping through your stuff.
What if you need to restore data? Let's say you lose a file or a whole folder. In that case, you could go to your desktop to seek out your file or folder from your Carbonite Backup Drive and recover it by using the Restore option. Alternatively, if you don't have access to your computer, you can always visit the Carbonite website to get a hold of your data backup. It won't take more than a few minutes to recover small files or folders, but if you need to restore a large amount of your computer data, then you should plan on it taking a day or two, depending on how much data is involved.
Windows XP, Vista, and Mac users can all use Carbonite. Their website offers handy tutorials to show you the basics.
The Carbonite service costs $54.95 a year, which works out to less than $5 a month.
If you're wondering about taking the plunge,
try out the free 15-day trial
first.
Mozy Backup Service Overview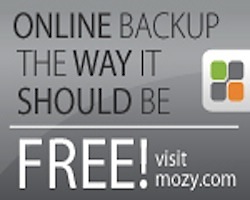 Another computer backup service that has earned kudos is Mozy. For users who want to use the service for personal use, there's MozyHome, which comes free with limited 2 GB of space. For unlimited storage, it's $4.95 a month. With it, you download the backup software, then choose which files you want backed up. Your files are encrypted while they're backed up, and they're encrypted a second way for storage.
You can schedule when your backups happen. The first backup you make will generally take the longest, if you've got a lot of data to archive. After that, the backups should be incremental. As mentioned, if you're using MozyHome for personal use, you can get 2 GB of storage for free. You can have two computers on one MozyHome Free account.
For those who want unlimited backups through MozyHome, you can sign up for a one year subscription for $54.45.
You'll get two months free if you prefer to sign up for a two year subscription.
Please visit this link
for more details.
You can restore your data in a variety of ways. You can right-click on any folder that needs recovery; you can go to the Mozy website to download your files from there; or you can order a DVD of your backup. It may actually be faster to order a DVD than wait for your backup to download on your home internet connection (think of the famous saying from the annals of computer networking: never underestimate the bandwidth of a truck full of magnetic tapes hurtling down the highway).
For business users, there's MozyPro. It provides an Administrative Console to manage backups from multiple computers, and you'll benefit from encryption, alerts, bandwidth throttling, and more. For each server and each computer you want to back up, you'll need to buy a license.
Now with regards to pricing: for desktop computers, it's $3.95 as well as $.50 per gigabyte each month; while for each server, it's $6.95 plus $.50 per gigabyte each month.
Before you decide on a computer backup service, keep in mind that this works best for users with high-speed internet connections due to the large amount of data involved. A free trial or account can give you a good idea if the service is a good match for your backup needs.
Why Outsource Computer Back Ups?
Why go with a computer backup service if you can do these tasks yourself? Well it's about making the time and effort to actually do what's needed, and frankly, for less than $5 a month, it's something I'd rather outsource. In my opinion, the convenience and peace of mind these services provide are worth way more than several dollars a month.
Also, if you did your own backups yourself, then you'd need a portable hard drive to make it work. It could make more sense to get some "data redundancy" by opting to store data elsewhere via a backup service. Data that's stored offsite can be easier to recover than say, a hard drive that's been burned, drowned, or dropped during an emergency.
Clearly, the consequences of missing out on regular backups are not pretty: if you forget to back up something yourself, then you might lose your precious data to a hard drive crash, a wayward virus, or theft if your computer's ever stolen. Rather than risk your livelihood, family pictures, novel-in-progress, or your music collection, you could rely on a computer backup service as your data storage solution.
For those who use (or have used) Carbonite or Mozy — do you have any thoughts on your service of choice?
Copyright © 2009 The Digerati Life. All Rights Reserved.