Would you know how to remove spyware, malware or any computer virus off your machines? Revanche of A Gai Shan Life shares her stories and questions on the matter of keeping one's computer clean! For more of her delightful anecdotes on life and finances, you can subscribe to her RSS feed.
The pop-ups and virus alerts were off the charts for me yesterday.
When Avast and Microsoft Defender both failed to trace which nervy little bugger was causing Internet Explorer, the bane of my browsing existence, to pop up with nonsense and Failed 404 error pages, I did what any savvy netizen would do: I emailed my young cousin, the family tech geek.
It was a much easier diagnosis than usual. He promptly (for a footloose and fancy free college student) emailed back with his suggestion. The free anti-malware du jour, he said, is found at Malwarebytes, a program that his private college uses in their tech department. I had some trouble initially downloading and running the purportedly free program, but I eventually worked it out and was presented with a list of infections discovered in my computer (most of which I recognized from the invasive IE pop-ups) along with a Paywall to fix them.
Verdammt!
Intrepid cousin did a few more evaluations. I then ran the nearly hour-long scan for a thorough check. This time, the program came through with flying colors, finding and repairing all points of infections. We've been running a clean ship ever since. I highly recommend the Malware program as an adjunct to your primary virus protections.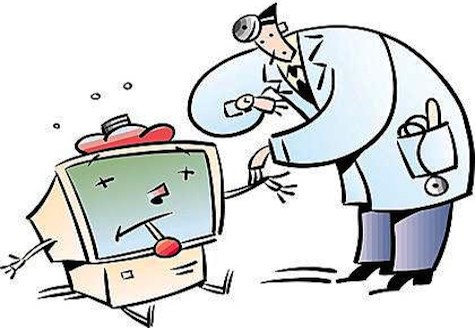 What anti-virus tools do you use? Here are a few popular ones:
Some of these products allow for free trials.
How To Remove Spyware, Malware or Any Computer Virus?
The quick and free (but for family favors) service got my wheels turning. I almost always have the benefit of a family or family friend's expertise when it comes to IT maintenance; the one time I used paid "experts" at the local Best Buy, I sorely regretted the experience.
In short, when it came to having "professionals" work on my computer, I did without my machine for two weeks whilst they "diagnosed" the problem and called me back to the store with a regretful, "We can try running a [insert unintelligible test here] but it'll cost $200 and then the repair will be extra. Oh, and you'll lose all your data whether or not we can fix the problem."
Thanks but no thanks! Here's what I ended up doing: I took my neglected machine home to find that the Geek Squad had left their mark in the irreparably broken brightness function. Robin managed to salvage the machine AND my data, but we co-existed with eye strain for another three years (always with a touch of resentment that my precious Vaio had been violated).
The late lamented CompUSA was always a decent resource for new parts and somewhat informed advice, but where does one go now for good IT and computer hardware assistance? Other than cultivating your very own Family Geek, do you have a reliable resource for troubleshooting? Would appreciate your thoughts!
As an aside, it's always a good idea to be prepared for computer downtime. Check out these articles on this subject:
Copyright © 2010 The Digerati Life. All Rights Reserved.