Here's how to get a free credit score while finding out if you can qualify and switch to a cheap personal loan.
The other day, I wrote about a new and free consumer service called Credit Sesame, which has the goal of helping you manage and optimize your debt a lot better. I'd like to share a positive update about their offerings.
Get Cheaper Loans Through Lending Club & Credit Sesame
Both Credit Sesame and Lending Club have been on the go lately — this time, forging a partnership together. If you aren't yet familiar with Credit Sesame, they are a new service that gives you a non-FICO credit score and also analyzes your debt situation. We covered some ground on them in our Credit Sesame review, and what I like about this service is that it won't cost you a thing to try them out, and more importantly, they give you a chance to drill down on your debt via some interesting features and tools. Their features were actually under development for many years.
When we first wrote about Credit Sesame, they were focusing on helping homeowners save money through debt consolidation and better loan options. But through their partnership with Lending Club, they are able to accommodate even those folks who are renters and who have credit card debt.

If you've got existing high interest credit card debt, car loans or any other personal (or business) loans, you've got the opportunity to consolidate up to $25,000 of this debt by shifting to cheaper loans. You can see if this could be a possibility for you by way of Credit Sesame's analysis of your debt situation. If it appears that you could qualify for a more attractive personal loan, Credit Sesame will give you a recommendation to apply for a balance transfer or debt consolidation through their partner, Lending Club (a peer to peer lending network). It is important to note that Lending Club requires you to have a good credit score of at least 660, before you can qualify.
Of course, nothing stops you from applying for a Lending Club loan directly. However, what Credit Sesame does is give you some great visuals of your debt profile beforehand, while showing you if you can qualify for the Lending Club loan, based on your credit history.
The Credit Sesame & Lending Club Integration
So how exactly does Lending Club integrate with Credit Sesame? Maybe these screenshots can help clarify how it all works:
#1 Credit Sesame provides advice to borrowers on how they can perform a balance transfer at lower interest rates.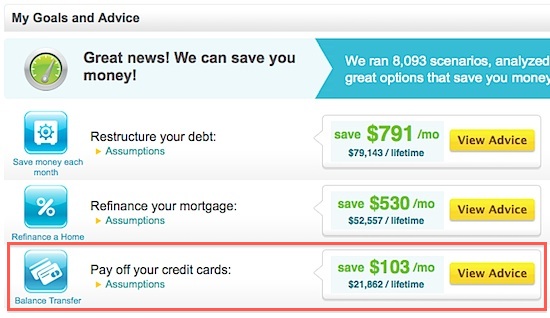 #2 Credit Sesame recommends using Lending Club, as a way to reduce debt.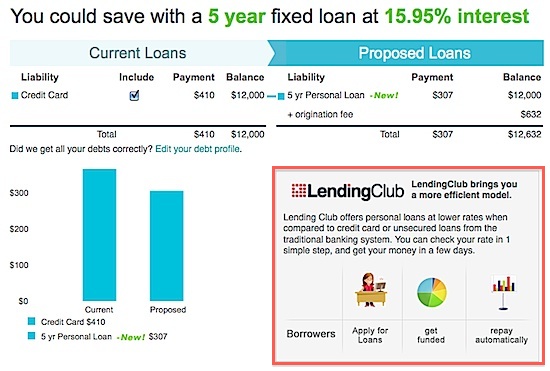 Lending Club can help cut your personal loan interest rates. Typically, credit card rates average around 14%, but shifting your debt to a p2p loan may bring your rates down to as low as 6.78% APR. If this sounds great and you'd like to get a good picture of your loans and debt, or see if you can qualify for mortgage refinancing while also getting a free non-FICO credit score, then check out Credit Sesame.
Disclosure: We are affiliates and users of Lending Club and Credit Sesame, and can vouch for the quality of their services.
Copyright © 2011 The Digerati Life. All Rights Reserved.