Do you want to get rid of your debt? Then here's a do-it-yourself debt management plan you could try!
We all want to keep an eye on our waistlines, but why not watch our "wastelines" too? Eating better and eating less can go hand in hand with spending less and getting your finances in order. I am, in fact, doing both. I started on an improved diet a few weeks ago and just the other day discovered Oprah's "debt diet," even though it has been in existence since 2006. They fit nicely together. In both areas, I am trying to be more frugal and am aiming to make better choices.
In the eating arena, I am eating healthier food in smaller portions — more fruits and vegetables, fish, nuts, and treating myself to desserts sparingly. I think about my new food choices before I buy anything at the grocery store. In the money arena, I want to make a budget and stick to it, buy only what I need, and use cash whenever possible. Less splurges at the grocery store will definitely help with the food bill, and this behavior should positively affect other financial areas of my life as well.
So what is Oprah's debt diet? Oprah gathered together three finance gurus — Jean Chatzky, David Bach, and Glinda Bridgforth — to share debt elimination tips, to suggest ways people can increase their incomes and decrease their debt, and to help several families solve their financial dilemmas.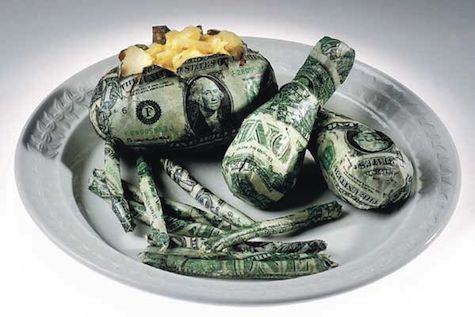 DIY Debt Management Plan: Oprah's Debt Diet
The Debt Diet itself consists of the following eight steps, along with some specific advice per step. I think these are great guidelines you can employ on your own, to manage your own finances:
Step One: Find out how much debt you really have, and what it is costing you.
Write down all the information you have on your existing debt, as a starting point.
Monitor your credit score and report. Some suggestions: Get your FICO score from a credit agency like Equifax. If you're after free non-FICO scores, you may visit CreditKarma.com or Quizzle.com, where the scores they offer are proprietary. For free credit reports, check out the site AnnualCreditReport.com.
Prioritize your bill payments. Start with paying for your necessities first (which you need to survive!), followed next by paying your taxes or any other government specific obligations. After taking care of these matters, you can finally address everything else.
Step Two: Track your spending and find extra money to pay down debt. David Bach coined this activity the "Latte Factor": so how much do you spend on your latte (or any other goody you regularly buy) per year? How much are you willing to give up in order to free up money for your other needs?
Step Three: Know how to use credit cards to your advantage.
Pay more than the minimum. With an extra several dollars appropriated to your credit card bill on a regular basis, you'll be out of debt sooner rather than later.
Lower your interest rates. Here's something to try: figure out if your credit card issuers are willing to negotiate with you on the interest rates that you are paying. If you're a good customer, you may have some leverage. If they're unwilling to work with you, tell them that you'll take your business elsewhere.
Determine the right type of card for your needs. It also pays to have some familiarity with the different types of credit cards that are available, so it's always good to know what type of card is most suitable for your needs. For instance, despite the tighter credit environment, balance transfer cards, and 0% interest credit cards still exist, which are effective for debt reduction if you have the discipline to pay off your balance before any teaser rates expire. Other things to note: if you're considering getting a new card and you expect to carry a balance, then take a look at low interest rate cards. But it you always pay your balance in full then you should shop around for the best credit cards with rewards.
Understand how credit cards "work" and what kind of tricks card companies have up their sleeve. Before signing up for a new card account, check the card's interest rate, late fee, teaser offer and annual fee.
Analyze and decide which credit card bills you should be paying first. There are many strategies to do this: you can pay off your most expensive, highest interest rate debt first or perhaps you may prefer to handle your smallest balance first. Oprah suggests using David Bach's DOLP (or Dead on Last Payment) method.
Step Four: Stop spending. No explanation needed for this one.
Step Five: Create a monthly spending plan. Creating one such plan every month will help you account for both your regular, planned expenses, as well as your unexpected expenses.
Step Six: Find out ways to grow your income and take steps to achieve this. For example, you can sell items you no longer need by holding a yard sale — but I'd rather go a step further by selling them through eBay. I would then open an eBay store and try to turn this opportunity into a permanent online venture. Other ideas for increasing income include getting a part-time job or freelancing.
Step Seven: Prioritize your debts and improve your credit score. Prioritizing your debt will help you pay it off faster. You should also take steps to raise your credit rating so that you can better negotiate your interest rates.
Step Eight: Do your best to understand yourself and your own spending behaviors. Evaluate the reasons why you spend; this will take a bit of self-reflection. Also, learn how to save and work to build up your savings. You can always start by learning how to invest small amounts of money. Eventually, plan to increase your savings over time.
What I've provided is just an outline of what's in the Debt Diet. For more details, you can visit Oprah.com, where you will find the Debt Diet, along with a lot of other personal finance topics.
Remember, in both eating and spending — less is more!
 
Contributing Writer: BEM
Copyright © 2009 The Digerati Life. All Rights Reserved.