PerkStreet Financial is a site that offers an online checking account along with a debit card called the Perkstreet Platinum Debit Rewards MasterCard that kicks off rewards; in particular, their card gives you cash back when you use it. The checking account is FDIC insured while the card goes the extra mile by helping you earn rewards. What's interesting about PerkStreet is that they have a lot of layers to their rewards and benefits. You may want to read the fine print and their PerkStreet Rewards Program Agreement to understand the features and perks they offer, as there are a lot of options they give the customer. For example, you can choose what Perks Program you can take (you can get your perks in the form of coffee, music or cash back for example).

There's a standard cash back rate you can earn with the use of the debit card, to avail of the perks program. Here's how it works:
As a new customer, you'll earn 2% cash back on all non-PIN purchases for the first 90 days of owning your account, after which you'll receive either 2% or 1% cash back, depending on how large a balance you maintain in your checking account.
You'll keep earning 2% cash back if your balance is $5,000 or more, and 1% cash back otherwise.
You can also earn 5% on certain purchases that fall under special categories, which are called "PowerPerks". Actually, these perks are specific to certain retailers, and are actually subject to customer voting on a regular basis (per month or per quarter).
So beyond the standard 1% to 2% rate, you can also benefit from special promotions that you'll hear about once in a while. We will keep you abreast of the latest promotions and deals from PerkStreet right here.
Active PerkStreet Financial Promotions & 5% Cash Back Categories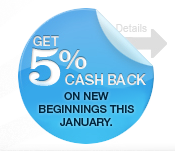 For the start of 2012, January PowerPerks are aimed towards helping us get a jumpstart on our resolutions. Here's how you can earn extra cash back for the whole month of January:
Spend towards sports and athletic clubs (MCC code 7941), which are geared towards health and fitness expenditures.
Spend on TurboTax® to get you ready for tax time.
Make purchases at fabric, craft and art supply stores (MCC codes 5949 and 5970) for a creative start to the New Year!
These are the CURRENT bonus categories. Note that the MCC codes are labels on transactions you've made on your PerkStreet card. These specific transactions will earn you 5% cash back vs the default 2% cash back that is set by the card. The categories change often so you'll need to keep your eye on current offerings. Squeeze in savings when you capitalize on these 5% PowerPerks.
Also note that the cash back earnings are based on a percentage of your purchases made on the card. One thing to watch out for is that there are limits to the 5% cash back you can earn. You can earn up to $250 per year (per household) on the 5% categories. Still, even if there's a limit to the bonus perks, your basic perks are unlimited, which is the standard 2% (or 1%) cash back rate. While the 5% bonus cash back categories may change throughout the year, the basic 1% to 2% cashback rules always apply.
~~ooOoo~~
PerkStreet's Rewards History (Past Rewards Categories & Bonuses)
We'd like to share some previous promotions from this company, to give you an idea of what they possibly have in store for the rest of the year, and to give you some idea of what kinds of bonuses they offer. These are expired or PAST promotions from PerkStreet.
The Holiday 2011 promotion out of PerkStreet was a $25 bonus for new customers who applied for an account.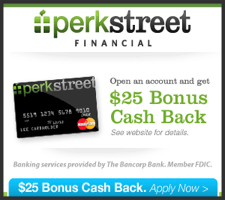 Some details:
Sign up by 11:59 PM EST, December 31, 2011.
Provide an initial minimum deposit of $25 into your PerkStreet checking account.
Make 3 purchases on your PerkStreet debit card within your first month as an account owner.
You'll then receive a credit of $25 within 10 business days of your third purchase.
This offer will expire by December 31.
Here were the 5% PowerPerks merchants for the 2011 holiday season.
| | | |
| --- | --- | --- |
| Family Dollar® | Stand Alone Photo and Camera Stores | GameStop™ |
| Babies "R" Us® | Toys for Tots | |
For the Fall 2011, PerkStreet focused on the home and clothing areas. PowerPerks were earned from these popular stores — some of which are our personal favorite discount havens.
| | | |
| --- | --- | --- |
| Bed, Bath & Beyond | Homegoods | Pier 1 Imports |
| Marshalls | TJ Maxx | |
During the summer of 2011, PerkStreet customers were able to vote for their chosen 5% categories, which included ice cream, clothes and movies!
| | | |
| --- | --- | --- |
| Ben & Jerry's | Dairy Queen | Cold Stone Creamery |
| Old Navy | Movie Tickets | |
On June 2011, PerkStreet focused their cash back rewards on dining events. That is, if you happened to dine in certain popular restaurants, then you received some money back if you used your PerkStreet Financial debit card of course! There were 6 family restaurant chains that were in this season's special list. You would have received 5% cash back through these restaurants:
| | | |
| --- | --- | --- |
| Applebee's | Cheesecake Factory | Chili's Grill and Bar |
| The Olive Garden | TGI Friday's | Outback Steakhouse |
On Feb 2011, the reward categories included the following:
5% Cash Back on Netflix — this is a great moneysaving tip for Netflix users: move your Netflix subscription payment to your PerkStreet debit card and you'll get a couple of benefits. You'll earn 5% cash back plus avoid any inactivity fee on the card (because Netflix is a recurring fee). More on Netflix here.
5% Cash Back on Tax Preparation — If you use your card for services at H&R Block, TurboTax Online, Jackson Hewitt, TaxAct, Liberty Tax Services until the end of April, you'll qualify for debit perks.
5% Cash Back when you visit Amusement Parks — you may want to prepare for the summer by picking up tickets in advance on your debit card.
5% Cash Back when you try out Tourist Attractions and Museums
5% Cash Back when you buy from Florists — well, a bit late for Valentine's Day but still good to know.
On December 2010, the cash back categories were the following:
5% Cash Back On All Bus and Train Ticket Purchases
5% Cash Back On All Bakery Purchases
5% Cash Back At All Stationary Stores, Office Supply Stores and Printers Purchases
While the focus here has been on the debit card, don't forget that PerkStreet Financial backs this up with a checking account too. So you can have a hardworking debit card linked to a checking account if you decide to go with them.
Other PerkStreet Financial Account Features
You'd also want the products to speak for itself. Some other extra features of PerkStreet Financial's products that we find attractive:
PerkStreet's debit card is a MasterCard debit card, which makes it widely accepted.
They have a huge network of ATMs around the nation.
Transferring your money online is easy and convenient.
You can pay your bills online.
You can expect good customer service.
As we've mentioned before, PerkStreet Financial's cash back debit card and checking account are great products, and are an especially good choice for debt-conscious folks. And before long, they'll also have a savings account with a competitive interest rate available. This online savings product should be available soon.
Created December 10, 2010. Updated December 19, 2011. Copyright © 2011 The Digerati Life. All Rights Reserved.