This giveaway is now over. I've announced the winners of the Dave Ramsey kit and YNAB giveaway. Congrats to all!
I am celebrating my 4th anniversary as a blogger with a simple giveaway event. In fact, I'm celebrating a variety of things this week, including my wedding anniversary (so we're off on a little family break too). So to mark the event, I am happy to offer a few items for this giveaway. The main sponsors for this event are the companies behind two of my favorite personal finance products: PerkStreet Financial and YNAB (You Need A Budget).
PerkStreet Financial contacted me recently about a promotion that they wanted to share with our audience here at The Digerati Life. I also asked YNAB if they would like to give away a free copy of their software, and was kindly granted this request. So here is what you can get by joining our giveaway this week.
Free Dave Ramsey Starter Kit, YNAB Software From The Digerati Life
We're offering this list of prizes: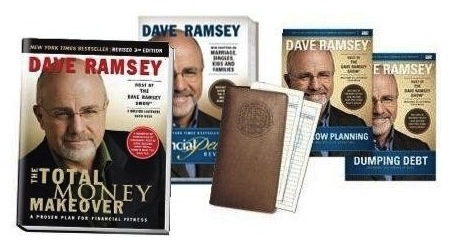 1 Dave Ramsey Starter Kit (retail value around $120)
2 Total Money Makeover Books by Dave Ramsey
2 Generation Earn books by Kimberly Palmer, which we've reviewed here.
1 YNAB software download. It's a great budgeting tool.
All in all, we have 6 prizes to give away.
How You Can Join our 4th Blog Anniversary Giveaway
Anyone who is a U.S. resident can join. In order to win any of the offers that I'll be sharing today, you only need to do a few things:
1. Leave a comment below. Maybe you can answer this question: do you have debt? If so, how do you manage it?
2. Follow me on Twitter or become a subscriber who gets free updates via this link or this. If you're already a subscriber, then you can just do #1. Your comment will count as an entry.
That's about it! I hope to pick out 6 winners from the comments by next week. It's a random pick, but I've found that the odds of winning are typically high for these giveaways. I'll notify winners via email.
Who Are Our Sponsors?
Our sponsors for the giveaway are PerkStreet Financial (for the Dave Ramsey kit and books) and You Need A Budget (for the desktop budget software download). We've written about PerkStreet Financial before, expounding on their checking account and debit card, both of which can help you earn rewards while you save and spend.
PerkStreet is a great product for those folks who want to avoid debt and keep to their budget. They are more than your traditional checking account because they offer many rewards and perks when you bank with them. Also, the PerkStreet Financial debit card may be a much better alternative to credit cards, especially for those who want to prevent any more credit card debt from piling up! So with the holidays approaching, you may want to get more cash back when you spend on your gift list, while making sure you don't create any more debt.
PerkStreet offers great incentives for those who are interested in a new checking account: they've got a new promotion up which is ongoing until November 15, 2010. You can get 5% cash back with the PerkStreet debit card when you shop at certain popular stores. After the promotional period, you'll continue to earn 2% cash back by using your card. You can sign up for a free online checking account and debit card (and earn up to $600 in rewards per year).
As for YNAB — it's a popular budgeting desktop software application that has picked up a lot of rave reviews. I've written a lot about it and like it for being well supported, with some interesting features that really emphasize the power of debt management and saving.
Copyright © 2010 The Digerati Life. All Rights Reserved.