Update: This contest is now over. But read on to learn more about how you can manage your debt better.
Two of our favorite personal finance sites, Lending Club and PerkStreet Financial, are joining forces to give us a "Shred Your Credit Card Day", a new contest that could win you some coin for the new year. The contest involves producing and submitting a video that shares your commitment to start repairing your finances. The contest's message is to drive down the point that we should stay on top of our debt situation. Personally, I'm not a credit card "hater", but I'm certainly a debt hater — especially of the kind of debt that piles on over time and makes you lose control of your finances.
If you're on this boat and would like to participate in getting the message across (that debt is B-A-D and it's time to make a stand), then please think about joining this interesting contest. So how is this competition supposed to work?
Toss Your Credit Card For A Chance To Win Cash Prizes
Goal: Make a commitment to do away with your credit card debt this coming year and join others who are embarking on this goal. We are inviting you to participate in this effort by joining a video contest!
Cancel a credit card (it is recommended that you hide your credit card number if you're displaying your card in the video).
Get yourself on tape. Talk about your debt situation, what you are doing to get rid of it, or just share your battle cry with the world. You can also film yourself destroying your credit card in some creative fashion.
Submit your video to ShredYourCreditCard.com The period of eligiblity is from December 15, 2010 through January 28, 2011.
Call on the troops (through Twitter, Facebook or email). Ask people you know to vote for your video or the video of your choice. You can do this daily.
Determine if you've won a weekly prize by checking ShredYourCreditCard.com every Wednesday. This will be going on from now till January 31, 2011.
January 31, 2011 is designated as Shred Your Credit Card Day. On that day, ShredYourCreditCard.com will announce the Grand Prize winner, who will receive $1,000. There will also be Second Place cash prize winners as well, who will receive $300 each. So make sure you visit the site to find out if you've won!
I am honored to be one of the blogging partners for this contest, which allows me to select a video from those submitted on the site for a $25 gift card.
About The Sponsors of This Video Contest
If you've got video filming talents, let's see it! The sponsors of the contest are two financial sites that I frequently tout over here. One is Lending Club, which is a leading peer-to-peer lending network. They offer an alternative to credit card loans by allowing you to apply for a personal loan at much lower interest rates. Of course, you're required to have a fairly high credit rating (660 or higher) in order to qualify for loans in this network. But it's surely one way of getting cheaper loans if you've been able to take care of your credit. Lending Club's personal loans are fixed rate loans that currently start at 6.78% (as of this writing). The average starting APR for credit cards runs around twice this rate.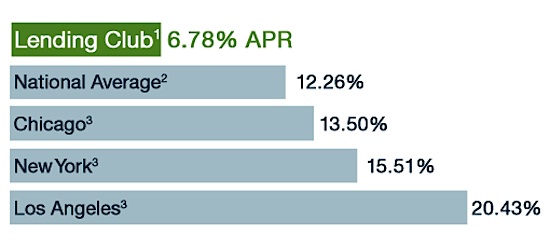 The other sponsor is PerkStreet Financial, which offers a checking account and a top cash back debit card. With the PerkStreet Financial Visa® Debit Card (plus checking account), you'll receive some great cash back debit card rewards, which amount to 2% cash back at all times, along with bonuses of 5% when PerkStreet holds special promotions. Here are some recent promotions offered by this company.
Copyright © 2010 The Digerati Life. All Rights Reserved.