If you've decided to get your first credit card, there are a few things to keep in mind. I believe that credit cards are a great financial tool when used responsibly. So whether you're a college student just starting to receive credit card offers in the mail or you're seeking to build your credit history, you might find the following tips and reminders helpful as you seek your first credit card.
Things To Consider Before You Begin Using A Credit Card
Here are a few things to consider before you sign up for a card:

1. Know your reasons for owning a card.
Rather than fill out applications at random, stop to consider why you need a new credit card and determine what sort of card will fill your needs. Many credit card users like to make online purchases. Others use their cards for automatically paying for their utilities and other bills. Others enjoy the benefits of a credit card rewards program.
2. Make sure you can afford to own a card.
Before you sign up for one, make sure you can actually afford to carry a card around. You should also figure out where the credit card will fit into your financial life. Be honest with yourself and ask yourself if you can afford to pay off your balance each month. How much interest are you willing to pay? Can you make the minimum payment each month?
Start With A Secured Credit Card
If you don't have a credit history yet, it can be difficult to find an unsecured credit card. So one way to establish your creditworthiness is to seek out a secured credit card. In most cases, you'll be required to put up a deposit, with your credit line usually being equal to your deposit.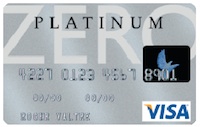 An example of such a card is Applied Bank's Platinum Zero Secured Visa Credit Card. Through this card, you can obtain a credit limit of $500, but you'll have to back it up with a $500 deposit. If you don't have $500 to start with, you can open an FDIC insured deposit account with Applied Bank with just $100, and work your way up to the $500 required balance. Other features include an interest rate of 0% APR for purchases and 9.99% APR for cash advances. And as far as fees, there is no annual fee for this card but there does exist a $9.95 monthly fee. In my opinion, I'd consider the yearly payout of $119.40 as pretty much what stands for the annual fee for this card.
The benefit of applying for such a credit card is that there aren't requirements for credit or income, which makes it easy to become a cardholder. Also, your deposit is covered by FDIC insurance. In addition, you'll build your credit history when the issuer reports your account activity to the credit bureaus. The downside though is that secured cards may charge you heftier fees for the privilege of using them.
Another place to search for a secured credit card is through a local bank or credit union. If you already have a local checking or savings account, stop by your branch to ask if a secured card is offered.
Credit Cards for Students
It hasn't been too long since I walked around my college campus and ran into credit card offers aimed at students. I'm sure it's no different now. Well, my opinions on this matter haven't changed either. I would suggest that you do some research first before you sign up for the nearest offer.
I would look for a card that offers:
A decent line of credit (more than a few hundred dollars)
An interest rate that won't penalize you (below 18%)
Low or no annual fees
Some type of credit card rewards program, like the Citi ThankYou Points Network.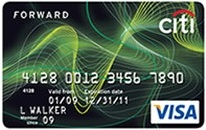 The great thing is that there are some credit cards right now that try to encourage the development of good and healthy credit card use among students. Check out this list of best student credit cards.
Let's take a look at the Citi mtvU Platinum Select Card and the Citi Forward Card for College Students, which are on the list. They have no annual fee, a 0% APR on purchases for 7 months and can be used as balance transfer credit cards. On top of this, you can earn reward points for being a responsible cardholder — from taking care of your card account and credit line, to maintaining a solid GPA.
Another option for students is the Discover Student Credit Card. It has no annual fee and offers unlimited rewards. If you qualify, your APR for purchases is 0% for the first 6 months; then the standard 14.99 % variable rate kicks in.
Become an Authorized User
Another way to gain access to your first credit card is to become an authorized user on someone else's account. For instance, credit-seeking students might be able to ask their parents to allow them to become authorized users.
But here's where I've seen many a debate unfold on the issues of letting younger people gain access to credit cards. In fact, we even wrote about it in this article on how credit card companies get our kids to sign up. So as a parent, I always preach caution on these matters: it's best for the cardholders and authorized users to agree on appropriate limits for the card's use ahead of time. Unfortunately, some families are certainly going to run into problems if their authorized users max out their cards on spring break. There needs to be consequences on the first sign of card misuse.
For those who are planning to become authorized users, be aware of what's expected of you once you sign up for a card. You should learn how your credit will be impacted if a negative event occurs. What happens if payments aren't made on time or worse, if they're skipped? Be aware of how your actions (and those of others on the same credit card account) will impact your credit.
Become a Savvy Credit Card User
You've probably heard of consumers mired in debt which they never seem to escape from. If you're someone still waiting to get a hold of your first credit card, you can head off future financial trouble by preparing yourself now.
Know your credit card's limit and don't exceed it, otherwise you're going to run up your interest rate and incur possible over the limit fees. Also, set up automatic payments for your credit card if possible. By making it a habit to pay your bills monthly in full and on time, you'll be able to gradually build up to a solid credit rating and score.
My final tip? Be alert for the first sign of problems when managing your credit card debt. Once you start having debt problems, be proactive and cut up your cards or freeze them. You should only be using cards if they're helping make your financial life easier.
Copyright © 2010 The Digerati Life. All Rights Reserved.