According to a recent U.S. government study, seventeen million Americans manage their money without the use of a bank account. This means that they have no savings or checking account. Many look down upon this way of life, but it is difficult for me to say it is a bad thing given the fact that my grandparents live on a cash only basis. It seems to be working for them. So, what are the benefits of living without a bank account and managing your cold hard cash alone? Well, the main advantage is that you avoid unruly bank fees and the time it takes to manage and balance your checkbook each month. This makes living on a cash only basis very tempting for many consumers.
5 Great Tips For Cash Only Living
So, how does a person live without dealing with a commercial bank? Can you really live without the conveniences of savings accounts and ignore the beckon of free checking accounts? Well, let's take a look here at some simple steps that show how you can live with a "cash only" system. Find out if this is something you can do!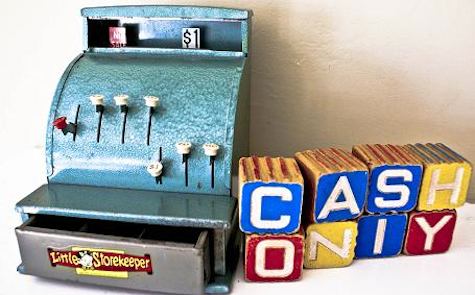 Image from PoeticHome.com
1. Carry cash for groceries and gas.
Carrying cash for groceries and gas not only allows you to stick to your budget, but it also protects you from fraud against your bank account. Thieves are getting smarter and are now using special equipment to gather all of your debit and credit card information from the places you may swipe a credit or debit card. Using cash keeps your money safe.
2. Pay bills with money orders.
If you don't have a checkbook, then how do you pay the plumber? Well, be careful: sending cash through the mail is not safe nor recommended. Therefore, a great way to pay your bills through the mail is to use money orders. You can get a money order at a grocery store, gas station, or the post office. You pay for the face value of the money order and a small additional fee for the service. Money orders are great for replacing the use of checks. In addition, you may actually save money because with a checking account you typically have to spend $20 or more on checks for your account. Money order fees may be much less than this for someone who does not have many bills to pay each month (ymmv). But costs can add up and things may get impractical if you've got lots of bills to cover (you may have to be more organized to pull this off); still, going cash only may be the impetus to changing how you live. It may just encourage you to live on less (therefore generating fewer bills to pay!).
3. Use an envelope budgeting system.
Use envelopes to divide your funds for different categories of your budget. You can have an envelope for savings, food, gas, emergencies, utilities, and other bills. Divide your cash across envelopes so each category of your budget is fully funded. When money is removed, simply note your transactions on the outside of the envelope and write the new balance. This way, you know how much money you have available for each category at all times. Thus, it helps you to stick to your budget! More on the envelope budgeting system here.
Tip: If you'd rather use a money management software program that incorporates envelope budgeting in its functionality, then check out the application called "You Need A Budget". You can read more about this product's features in our YNAB (You Need A Budget) review. We also discuss such tools in this post.
4. Use a prepaid credit card for airline tickets and car rentals.
If you don't have a credit card or a checking account with a debit card, you can always purchase a prepaid debit card online or from a drugstore or gas station for the purposes of paying for items that require a credit card such as airline tickets and rental cars.
Tip: Take a look at our Best Prepaid Debit Cards section for some great card choices. Note that prepaid cards are NOT credit cards nor even bank debit cards, but are products that can be used as cash alternatives when you predeposit an amount towards the card. You don't need a bank account to make a deposit (just visit a qualified retailer).
5. Ask for receipts.
You may need to keep track of expenditures for tax purposes. When using cash, always ask for a receipt. Place all the receipts required for tax reporting in an envelope, file or organizer which you can turn to at the end of the year when you're ready to work on your taxes. This will make it easier for you and your tax preparer to ensure that nothing is overlooked, plus these will come to your rescue in case of an audit.
Managing your money without a checking or a savings account can be done. I have been using "cash only" for food and gas for several months now. It works wonderfully for me because I have better control of my budget. In the past, when I used a debit card, I would spend much more than I would budget for food. These days, when I run out of cash, I stop spending. It also makes it very easy for me to quickly see how much I have left in my budget. I just glance at my envelope and see the balance on the outside. Living on a cash only basis not only helps me save money, but also allows me to control my money. This should put me in a better position to be financially free. So is this something you'd consider doing? Brave enough to fire your banker?
 
Contributing Writer: Selena
Created February 25, 2010. Updated September 20, 2012. Copyright © 2012 The Digerati Life. All Rights Reserved.