I have to admit that I've never done a cash only budget, but I am going to try it, at least for a week and maybe for a month, to see how it goes. A friend of mine a long time ago relayed that she and her husband put money for various items into different envelopes, and when the money was gone, it was gone. They couldn't buy anything else until their next payday. Spendthrift me thought that sounded a little strange and wondered how and why they would do this.
Create A Home Budget Using The Envelope Budgeting System
More recently, I discovered talk radio host Dave Ramsey, who often talks about his cash envelope system on the air. Listening to him, I understand the concept better: every paycheck, you put money into different envelopes marked groceries, clothes, entertainment, etc. If you run short in one area, he says it is fine to shift money from one envelope to another. But again, the bottom line is that you can only spend the money in the envelopes and no more. Here's a graphic of what it looks like, thanks to Money3rd.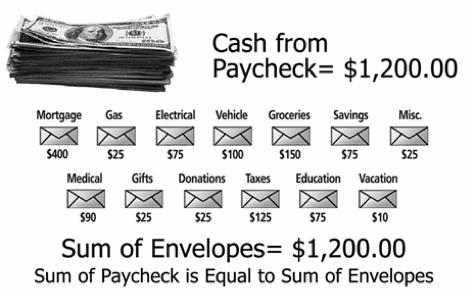 Envelope Budgeting System
It seems as if more and more people are discovering the benefits of such cash only budgets and these envelope systems, and cash is making a comeback. I find this ironic, given that the projection has been for people to never use cash again (at some point), with the proliferation of credit cards, debit cards and electronic transfer. Taking a closer look, you'll see that there are some pros and cons to using a cash only system. Here are a few:
Cash Envelope Budgeting System: The Pros
This system forces you to make a budget and adhere to it, something that I struggle with. I might start out using envelopes for groceries, gas, clothes, and entertainment (things that are easier to control), while I use my high interest savings account which I've just opened as another "envelope" in which to deposit money for semi annual or annual payments such as insurance premiums, property taxes, and the like. If I can only make myself save so much money every month for these bills, then it won't hurt so much when they come due.
Using cash is better than using debit cards. I used to think that they were one and the same, but the plethora of overdraft charges from my debit card has convinced me otherwise. I actually prefer debit cards to credit cards because I can place limits on my spending, but by using cash, I'm also able to avoid unexpected fees. Like most people, I feel that cash is the most attractive option for controlling spending. A debit card is still plastic, and when using one, you are still more likely to spend more money than you would with cold, hard cash.
Cash Only? The Cons
A cash only system may not work well for emergencies or unexpected expenses, so establishing a separate emergency fund would be a good idea.
Using cash can be awkward in a restaurant or bar (or in certain other establishments). Many times I have used cash to pay for a bill in a restaurant or bar, and the server ends up not giving me back any change, assuming that I meant to leave them a large tip. This has been so uncomfortable that I now prefer to use a debit card in this circumstance, so I can indicate how large a tip that I want to leave.
It's almost impossible to use cash to reserve a hotel room or a rental car. Ultimately, you may be able to pay in cash, but most companies want a credit or debit card number to track.
As you can see, while using cash is a great budget trimming idea, there are some situations that highlight the inconveniences of using cash over plastic, and no doubt there are many more scenarios of this kind. Cash is not always practical, and because of the tradeoffs, you may have to be somewhat flexible about using cash alternatives in order to avoid any inconveniences (unless you're resourceful and can develop a system that works for you: ie. find and work only with merchants or businesses that only accept cash, etc).
 
Contributing Writer: BEM
Copyright © 2009 The Digerati Life. All Rights Reserved.