Some great insights on budgeting, from our contributing writer: Beth M.
I've never made a budget, which is probably why I have struggled financially over the years. Well, truth be told, I tried it once, to no avail. I was riding in a car with a friend, who stopped to get gas and who then immediately jotted something in a little notebook. I asked her what she was doing, and she said she was recording all expenditures for a month to see where her money went. I tried the same thing the following month and found it too tedious. It was a hassle to write in the notebook all the time, and at the end of the month I didn't know what to do with the information. So that was the end of that.
My interest in budgeting was recently piqued again, however, when I saw the article "A Simpler Way to Save: The 60% Solution" on MSN.com. The author, Richard Jenkins, acknowledges how difficult it is to budget, and developed the 60 Percent Solution as a way to make it easier. Here's how it works: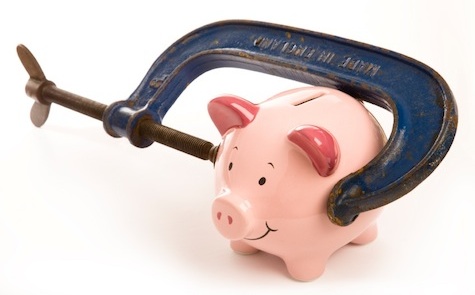 Squeeze that budget.
Personal Budgeting Made Easy With the 60% Solution
Rather than tracking every expense, Jenkins suggests keeping all committed expenses below 60 percent of your gross income. By committed expenses, he means:
Food and basic clothing needs
Basic household expenses
Insurance premiums and taxes
Charitable contributions
Bills
The other 40 percent is divided among retirement contributions, short and long term savings, and fun money. He suggests no more than 10 percent be earmarked for fun money.
When I first considered this approach, I never thought my committed expenses would fit within 60 percent of my income. (I thought it would be more like 70 percent.) But when I got it down on paper, I was shocked, because it did! And the other 40 percent worked out as well. After seeing it written down, I also realized that my trouble spots would be food, clothes, and fun money — I need to make sure I stay within my budget in those areas.
I can move the dollars among these various budget categories every month, as long as I stay within the total allotted for the three combined (e.g. food, clothes, fun money). If I end up having leftover money in any category, I can place this in short term savings in my trusty high interest accounts. To help with spending, I may also use the "envelope" budgeting system, which allows me to pull out enough cash to cover expenses. The theory is that when you have cold hard cash in your hand, you spend less of it.
The trouble with this budget, however, is that it doesn't allow me to pay off my credit card debt faster. (I am currently on payment arrangements with reduced interest rates, but had hoped to pay the balances off faster.) I could stop contributions to my retirement fund and put less in savings to do so, but for the time being I am going to leave it as is and see how it goes. I can always amend my plan later. I'm also thinking that any extra money I earn can also go to help pay off my debt.
If it's impossible for you to cover your committed expenses with 60 percent of your income, Jenkins (and conventional wisdom) suggests that you look at your lifestyle and then make some necessary budget cuts to bring your spending in line.

Contributing Writer: BEM
Copyright © 2009 The Digerati Life. All Rights Reserved.