Get a head start on Halloween. Are you planning for it already? Here's one of the easier DIY projects around: go frugal by making your own unique, fun, cheap Halloween costumes.
I thought to lighten the mood with something more humorous and entertaining. I thought to salute a few Halloween ideas that I thought were cool in many respects — they are fun, custom, cheap and for the most part, unique. But before I proceed, I'd like to tell you how our Halloween plans are turning out so far.
Like all kids under the age of 10, my kids are pretty excited about the impending holiday where they get to wear their costumes in school and around our neighborhood. To save money, we ended up recycling one costume — our younger one is wearing the same thing he wore last year. Since he is going to a different elementary school this year, that's quite alright as nobody has ever seen his outfit before! 🙂 My older son has outgrown whatever we have available and settled for a ninja costume (just like what he wore a few years ago, except bigger).

This is a perfect segue to these savings tips I'd like to share for the Halloween season, especially as it deals with costumes.
Tips For Saving On Halloween Costumes
1. Use hand me downs or second hand attire, whenever you can.
But make sure you're really getting a bargain. As mentioned, we've tried to cut costs by looking for recycled kid's wear in the past. But it turned out to be hit or miss for us when we looked into some Craigslist selections that turned out to be a poor fit or were too worn to be reusable. In these cases, the time and gas spent to drive to a seller's home were not worth the savings. But you may still luck out by checking the online classifieds anyway. Or maybe you know someone who'll just outright give you their old garb?
2. Snag something on sale.
Another idea is to buy these costumes when they're on sale. The best ways to save on seasonal purchases is to buy them way before or long after a given event or holiday, when they get discounted.
3. Make your own costumes!
We're exploring this suggestion in more detail below.
Awesome DIY Cheap & Fun Halloween Costumes
You may probably have your costumes picked and ready to wear for goblin day already, but in case you don't, then maybe some of the following creations I've come across may inspire you to come up with something memorable (hey, even the Mummy costume below could work?):
Costume 1: Mario Brothers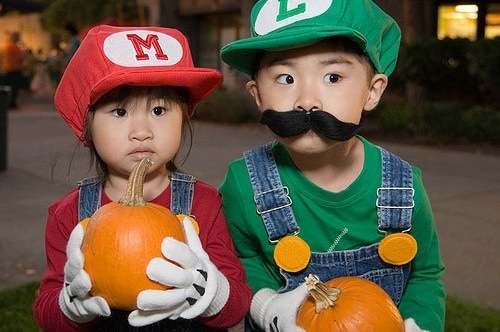 Photo by wtfcostumes.com.
These children are pretty cute in these Mario Brothers costumes. You can probably make up your own custom outfits by:
getting some caps and pasting on some letters on them (which you can have your children do themselves),
painting the moustaches on your kids,
picking up oversized gloves,
having your kids wear overalls.
Pretty simple! And did I say cute? 🙂
Costume 2: Wolverine
Watch out for sharp objects!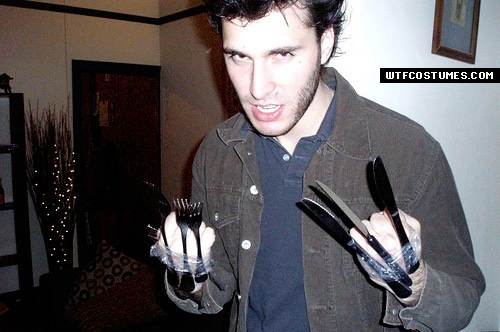 Photo by wtfcostumes.com.
I presume that this is an attempt at a Wolverine costume, but I guess he could also be Edward Scissorhands. But to complete the look, he'll need way more work, better threads and makeup.
It may be an incomplete getup, but he gets points for hitting two characters with one costume. 😉 For the kid-safe set, you can start out on this look by making some "origami" claws.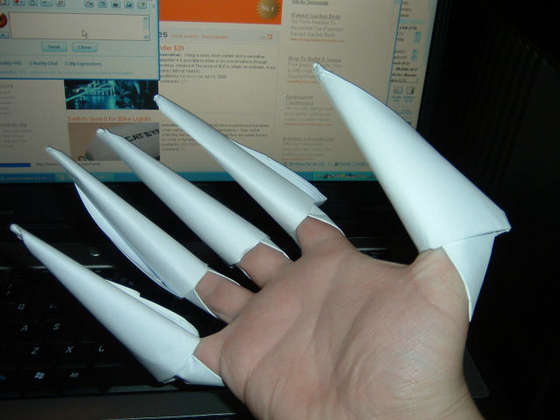 Photo by instructables.com.
Costume 3: Lego Star Wars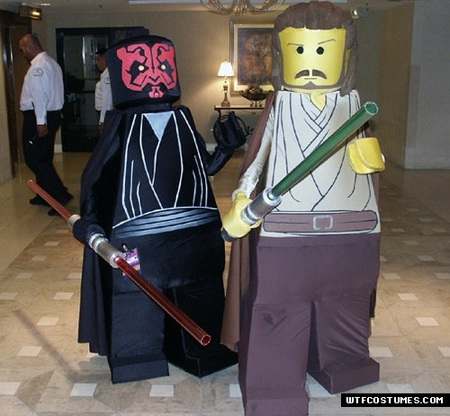 Photo by wtfcostumes.com.
At first I had no idea who these people were supposed to be, but then I realized they were modeled after the characters in this video game called "Lego Star Wars, The Complete Saga", which incidentally, has ranked well as a fantasy game for the Wii.
Costume 4: Kid Robots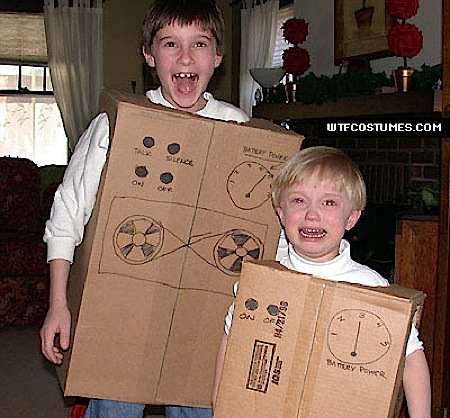 Photo by wtfcostumes.com.
This comes straight out of some suggestions I made earlier on how to encourage your kids to hone their creativity while going light on your budget with some cheaper toys. This is a perfect DIY project for your own children to try (with your help) and once they're done, it'll be something they can be proud of.
According to WTFCostumes.com, here's one robot costume that's so wrong that it works. 😀
Costume 5: Fancy Paintings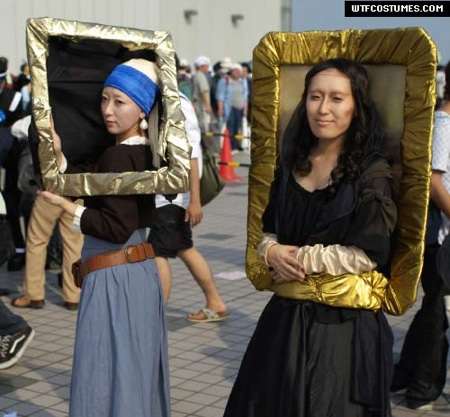 Photo by wtfcostumes.com.
These outfits are just outright cool. They look easy to replicate: create a frame, pad it, cover it with fabric, then wear a gown. You'll probably also do alright without the frame — I can see how it can be an inconvenience to carry around. In case you're wondering, these costumes are based on the paintings: Girl With A Pearl Earring by Dutch master Johannes Vermeer van Delft, and the Mona Lisa by Leonardo da Vinci.
Costume 6: When In Doubt, Be A Mummy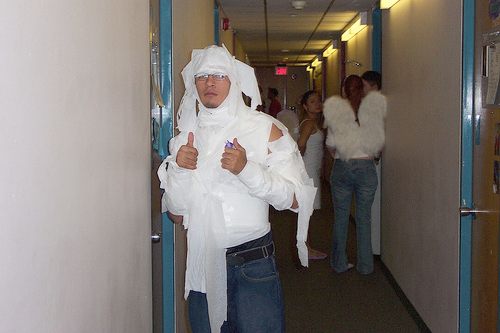 Photo by fine_al.
If you've run out of ideas but need to get into a costume quickly, then grab the most convenient thing. Try this look. You'll only have to go to the bathroom to get the stuff you need! 😉
Still Need A Costume For Halloween? How To Get Creative
Allow me to close with this fun video I came across. If you still need a costume for Halloween and you're stuck wondering what you should dress up as, then here are some awesome tips from this guy:

As you can see from this presentation, the same costume can be used for Robin Hood or Peter Pan, depending on the use of facial hair and the inclusion of a knife belt — so you can try these looks on different occasions. Clever!
Now I still remember this one costume a dear friend wore to the office many many years back. He went in as a Green M & M (or was it Red). I wish I took some snaps of that one. Nobody I know has ever been so elaborate about a costume in recent years. 🙂 Goes to show that a great costume will live on in your memory bank for years to come.
Okay, your turn. Do you still dress up for Halloween?

Image Credit: For more great photos of weird, wacky, unique, creative, crazy costumes, please check out wtfcostumes.com!
Created October 29, 2008. Updated October 13, 2011. Copyright © 2011 The Digerati Life. All Rights Reserved.