Your kid's birthday party does not have to cost you a fortune to be fun and memorable.
What?! A $10,000 Princess birthday party? What about that $6,000 Harry Potter reenactment? I was outright floored and shocked to read about how some kids' parties were being done these days. Apparently, there are typical middle-class parents out there who do feel that money is no object when it comes to their little ones and feel compelled to have Disney characters in all their splendor attend their unforgettable jubilee.
I'll be honest. I want that baby elephant in the park too, and the guy in the unicycle to pass around the hors d'oeuvres, but really, what message does this send out? Nevertheless, I can somewhat understand the motivations these parents have for the out of this world party experiences.
Why Do Little Kids Get Such Big Parties?
Parents want to preserve delightful memories of their family.
Kids are only incredibly cute and little for a certain period in their lives. So why not savor it for as long as you can? They also tend to appreciate their parties most when they are young and tender, so parents are eager to capture the special milestones in the best circumstances they can muster. That usually means paying up to deliver and create special moments that their families can keep enjoying and reliving in video.
They want to keep up with the Joneses.
Did you see that circus theme in your kid's preschool classmate's bash the other day? Well there's that pressure to return the favor to other parents by presenting something just as (or even more) spectacular than what you've just witnessed. It comes with feeling like you need to play with the herd or risk being left out of the "in crowd" comprised of fancy party hosts.
It's also a parent's social, not just a kid's party.
Kill two birds with one stone and combine the kid's party with active socializing with other children's parents and other adults. How many times are these parties just an extension of our own childhood where we get to relive our juvenile dreams all over again? C'mon admit it. Do you think to yourself: I wish I had a bird show and fire swallowing acrobats during my birthdays as a child, so I'm having them now!
They'll do anything for their child.
Kids are only young once and they grow up so fast (*sniff*). So mom and/or dad think, why not indulge them a little? Birthdays only come by once a year so let it be a blast.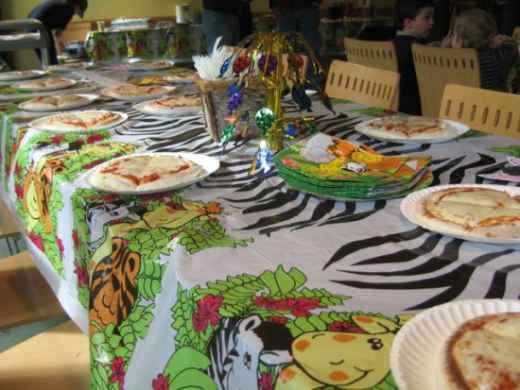 In contrast, a few weeks ago, we celebrated my child's birthday party with the usual mob of family and friends. It was a great success with much food, fun and talk to go around, but what was particularly great about it was that this time, it was even more affordable than it ever was.
I'd like to embark into the mechanics of preparing for such festivities since I actually like event planning and I enjoy seeing how different and unique I can make each celebration. I approached this effort somewhat systematically with these questions in mind:
How much do I want to spend?
How elaborate do I want this to be?
How many people should I invite?
What kind of food should I prepare?
What form of entertainment should I have?
The answers to all these will tell you how much you'll eventually end up spending.
When I first embarked on such projects as a newbie parent, I didn't really know what I was doing. I didn't think of a budget first but rather who I thought should be in the party. After all, I couldn't avoid inviting my relatives to this event. If I had one family coming over, the rest would have to attend as well. So I had no say as to the size my parties were to be. That is, I had no control over my guest list. It'll remain at a solid 40 people every time, no matter what. I can, however, control the rest of the party ingredients. And that's what I strove to do.
These are the items and supplies you will need for any party:
Invitations
Balloons
Souvenirs or party favors
Food and cake
Plasticware, plates, cups, napkins
Party decor
Games and entertainment
Gifts
Thank You Notes
In the past, I easily spent $500 a pop on each party. I made the mistake of even trying to outsource the event planning aspect of it when I found myself short on time with the desire to make some spectacle of the event. I realized later that it was a ridiculous idea, especially when I found that kid's party event planners were asking for my entire budget as their fee alone, when in fact I had within my power and ability to do exactly what they could do, if not better.
In the end, with many gatherings under my belt, I have refined the routine of preparation and now know how to whip up a decently priced get-together. And this last event, I easily cut my costs by HALF, basically by replacing our hired clown and magician entertainment with children's videos and outdoor games. My kid is a Cars fan so his party was themed just that, and we had the Cars video show for the children to enjoy. The rest of the fun and games were out in the yard with the requisite toy box raids indoors.
I figured that the kids in my clan are just as happy with chaotic play as they are with organized fun and games, so I've learned not to sweat it too much. With that, here are some tips for hosting a kids' party:
Tips For Throwing Affordable Children's Parties
Watch your guest list.
Your guest list will dictate how large your party gets. It so happens I am unable to really control this one factor in my own parties, but you may have a different situation. So start out with the list and a budget and see if you can manage it somehow.
Hold the party at your own house.
If you host your own party at home, then you'll save on the cost of paying for a recreation center or outside entertainment spot for the children. Renting a place out can be in the hundreds of dollars so keep this cost in mind. But if you have a small place and you'd rather not tidy up, then maybe visit a local pizza parlor or Chuck E. Cheese for the festivities.
Set up an arts and crafts time as alternative entertainment.
If you check out the party supply catalog these days, there are tons of crafts you can get for good prices. This may be a nice form of entertainment for children. I normally look into the Oriental Trading catalog for affordable souvenirs, toys and crafts to give away during parties.
Don't overdo the favors, souvenirs and party decor.
It's up to you whether you'd like to theme your parties and how to present them. If you're creative, you can create your own designs and themes on your own, otherwise you can visit party sites for fun ideas. Some sites are better priced than others, but availability of inventory also varies across sites.
Cook your own food, bake your own cake or get them all from Costco!
Again, it's your time and energy versus the money you spend picking up ready made dishes. The last party I attended had deli sandwiches and simple Safeway cupcakes to give out instead of a catered table with a large custom birthday cake. Also, serving drinks from large bottles, rather than individual containers and offering items from bulk containers may be more economical.

Make your own invitations and thank you notes.
People will probably appreciate the personal touch of a handcrafted invitation or thank you note. I certainly would!

Get your supplies from discount stores or use coupons whenever possible.
Since I'm a regular customer at several such stores and events places, I am able to snare great discounts for future parties. In some cases, by referring and recommending friends and relatives to these places, along with my repeated business, I have been able to negotiate better prices for later events.
I'm going to bet that if you arm yourself with a camera and camcorder, and capture your gleeful moments during these parties, you'll realize that even without the Pirates of the Carribean coming to battle in your backyard, everyone there, especially your kids and their playmates, will still be found smiling from ear to ear.
Copyright © 2007 The Digerati Life. All Rights Reserved.