I've been thinking about children at weddings. Some couples are completely against having children at their wedding, and some couples welcome the little tykes: to which camp do you belong? How would you plan a wedding? And how do you handle it come invitation time? I can only imagine that choosing not to have children attend the wedding means you're also choosing not to have children be a part of the event.
The former group (the "no kids at weddings" group) generally wants to have a more formal affair, and would like to entertain their guests in a mature, 18+ over environment (and no, I don't mean it like that), or would like their guests to be able to enjoy their evening without having to chase after or, worse yet, let Young Master and Young Miss run amok through the wedding.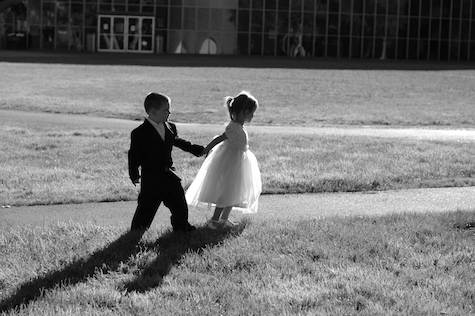 I can understand that as one commenter (Mandy) at Rhi in Pink's "My Wedding, My Rules" pointed out, "Guests don't realize the way children change the atmosphere and, AND, that you pay per head no matter if that head is 2 feet or 6 feet off the ground." It's true, they do change the atmosphere quite a bit, although I can't speak to the pay-per-head comment as I thought that didn't always apply.
I'm not sure if parents who are offended by the exclusion of their children don't realize that children change the atmosphere or if they simply expect everyone to appreciate the change and happily host their kids.
It's an interesting conundrum as I've been to both types of weddings and I've often wondered what most people subscribe to as appropriate: there's the popular belief that a wedding is a celebration for family and friends, aimed to give guests a good time, which may potentially clash with the belief that the wedding is of course, all about the couple. I'm certain that one's wedding goals can make a significant difference in the budget of the event. For example, in some high-end weddings, families want their guests (with children) to enjoy the event and include babysitting and nursery services as part of the affair. Most of us, I'm assuming, can't really afford to take that rather generously accommodating road.
The fact is, though, that in order to control your wedding costs, one of the best strategies is to cut down on your guest list, right? Which begs the question: how much from your hard earned savings are you willing to use for a one time event? Will you make special accommodations for certain groups of people at your wedding (e.g. little kids)? More on controlling those costs here.
Anecdotally ….
An old high school friend hosted a small wedding reception with about 100 guests a while ago, and we spent half the evening dodging two 8 year old girls who were barreling through the reception hall, rolling on the floor, creeping around corners, and pouncing on guests. Sitting down to dinner, I had to be careful not to step on the fingers of the 2-year-old girl who was completely fascinated by my shiny Mary Janes; she kept sneaking up to pet them. Her 4-year-old sister was doing a census of all the female guests, grabbing hair, asking about their children, and in my case, poking my eye trying to check my ears for earrings.
I'm not saying that they should have been banned, but as an experience, it was more definitely akin to a mini-carnival than a night out on the town. It suited the nature of the bride and groom who are family oriented and not terribly formal to begin with. So perhaps there's no hard and fast rule, and it all just depends on how you want your special wedding event to be like.
So what's your take on inviting kids to weddings? What do you expect your wedding to be like; or for those who've already gotten hitched: did you have kids attend your special day?
This article is brought to you by Revanche, who writes for A Gai Shan Life.
Created February 15, 2010. Updated October 17, 2012. Copyright © 2012 The Digerati Life. All Rights Reserved.