When a friend of mine got married some time ago, he gave me some details about how much it cost him to cover a 200 guest wedding. His number came up to between $22,000 and $23,000. This gave me a chance to compare weddings in the Bay Area during the 00's vs the 90's, when I had prepared for my own.
My own wedding was in 1995 when we had a similar budget allocated for pretty much the same number of people. At that time, I remember how I forked out the bucks to get the wedding I envisioned in my mind's eye. I was also quite nervous about the expenses we would be incurring and the fact that we would be paying for most of it ourselves (or so we thought). But things worked themselves out. It so happened that generous guests and some cultural traditions helped us out on the money front (more on this below).
How Much Does The Average Wedding Cost?
But let's see how wedding costs have increased over the years — I got these figures from various wedding articles across the web (including this source). From these reported numbers, it appears that wedding budgets increase at the rate of approximately 3% to 4% a year (barring huge economic shifts). If we were to extrapolate things, it would perhaps look like this: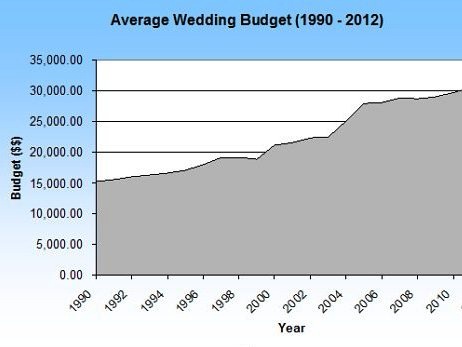 But here's what I found as historical data:
| Year | Average Wedding Budget |
| --- | --- |
| 1990 | $ 15,208 |
| 1995 | $ 17,000 |
| 1997 | $ 19,104.00 |
| 1999 | $ 18,874.00 |
| 2000 | $ 21,100.00 |
| 2002 | $ 22,360.00 |
| 2005 | $ 27,852.00 |
| 2007 | $ 28,800.00 |
| 2008 | $ 28,700.00 |
| 2012 | $ 27,000 |
As you can see, the long term trend for costs is upwards, so wedding budgets have increased even if it seems that fewer people are getting married these days. Specifically, the average wedding budget has increased by around 60% over a span of 15 years, and has risen 80% in 2 decades.
So wedding inflation is alive and well! The reason? The market can bear it: the average age of folks getting married nowadays has climbed. While people used to marry in their early 20's, they now wait till they're almost 30 before they tie the knot.
How To Set Up & Itemize Your Wedding Budget
I found this cost breakdown for some typical albeit weighty wedding budgets: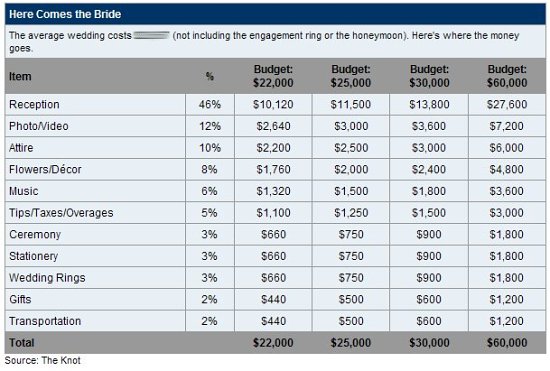 Table from SmartMoney.com
That's a lot of moolah for a one day event! As we've already shown, the cost of a wedding has hovered between $26,000 and $28,000, as the national average. So depending on where you're based, your wedding could cost a lot more….or less.
Where I live, I get these rather insane statistics, showing an even wider discrepancy between the low and high end budgets as provided by this Cost of Wedding web site:
Couples in my neck of the woods spend between $24,908 – $74,723 for their wedding, which is a huge range. This does not include the costs for a honeymoon or engagement ring.
$75,000 for any sort of wedding seems unheard of (well, except in the East Coast…). I'm not even sure how the cost of living around here can possibly explain these figures. Nope, can't blame it all on cost of living. It's about demand, with the ghost of the dot com boom continuing to permeate this region to some degree.
In general, people normally start off with a budget that is 50% less than what they end up spending for their big day, according to the Cost of Wedding site. Seems like people need a better way to budget more accurately, or maybe they'll need to try harder to stick to their budget!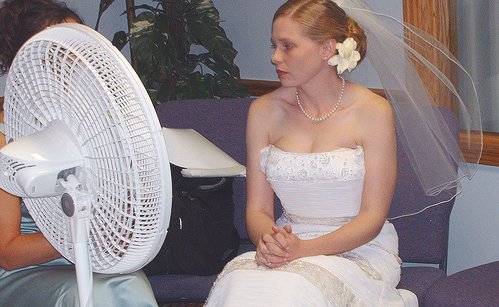 Photo by Hannita
Basic Budgeting Rules For Your Wedding
Okay so now that I've picked up my jaw from the ground (no thanks to those crazy cost figures), how about a few suggestions to help with the wedding planning process?
#1 Set expectations and be realistic.
Don't ask for a perfect wedding. Refusing to compromise in pursuit of the "perfect wedding" will cost you a bit. Many event planners who have worked for bridezillas can attest to that. Now for most people, saving money on a wedding is a priority. Who wouldn't want to have a dream wedding that was also affordable at the same time? So it's often the case that when nuptials are being planned, wedding budgets are first set to an admirably low number. But as the preparations move along, that budget often grows…and grows…and grows.
To develop a more accurate budget that you'll be able to stick to, it's a good idea to canvas brick-and-mortar, online and even printed wedding resources (stores, web sites, bridal shows and events, magazines) for ideas, and to get a feel for how much things could really cost you before you even start writing down numbers. Doing some preliminary research helps you set expectations and to be realistic about what you'll get for the money you're willing to spend.
#2 Keep an open mind.
Do you really need to keep up with tradition? When planning for my wedding, I seemed to get the impression that traditional etiquette steered away from the "tackiness" of blatant cash exchanges. But tradition often clashes with practicality and when needs arise, it's time to open one's mind to resourceful financing tactics. If you can think of weddings as a family affair where everyone can pitch in, all the better. It's great when one has a rich daddy who can throw a grand wedding for their daughter but more often than not, wedding planning falls on the shoulders of the couple to be married. So why not be practical? I think that cash gifts are a great idea!
#3 Do not keep up with the rich Joneses.
When you enter the phase where everyone you know is getting married and you are requested to be part of everyone's bridal party, it's quite likely you'll be comparing your own event to everyone else's. Resist the urge to impress everyone else. The most memorable or enjoyable weddings I've attended haven't been the most extravagant ones, but rather the most unique or most personal ones, where invited guests already knew each other.
#4 Work off a wedding checklist!
A wedding involves a ton of nitty-gritty details, so if you are going the traditional route, going with a plan and a checklist are a must. A trusty checklist can help you achieve quite a few things. It'll help you:
Delegate tasks to those who are helping you out with your planning.
Determine who's going to pay what!
Work out your budget.
For some advice on figuring out how your family can share your wedding costs with you, take a look at this About.com article called "Who Pays For What? At The Wedding".
#5 Prioritize your wedding requirements.
Know what's important to you. We all have different ideas about what our wedding should be like. While some of us want it to be simple and understated, others will insist on having the grandest thing that's ever happened in their lives. Based on what you care about, you're going to fashion just the right kind of budget that will fit your requirements. But it becomes tricky when you and your partner have opposing ideas about your wedding; then there could be fireworks before the marriage even starts! It all boils down to expectations, what you hold dear and how much you're willing to pay for it all. And because it's all personal, anyone who's about to get hitched will have to negotiate some of these things with their partner.
#6 Know what you want and prepare to make tradeoffs.
This is a corollary to the point made above. When you've scoured through your wedding checklist and priced the items on the list based on costs in your area, you'll be able to make decisions about the stuff you'd like to retain and those you'd like to trim off your budget. If you keep an open mind about the features of your wedding, you'll find that your flexibility will make budgeting easier. Just make sure that if you're allocating more money to one thing, you should think of reducing your budget allocation for other items that are less important. By making and accepting tradeoffs and setting budget priorities, you'll control your bottom-line so much more successfully and resist budget creep!
#7 Get inspired by the stories of other couples.
Whether you're out to save money or to spend it on a grand event, seeing how other couples have worked things out may lend you some perspective. How about finding some inspiration from what others have done before you? By taking a peek at how others have tackled their wedding, you may pick up some lessons learned or feel reassured that you're on track with your plans.
For instance, I found this entry made at a bridal forum particularly inspiring:
When coming up with our budget, my fiance and I looked at it this way: $26,000 is a down payment on a house, a new car bought outright, a trip to practically every country in the world or a nice nest egg, and, it's only one day. And I think it should be as nice as you want it. I have no issue with people who want to spend that much, but personally for us, we weren't interested in spending that much money. We set our budget at $5,000. It definitely won't be as nice as some weddings, but it will be what we want. We'll offer all the traditional wedding things: food, drinks, cake, and dancing, just a scaled down version. He's lucky I have simple tastes.
#8 Do NOT take out a wedding loan.
Call me naive, but I've never heard of such a thing as a wedding loan till now. These are unsecured personal loans you don't want to get saddled with. I suppose it's just another marketing tool for lenders to try to get you to finance yet one more thing in your life. You can of course try to get a secured loan with some asset as collateral but c'mon — you don't want to start off your new life on the wrong foot already in debt.
Now if you really want to think outside the box, here are some suggestions for a cheaper but still special wedding:
How About These Radical Ways To Save On Your Wedding?
#1 Go cultural.
If you have wedding traditions that involve the exchange of currency, cash or even cash equivalents such as gift cards, why not incorporate it in your event (see Money Dance)? It's been a boon to many couples I know.
#2 Cut down on guests.
This is the easiest way to save money. Start cutting down your guest list liberally, if you can help it. Make excuses that only close friends and family are invited.
#3 Rent everything.
Grooms and groomsmen rent their tuxedos, so why not have the entire bridal party rent their clothing? Will you be willing to rent your own wedding dress? Rent a cake? This comes back to keeping an open mind!
#4 Request contributions towards wedding accoutrements in lieu of gifts.
How about negotiating the gift of time, service or money towards your wedding event rather than actual material gifts from your friends and family? Some of them may want to pitch in to contribute for flowers, centerpieces, favors, food or even the honeymoon.
#5 Peg your wedding on an off-day.
Shift your wedding schedule and try for the off-season or a week day. I'd personally avoid bad weather months though just because a tornado over your wedding tent would *really suck*.
#6 Use cardboard for part of your wedding cake.
You've got a beautiful multi-tiered wedding cake so why not fake its bottom? I suggest this and many more wedding cake savings tips in this post.
#7 Choose a free (or almost free) venue.
Hold your wedding in a park or the beach or somewhere you can celebrate without spending an arm or a leg. You can try convincing your favorite aunt to open her house to your wedding party.
#8 Keep your entertainment simple.
Get your talented relatives to line up and do a performance for you. Maybe have some younger folks come up with some numbers. We were dining at an Indian restaurant once and to our delight, there was a traditional Indian wedding taking place in a banquet hall next to our seats. I got to watch some cute little kids do some cultural (as well as modern) dance and song numbers to everyone's entertainment.
#9 Use the internet!
The web is filled with a never-ending list of stories, tips, ideas, advice and products that you can access with the click of a button. Research is king.
#10 Delay the wedding.
How about this novel thought: plan your wedding once you've built up enough savings to fund it. That's what we did. That's why it took a bit of time as well. It was all part of our big master plan to get married after 6 years of dating (and working at our careers) after which we took another 6 years to wait to have kids. By sacrificing our time, we were thus able to easily take care of the financial details of these events.
#11 As a last resort, elope!
Just a few months ago, a dear friend shocked us by saying she already got married. Was I slighted? Maybe just a little, but I understood. After the fact, she's now inviting us to a post-wedding party. Though I doubt money was the reason behind her stunt, I'm sure she must've still saved a bundle.
Though some of these ideas may seem outrageous to you at first glance, I'd say just give it a bit of time to sink in. You never know, it may not sound like such bad ideas after all if you see how much you can save from making some simple adjustments to your wedding plan.
Created June 23, 2008. Updated April 13, 2012. Copyright © 2012 The Digerati Life. All Rights Reserved.