Ready for something a little different? Look low enough into this article to see some stupendous wedding cake ideas.
Do you know how much it costs to get married these days? Survey says: $30,000! If you're curious how much it actually runs in your neck of the woods, try this Cost of Wedding Test. I can't believe that in my area, it now runs $43,200, on average, to get married.
One of my favorite elements of the wedding is the cake, and that's because I have an enormous sweet tooth. This definitely was a factor in how I ended up with my own wedding cake, which I helped "design". Yes, I have to admit, I went all out and spent on an incredible custom cheesecake that contained various flavors per tier, and which was custom designed to look like a cake made out of shells. Which was weird, because I am not a beach lover at all, but I liked seashells, so it ended up looking like a cake on the beach anyway. Still, it was gorgeous and tasted fantastic. All for $1,000 for 200 guests.
I splurged then but I also saved for it. And to this day, I remember it fondly. In my mind, I have paid not just for the cake but for the memory of that cake for the rest of my life. Hence the premium. But if you're not at all in the mood to spend or splurge, there are still ways to achieve or acquire the wedding cake of your dreams!

Favor Ideas gave me some helpful pointers.
Tips For Having A Cheap & Inexpensive Wedding Cake
#1 Recognize this: the more time, labor and materials used on a cake, the more expensive.
#2 Use a fake bottom tier. Why not use cardboard for the bottom tiers with the real cake at the top tiers? Nobody will notice.
#3 Buy a small wedding cake and make it up with cupcakes or sheet cakes. Visit the supermarket for options, instead of the bakery.
#4 Pass on the fancy fondant icing. The least tasty frosting is also the most expensive.
#5 If you cut down on your guests, you'll cut down on the slices and overall cake price.
#6 Dare to do it yourself? With a little help from your friends of course.
#7 Stick to traditional shaped cakes (that would be round): even squares cost more.
#8 Know where your prices stand: cake slices typically cost from $1.00 to $6.00 a slice, and can go as high as $15.00 per serving!
#9 Price depends more on the style of the cake, rather than the flavors, so think about borrowing your cake materials or decorations, or requesting them as gifts (if it makes sense). For instance, opt for disposable cake pillars instead of crystal or get a cake topper as a wedding present! Or borrow the parts of the cake that you can use for design purposes, such as the pillars or the cake topper. It may come across as less sentimental, but your focus on practicality will save you money.
#10 Dress up a plain cake in a unique and memorable way.
#11 Is there a culinary school nearby that you can visit? You may want to inquire if they're open to customer orders for a lower price.
#12 Beware of the cake servicing fee, also known as the cake cutting fee. Check with your reception place if they charge for this service, which involves the use of their plates, silverware, and cleaning time. If you'd like to skip on these costs, then opt for cupcakes! Cupcakes require no cutting and very little cleaning.
#13 If you're set on going with a traditional baker, then ask the right questions. Interview your baker and get the lowdown on all their fees. The costs here may include a set up fee, delivery fee, supply rental fee, or extra fees based on the size of the cake being made. Perhaps paying upfront in cash may cut down your bill?
#14 Don't wait till the last minute to order your wedding cake. You may get an early bird discount!
#15 If you attend bridal trade shows, there may be discounts offered by bakers you meet during the event. You may want to do your due diligence before signing up with anyone, but if you do your research before attending the event, you may be able to take advantage of special offers made there.

Creativity does not have to be expensive; even simple cakes can get you to be the talk of the town. Most people will go for elegant, traditional style multi-tiered cakes like I have done, but I do appreciate creative productions as well. So how about a few novel ideas to stir up some inspiration? Hopefully, these concepts may just inspire you to concoct your own cake and save a bundle.
5 Of The Coolest Wedding Cakes I Found Around The Web
#1 The Super Mario Wedding Cake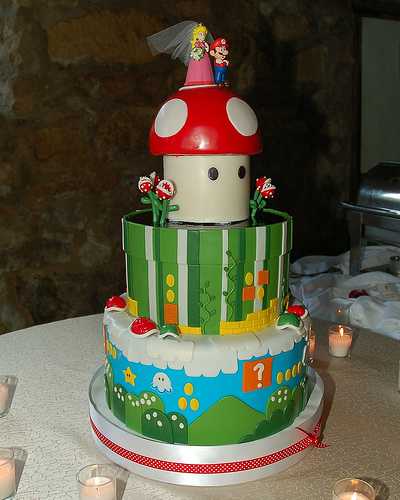 #2 The Star Wars Wedding Cake
Check more images out at GeekSugar.com.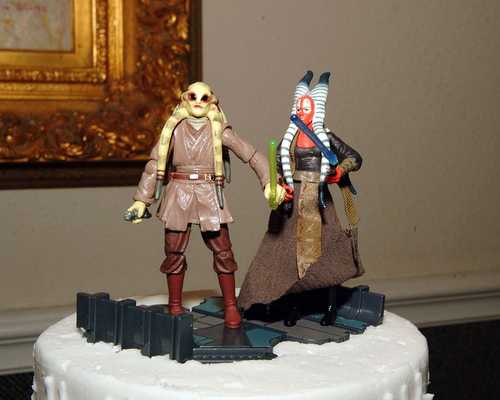 #3 The Microsoft 98 Wedding Cake (great for techies!)
Feast your eyes on other gadget cakes.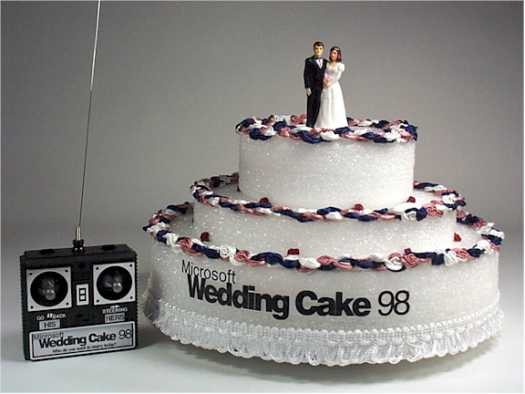 #4 The Steinway Piano Cake
Everything here is edible. See original image at GiggleSugar.com.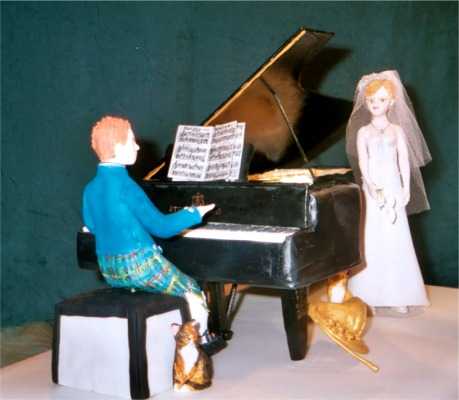 #5 The Genuine Meat Cake
Made out of the real thing! As in "great for carnivores".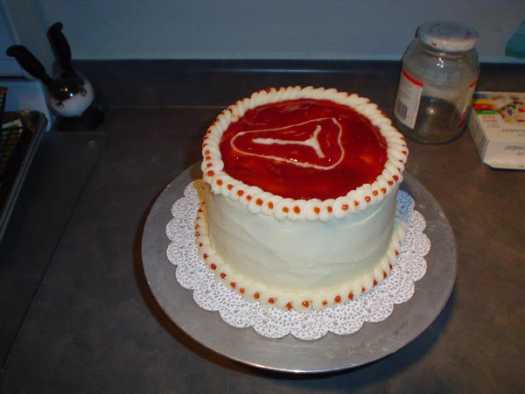 Here are more Wedding Cake Ideas for the curious:
A Discworld Cake
Wacky Wedding Sculptures
Heather Higgins Novelty Wedding Cakes
Rainbow Sugar Craft (see their novelty wedding cake section)
Sweet Art Cakes
Copyright © 2007 The Digerati Life. All Rights Reserved.