Beyond the usual estate sales, garage sales, rummage sales, arts and crafts or trade fairs and government auctions, I heard about a new spot where people stake out possible treasure hidden among other people's stuff. That would be in rental storage units that are now popping out everywhere to accommodate the clutter business.
Don't get me wrong — I think these storage structures are great if you need a temporary place to park your wares say if you're thinking of moving to a new home, you're undergoing a remodel, or you have an estate you need to eventually redistribute to beneficiaries. They're also great for small businesses that need to hold inventory or equipment somewhere, so rent is just part of doing business.
But what I wonder about are these warehouses that are being used to store stuff that will probably never see the light of day ever again, and that isn't going to be used on a regular basis, by virtue of the fact that it lives far and away from where you live yourself.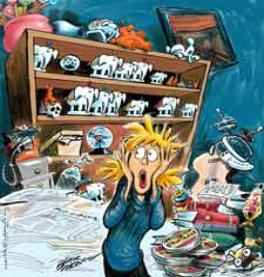 I don't know what you call it but anything that doesn't fit the nooks and crevices of your main residence and permanently needs another place of its own is something I'd deem as clutter. I am still somewhat surprised by the fact that people pay to house knick knacks and random stuff that they can't bear to part with, just in case they find a use for it at some later time. It's one thing to store items in the deep recesses of your house or apartment but it's another thing to fork bucks to keep them elsewhere in order to continue holding on to them. Do you have a price for your sentimentality? For many people, it's much more than how much space costs.
The Age of Consumption
Our families have grown smaller in the last half century, yet the living space we occupy has doubled in that same time period. Because of the prosperity that Americans experienced since the last World War, our appetites for material things have grown tremendously, requiring several cars per family, or TV sets and now even computers and game consoles per room! Don't forget that families inherit from previous generations too, and many can't bear to let go of concrete memories in the form of material things.
Some astonishing facts about the rental space business:
11 million U.S. households spend on rental storage, which generated $18.5 billion in revenue for 2005.
The U.S. population increased 25 percent from 1984 to 2005, while square footage of self storage increased by 600 percent.
500 million square feet of storage space was built from 2001 to 2005, which translates to 7 square feet for every person, according to the chairman of the Self-Storage Association, a trade organization. It's pretty cool that even space gets a trade organization!
In 2005, self-storage ranked #1 for most profitable sector among REITs, beating out shopping malls, long term care facilities and residential REITs. Wow!
How much is space going to cost you?
Some monthly rates in San Jose:
The smallest 5 x 5 foot unit rents for $70.
a 10 x 10 foot unit rents for $240.
a 10 x 25 foot unit goes for $425
Unfortunately, many units become abandoned by some customers when they fail to pay the rent, and under California law, after 64 days of non-payment, they forego their stuff completely when a lien is placed on their property. Every few weeks, a self-storage facility holds auctions to clear out the spots and defray the rental costs, and so they receive bids from treasure hunters, many of whom are part of a subculture of regulars who participate in the bidding.

How do auctions for storage units work?
An entire storage unit is opened up for display, the bidders look around and review the goods, then the entire unit is up for grabs to the highest bidder. The bids per unit are payable only in cash and are, of course, all over the map (think: $50, $200, $500, $1,200), as varied as the contents they exhibit. Once they win, most bidders resell the items they get in the usual places such as eBay, Craigslist, home consignment centers, flea markets, or maybe their very own garage sales. If they pick up something of value such as jewelry or a fancy painting, then off it goes to get appraised. Watch out though! Some hazards of the system include hot, stolen items that may yield you nothing but a hole in your pocket, so buyer beware!
If serious thrifting and treasure hunting is for you, then abandoned storage houses are but another place to consider. But hopefully you don't do this just to start your own new collection of clutter in your very own leased storage box.

< Reference: San Jose Mercury >
Created December 24, 2006. Updated December 24, 2010. Copyright © 2010 The Digerati Life. All Rights Reserved.