Is there such a thing as a "frugal spender"? My rambling reflections on frugality, saving and our spending habits.
What Are Your Spending Habits Like? How Do You "Buy Stuff"?
The story of Sam Walton has always fascinated me. Here was a guy who was worth a huge load of money yet who was reputed to live a simple life. Then there are those folks with these interesting spending and saving profiles:
those who buy things because they're on sale, hoarding stuff and hoping they'll have use for them someday, or
those who hardly buy anything but then save up for that big purchase. And when they finally buy something, price isn't much of a factor.
Then of course, there's everyone else in between. I do think that spending habits are fascinating to study, as it may reveal something about ourselves at a deeper level, maybe even revealing something about our level of happiness.
Thoughts On Saving and Spending Behaviors
A long while back, I talked about how I balance my efforts to spend and save money. I'd written a post that covered the science behind money behaviors, discussing how frugality is tied to happiness. The key finding was that spendthrifts (those who can't stop spending) and tightwads (those who can't spend at all) weren't as happy as those who were deemed frugal.

Why so? The experts say it's because frugal people are considered more "balanced" in the way they view money and while cost conscious, they are free from compulsions that may overwhelm those who have more restrictive or even obsessive relationships with money.
I am familiar with a few people who fall in the extreme ends of what I call "the frugality spectrum" and I've seen how negative money behaviors and tendencies have harmed someone's pocket book and personal relationships with other people. Their inherent attitude towards money has made them miserable — because wanting to fight the urge to constantly spend or save can be frustrating in its own right.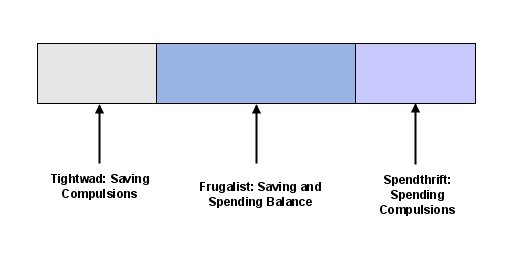 The happiest people out there are those who can find a balance between any extreme, and it also applies to how we handle and manage our money.
Defining Frugality: Spending Money On Things of Value
Do you earn more and spend less? If your mind and heart are in tune with how you're managing your money, if you're able to build a healthy nest egg while spending much less than you're earning, then I think you're still in the middle of that frugality spectrum even if you happen to own a BMW, an art collection or a luxury condo (hey, this is an appreciating asset!). Yet this doesn't stop others from judging you on what you own.
If we judge people based on what they own, then we could be missing out on some great lessons and examples given by true value spenders.
See, for instance, these consumer profiles:
They spend much less than they earn but make so much money that they can afford expensive items.
They buy a used luxury car because it's half priced.
They are selective about the high-priced items that they buy and don't make impulsive purchases.
The stuff they buy only looks expensive.
On this note, frugality doesn't mean you have "cheap tastes". It means that you are prudent and deliberate with your spending, and that you place your money on what has "good value". This virtue should describe HOW someone applies their money rather than WHAT gets bought. I would refer to this classification of savers with the term: "frugal spender" (or "value spender"), or someone who's basically a saver, who's value-minded, yet splurges when they can afford it.
So where would you place yourself in the frugality spectrum?

Image Credit: FourPiggies.com
Copyright © 2009 The Digerati Life. All Rights Reserved.