Update: I don't believe this casting call is in effect any longer. So sorry about that! Still, if you're interested about entering a television show for money, you may want to read on as this article can offer a perspective on this matter.
Earn $20,000 by being frugal. On television. I'm a huge reality tv show freak, so when a casting producer from ABC emailed me about the reality show called Wife Swap, I was intrigued. Apparently, they had reached out to frugal blogs in the past with regards to a casting call for an episode they wanted to do last year about a coupon-cutting family. They're doing it again this year.
Earn $20,000 By Starring In The Reality Show "Wife Swap"
This time around, they are looking for a family who enjoys simple and frugal living, and who has unique ideas for saving money. Looks to me that during tough times like we have now, this episode will be very apropos! Now I'm thinking, what kind of household will they pair up with such a family? A profligate family who loves to spend? Uh-oh! Whatever fireworks you end up with on a show like this, some of you may decide that it's worth the $20,000 that ABC is offering for your time and trouble.
Anyway, I thought about this for all of two minutes and entertained the fantasy of being on a reality show. Hah! Unfortunately I'm too old to do singing contests (forget the American Idol career path), too feeble for Survivor, too boring for Big Brother and too navigationally-challenged and slow for the Amazing Race (plus I have plane phobia).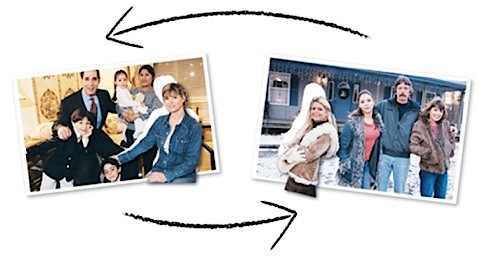 Enough chatter, let's get to the good stuff. Here's ABC's message:
ABC's Casting Call

Because of the current state of the economy, we would like to feature a family that values simple living or chooses to live a frugal and simplistic lifestyle on the show. We would especially love to cast a family that has really unique ways to save money.

We are looking for a two parent home (you don't have to be married) that has children between the ages of 7 and 17 living at home full time. The family can have younger and older children as well — as long as they have one child between our age ranges.

This is a very unique experience that can be life changing for everyone. In addition, each family that tapes an episode of Wife Swap receives a $20,000 honorarium for their time. Anyone who refers a family that appears on our program receives $1000 as a "thank you" from us. Please feel free to forward this email on to anyone that you feel might be interested.

In case you are unfamiliar with the show, the premise of Wife Swap is to take two different families and have the moms switch place to experience how another family lives. Half of the week, Mom lives the life of the family she is staying with. Then she introduces a "rule change" where she implements rules and activities that her family has. It's a positive experience for people to not only learn but teach about other families and other ways of life.

Wife Swap airs Friday nights on ABC at 8pm (the family hour)!

Please let me know if you know of anyone that might be interested in this opportunity. Feel free to let them contact me directly at either of the following email addresses: jessica.jorgensen@castingrdf.com or wifeswap.jessica@gmail.com.
By the way, if you do get picked for the show (who knows, I can dream!) and you mention that I referred you, I may get a finder's fee. If you win this lottery, we'd love to hear about it!
Personal Financial Reads
Recent Carnivals
Carnival of Debt Reduction
Copyright © 2009 The Digerati Life. All Rights Reserved.