I found out that I actually have a few things in common with these women: Lily Tomlin, Gloria Steinem, Shirley MacLaine, Katie Couric, and even the wife of Charles Schwab and Company's ex-CEO! It may not be what you think, as we don't share the same fortunes; what it is, in fact, is that we all share money anxieties. These women all admitted to having "bag lady syndrome." And I'm afraid I might actually have a touch of it as well.
What is "bag lady syndrome" exactly? It's this irrational fear of not having enough money. That maybe one day we'll wake up and we won't have quite enough to feed, clothe ourselves or put something over our heads. Maybe we'll find ourselves holing up in our cars or even just loitering the streets. I'll admit I feel this way only sometimes, but why do I feel it at all?

Let's take a closer look at this somewhat unusual but not uncommon condition. Do any of this sound familiar?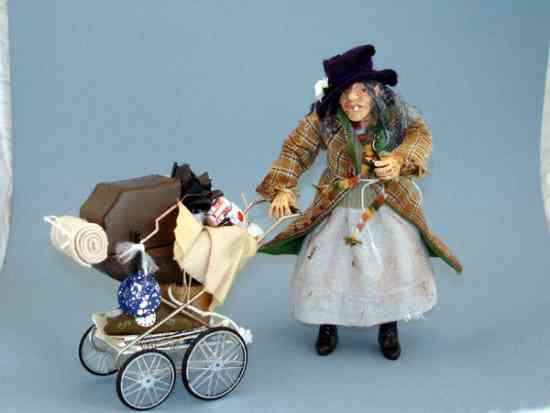 Characteristics of Bag Lady Syndrome
It's not a real medical or psychological condition but a set of specific fears surrounding money. Phew! I'm relieved that the kind that I have is nothing too serious. I hope.
Only women have it.
Men apparently do not display parallel anxieties such as Bowery Bum fears. The reason is because men, who are traditionally breadwinners, are groomed to be providers and managers of their money, while women traditionally being the dependent sex, may be more groomed to be consumers and spenders. Women may thus feel less confident with handling finances and may feel less in control of their financial destiny. From the source article:

"No, men don't have bowery bum fears," says Mellan. "They have fears that are more rational and related to their provider burden: being injured, dying young, being laid off, things like that. Whereas bag-lady syndrome is more global, a magical, nameless thing like free-floating anxiety."

Hmmm….that sounds somewhat weird though — when I feel anxiety, I am usually certain where it's coming from and it's from something concrete. So when is it magical and nameless? But supposedly there are genuinely debilitating cases of this that have caused serious depression in some women.

It is rooted in basic insecurity.
According to the article, "being single costs 80% that of a couple, and women are seven times more likely to be single and live six years longer. Given a 50% divorce rate and that the average age of widowhood is 56, there's probably good reason to be concerned."
Any woman can exhibit signs of having the syndrome, regardless of her financial standing.


Some signs include:

feeling paralyzed about what to do with one's finances so nothing is done
being overly conservative with one's investments due to an unfounded fear of loss
feeling the need to avoid money altogether or anything that smacks of finances thus leaving the responsibility to men and exacerbating the problem
needing to hoard money

In my case, I show tiny signs of the 2nd and 4th behaviors. Eeek! I guess I used to be called Hetty Green for a reason. So this got me thinking about those stories of people who died almost like paupers and left massive estates behind.

Beat it by taking action.
For some, it's by thinking more of others and less of themselves, which can take away the self focus that is inherent in insecurities. For others, it is to seek assistance from experts or mentors in order to gain better control of their finances and hopefully allay their lack of confidence over handling money.
I Don't Really Have This, Or Do I?
I'll admit that I'm a bit neurotic.
I don't think I necessarily have a pronounced case of this, although I am certain that my frugal habits stem from the need to store up, like a squirrel does its nuts, before the winter season hits. What I discovered though, was that despite making fairly good progress with our household's financial plans and goals, any concerns I was harboring regarding having a "lack of resources" at any point in time may be due to my tendency to anticipate the future a little too dramatically. Because I try to ground myself in reality too much and realize how future changes in our lives can impact our current lifestyle and financial standing, I end up acting like the proverbial hoarding marsupial and have made this a way of life. I also have this terrible habit of catastrophizing too much thus leading myself to adapt certain behaviors that have been both good and bad for our plight. Good, in the sense that our conservative fiscal habits have earned us a stable foundation today, but bad, in the sense that unpleasant and sometimes irrational fears can cloud our decisions and just plain make us miserable.
In the end, it's all about achieving balance as always. And that's something I've got to work on in order to enjoy life and what's left of it that we have, regardless of the number of figures displayed in our bank accounts.
< Credit: Do You Suffer Bag Lady Syndrome? by MSN Money and Dream In Miniature Dolls >
Copyright © 2007 The Digerati Life. All Rights Reserved.