Today, I'm departing from my usual fare by presenting a snarky and controversial guest post by Mr. Moneybags, a personal finance blogger I've recently come across. I'd characterize his writing style as risque, highly edgy and different (I had to tone down his post somewhat, in order to run it here). For a much tamer look at the gender debate in finance, check out our posts: Managing Money: Men vs Women and Traditional Jobs For Men and Women. I now offer the floor to Mr. Moneybags.
Is there equality for women in the workforce? Sure, you can talk about equality all you want and acknowledge the plight of women and what they have gone through in the last century to achieve socio-economic parity, but the corporate world still seems to disagree.
Employment Discrimination & The Gender Wage Gap
In 2006, the United States Census Bureau determined that women earn an average income of $32,515 every year, while men bring home $42,261 worth of bacon -– that's a difference of $9,746.
Over the average person's work life (24 to 65 years old) of 41 years, this amounts to men making almost $400,000 more than the average woman. If you invest that same $9,746 every year growing at an annual compounded rate of return of 15%, that amounts to almost $26 million — the equivalent of 15 beach homes, 260 Porsches or 2.6 million Danielle Steel novels.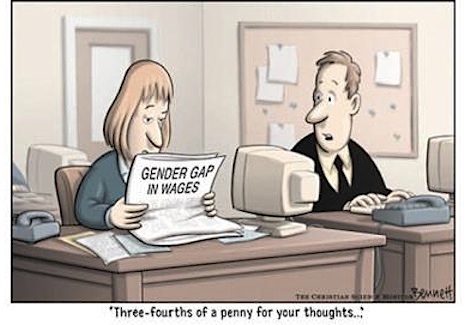 So, what is the reason that men make so much more money than women? Is it because men can lift heavy boxes and lug them across far distances? Or could it be because of that thing which requires a magical blue pill for optimal performance?
The purpose of this article is to find out why these compensation differences exist, and what women can do to close that earnings gap short of a sex change operation (a.k.a. Plan B). Let's get started!
How To Break the Glass Ceiling: 13 Fortunate Women
Of all the companies in the mighty list of the USA's largest 500 publicly traded companies known as the Fortune 500, only 13 companies (or 2.6%) have had female CEOs. Outside the Fortune 500 companies, the ratio is even lower at 1.5% of CEOs being women.
So, why is this the case even though women now receive about 6 out of every 10 college degrees, have earned more than 40% of MBA designations at top colleges and have performed better than their male counterparts in executive roles at many companies (according to some reports)?
Let's take a closer look at some of the female CEOs of the top companies:

From left to right we have: Patricial Woertz (Archer Daniels Midland), Indra Nooyi (PepsiCo), Irene Rosenfeld (Kraft Foods), Ellen Kullman (DuPont) and Laura Sen (BJ's Wholesale Club).
So, what do they all have in common? They all look like men.
And there's your problem — instead of accentuating the wonderful aspects that makes a woman a woman, these ladies instead lopped off their beautiful tresses and donned pantsuits worthy of taking on Jon Travolta on the dance floor (Saturday Night Fever, anyone?).
And there's your first tip: if you can't beat 'em, join 'em! Want to make as much money as a man? Then look (work and play) like one!
Of course, many women won't take kindly to such a proposition, so unless you are fine with changing your identity a la John Travolta in Face/Off then you may want to keep reading.
Do What You Love And The Money Will Follow? Don't Think So.
In a study performed by some super economists at the University of Chicago, a few rather interesting facts were discerned about the reasons for the gender wage gap, one of them being this:
On average, women score slightly lower GPAs than men and take fewer finance courses.
What does this have to do with the wage gap? Remember those Wall Street jobs that were under scrutiny during the financial crisis? Think of that and everything you have ever heard in the news about the financial industry, and remember the ridiculous salaries and bonuses that the top executives got at these firms and compare it to the average person's. Now you have your answer.
If you don't take finance courses or learn about finance and business in some way, chances are that you're not going to join the financial industry and end up taking your very own jet (forged out of solid gold) to work every day like the rest of us. Since fewer women join the high-paying financial industry, it follows that fewer women are making as much money this way.
Why is this the case? I can assure you that most men don't fight to the death to get an internship at a leading financial institution because they enjoy studying Aroon Oscillators and utilizing the Elliot Wave Theory. They do it for the money.
Women, on the other hand, know that the size of their bank account doesn't compensate for the lack of size of certain appendages, and instead, do things that they actually enjoy. It is for this reason that women take the courses they want to study in college as opposed to where they can get the easiest marks, even though doing so may result in a lower GPA. Of course, this may ultimately result in a lower salary as well — but then again, they're not in it for the money in the first place.
The Other Side of Having Babies
If you are a capitalistic pig such as myself who only cares about money, you may want to avoid having children. Why?
After ten years in the workforce, only 10% of male MBAs went for six months or more without working, compared with 40% of female MBAs. If that wasn't enough, over the first fifteen years of their careers, women work fewer hours than men (52 per week versus 58) -– adding up to a whole six months' worth of experience over those 15 years.
In short, women work less than men.
Is it because women would rather kick back in their sofas and read the latest novel of the Twilight saga rather than drag themselves to work? Or is it because they would rather take a "personal day" off at the mall complete with a credit card with no limit?
Not exactly.
It seems that for women, their family and children are more important than working day and night in order to be able to lug some big fat moneybags home –- and I don't blame them.
Having money is fine and dandy, but having no one to share it with kind of defeats the purpose. This is something that too few men seem to realize. Still, more and more women are straying away from directly competing with men for the high-paying executive positions.
So if you'd like to risk living the rest of your life childless or with a broken family in exchange for a few extra bucks, then I wish you the best of luck.
Parting Thoughts
In the end, we see that women aren't really equal to men. In fact, it may be the case that women are infinitely superior to men in every way but one. But if not for these differences, how else would I be able to pass on my legacy and build a little army of Mr. Moneybags that will assist me in conquering the world?
Shall we therefore conclude that in order to be on the right track to greater financial success, that we should learn to sacrifice some of the things we love for the money, and perhaps even risk the possibility of growing old without kids or a family?
P.S. I've written controversial posts on my own site in the past (such as how a few cows can cause more environmental damage than a parking lot full of Hummers or how to get rich by being racist) but this is definitely my most controversial guest post (so far)!
Mr. Moneybags is the richest being in the universe to have ever existed, and accidentally invented the stock market in 16th century France while searching for a way to smuggle pilgrims across the country. He and his blog are determined to prove to the world that the subject of money shouldn't make you want to douse yourself in gasoline and run into a forest fire.
Copyright © 2009 The Digerati Life. All Rights Reserved.