Wall Street's investment bankers are out to defend their jobs, salaries and their stratospheric bonuses. This would be fine if they didn't have to require us to bail them out!
I found this to be pretty obnoxious: Wall Street guys defending their bonuses during a time when the economy and the nation are hurting! At least, President Obama has acknowledged and has criticized the $20 billion in bonuses given out during the economic crisis as highly irresponsible.
But the Wall Streeters aren't backing down — some are saying that their bonus is part of their pay, and without a bonus, it's like getting a pay cut. Well duh! I guess I'll state the obvious here and say that in case these people haven't realized, we're in the midst of a serious recession that can really cripple the entire country. While the rest of us languish by getting laid off and going into foreclosure, certain individuals can only think of protecting their status quo and comfortable lifestyles.
I believe that at a time like this, we all need to give a little and sacrifice a little to get this economy back on track. You know…. take one for the team?
Wall Street Jobs With Big Bonuses: How The Taxpayer Will Pay Out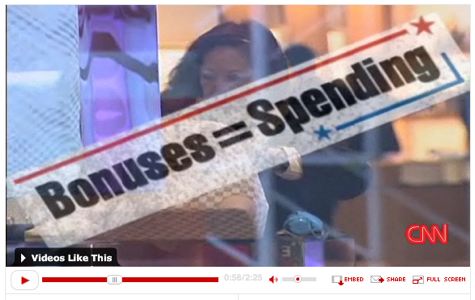 This video made me weep.
Rumor has it that changes will need to happen in Wall Street or we'll be facing the possibility of having the government step in to put a damper on the financial industry's compensation structure.
5 Arguments For Preserving The Investment Banker's Salary
Allow me to summarize their defense points from the video:
1. Taking away bonuses is like cutting your salary in half. So you mean going down from $400K a year to $200K constitutes hardship?
2. Slashing bonuses will slow down the economy further. Why? Because the elite will stop buying yachts, expensive jewelry and luxury cars. There are already less of them frequenting high-end restaurants. The horror!
3. Companies need to pay for talent. AIG defends giving out $450,000,000 for 400 of its top employees. That's about $1 million per person — the bounty needed to keep the "Michael Jordans" of the insurance industry on the AIG team.
4. It's not entirely Wall Street's fault; they're being scapegoated! So we're pointing fingers now — there's lots of blame to go around and some of the accountability should land squarely on the American public because of our pathetic long-term 0% savings rate.
5. Bonuses have already been slashed, in case you haven't noticed. Apparently Wall Street bonuses were down 44% in 2008; yet even without a bonus, a typical employee in the financial industry continues to rake in 3x to 4x an average American's salary.
Why One Senator Called Them Idiots
Well here's what we're not happy about: if we're living in a capitalistic society then we should all be riding the markets down in the same way we rode it up. If your company collapses, you're out of a job, so demanding a bonus should be farthest from your imagination at this point. Here's what truly bothers me — it's the financial industry's sense of entitlement and arrogance that grates on me to no end (I say this even as someone who has worked in the industry before). Problem banks are not the only ones in this predicament of course, as there are many other troubled and mismanaged companies out there requesting bailouts, to which we should apply the same treatment.
Is Wall Street really so far removed from the average reality that the idea of belt-tightening and cutting costs has become pure sacrilege? But maybe it's more basic than that: you see, it's a dog-eat-dog world out there and lots of people are simply thinking it's "every person for themselves". It just so happens that this time, it's become the latest group think, the collective mentality of a few industries accustomed to largesse and the good life.
Copyright © 2009 The Digerati Life. All Rights Reserved.