What things did we uncover about the financial industry during the financial crisis of 2008? Find out how these events affected our personal finances.
What comes to mind when you think about the financial crisis? It was certainly a peculiar time when a lot of negativity permeated the economy and the financial industry. But how bad did it really get? Let's take a look. Here were the news articles that roiled our world… or at least, got me shaking my head and furrowing my brow during the latter part of the 00's:
What We Learned About The Financial Industry During The Financial Crisis
1. Money managers behaving badly.
Could Madoff have pulled his fraudulent scheme at any other time in history? Maybe not. It took a lousy economic climate to bring down the big guys and expose the biggest stock investment scam in history. When things are going well, the rising tide lifts all boats, so it's easier to disguise the crookedness that goes on under the covers. I've seen many bad examples of money managers behaving badly.
2. CEOs behaving badly.
Money managers aren't the only ones behaving badly. You've got gambling CEOs (heard of Fry's CEO who used money taken from kickbacks to fuel a gambling habit?), wasteful CEOs (flying corporate jets while begging for OUR money) and yeah, those CEOs who unfortunately feed the corporate greed stereotype. Did you know that the average salary, bonus and benefits for top bank execs is allegedly $2.6 million?
"Most of us sign on to do jobs and we do them best we can," said Frank, a Massachusetts Democrat. "We're told that some of the most highly paid people in executive positions are different. They need extra money to be motivated!"
I have never seen so many ill-behaved corporate leaders in my life. But maybe stories like this come out of the woodwork much more often when things go south. When things go sour, many more truths are unmasked, and vulnerabilities and imperfections are easily exposed. It's just too easy to look the other way when things are going well…
3. Corporate excess fueled by taxpayer's money?
The financial bailouts have been fueling some of these doozies:
Chrysler takes out a six figure ad to thank taxpayers for their money, after receiving a bailout. Click the image or this link for the full ad.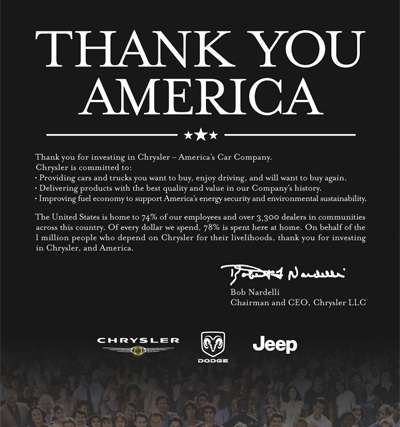 Here's what the ad says: "On behalf of the 1 million people who depend on Chrysler for their livelihoods, thank you for investing in Chrysler, and America," which is signed by Chrysler CEO Bob Nardelli. Some articles have clarified that the "full-page ad in The Wall Street Journal runs between $206,000 and $264,000, and a full-page ad in USA Today runs between $112,000 and $217,000."
That's not all. Have you heard about this $37 million Park Avenue apartment that your bailout money has supposedly bought?
4. Bonuses for some, layoffs for most.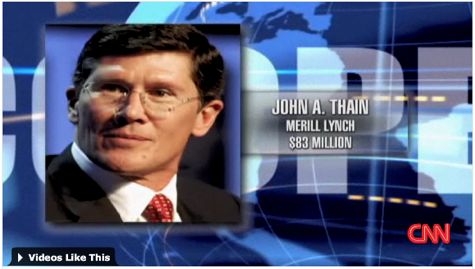 Then there's the stark contrast between those victims of foreclosure and financial loss, of mortgage fraud, of layoffs and of bankruptcy, and the very small percentage who work in the financial industry who continue to revel in massive bonuses and hefty compensation packages. So who's paying for those bonuses now?
5. Lack of financial accountability.
Do you know where your money is going? The banks who are getting your bailout money aren't saying much (well, maybe because the media's been asking). Still, this general lack of transparency seems like yet another corporate subterfuge, just like the fear tactics that the financial industry is heaping upon our government officials and friends in high places to help secure the bucks they need. I'm surprised there's not more public outcry about this.
6. Continuous requests for bailouts to help the "financially distressed".
I still can't get over the irony of the Three Big automakers arriving in posh corporate jets then begging for bailout money. If I wasn't so peeved, I would have found this ad funny (picked it up from Andrew Sullivan; warning: somewhat strong language).
Can the future be any crazier?
Copyright © 2008 The Digerati Life. All Rights Reserved.