Finally… if a company wants its version of a stimulus check (what amounts to bailout funds from the taxpayer), they'll need to cap executive pay, according to Obama's executive compensation plan.
It looks like President Obama is taking steps to get us down the right course while we weather this recession. Capping executive pay for the time being makes total sense to me, since rumor has it that more companies will be begging for more funds, including those that have already previously received loans. These guys need to learn how to conserve!
I think that with the way the recession is shaping up, additional government handouts seem to be likely in the future, which is why we sorely need this pay cap. Unfortunately, earlier bailouts are not subject to this policy, so it remains to be seen if earlier bailout recipients will bother to conform to the new rules.
Consider this as a follow up to my post on how Wall Street jobs pay out big bonuses: from the New York Times, this just gets my goat:
Five of the biggest companies to get help — Citigroup, Bank of America and the American International Group, General Motors and Chrysler — were all facing acute problems. And top executives at those companies made far more than $500,000 in recent years.
Some defenders of executive pay are using the term "draconian" to describe this policy, as they continue to present the excuse that with pay caps, "key executives" will now just want to up and leave and go elsewhere where pay is better.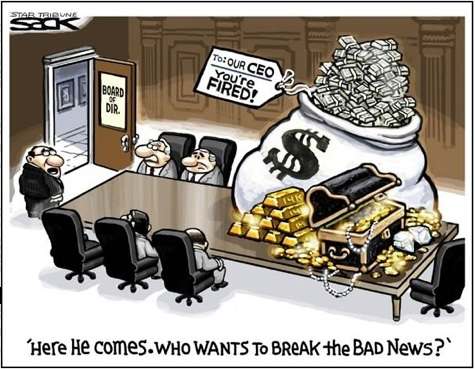 Image by
The Reputation Doctor
Hmmm…. okay, so I didn't realize we were swimming in jobs out there that offered more than $500,000 in pay, all for the taking. I want to call out their bluff and say, "tough"! I'd love to see these executives *really* earn their pay — if they were so exceptional and worth the millions of dollars they were making, then they should be brilliant enough to be able to turn their ailing companies around without having to get help. Don't you think?
Copyright © 2009 The Digerati Life. All Rights Reserved.