One of my best friends while growing up currently lives in London. She's called me to say she was coming over to visit the U.S. with her family to check out the Northern California coast. Then she proceeded to gloat over the fact that she was going to do some serious shopping over here. That's because her money has longer to go here with the dollar being so weak against all forms of currency lately.
There are certainly more ominous consequences to a falling dollar, but from our vantage point as consumers, we're seeing the fallout affect us in our everyday lives as fittingly described by The New York Post in this manner: the depressed dollar is "turning Fifth Avenue into a virtual flea market for global travelers." In an older November 2006 article, we are shown the difference in price between some goods selling in the U.K. and in the U.S. Note that I've recalculated the prices here based on much more recent currency exchange rates:
For example, a pair of ladies' straight leg 7 For All Mankind jeans retails for £169 ($327, now it's $344) in British department store Selfridges. In American department store Bloomingdales, the same pair of jeans sells for $143 (£73.80, now it's £70.20).

An Apple 30GB iPod retails for £189 ($366, $384) in the UK, and for $249 (£128, £122) in the U.S.

Make-up is also much cheaper for European travelers. Stila Tinted Moisturizer sells for £20 ($39, $40) in the UK, and $28 (£14.50, £13.70) in the U.S. But on Web site strawberrynet.com, it can be bought for as little as £8 ($15.50 $16.)

European travel companies report that bargain-hungry shoppers are taking advantage of the favorable exchange rate to stock up on cheap goods.
You can just imagine all the "power shopping" that's been going on since last winter, mostly by tourists. A quick poll by CNN.com establishes this point:

Well I'm absolutely downright envious. My BFF is going to save a bunch of money while embarking on a vacation lined up with wallet-depleting shopping sprees: just how ironic is that? But I wish her luck hauling her booty back!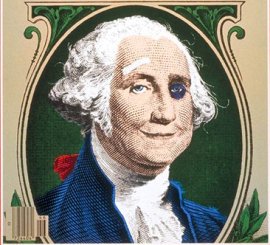 So what exactly IS happening to our once almighty dollar? Why am I getting shafted in the international front while my friend is gallivanting around the world buying up stuff on the cheap? It's mainly something to do with our ballooning trade and budget deficits and whether we like it or not, the world has got us by the you-know-what.
Here's a peek at the dollar's health, which you can measure through a variety of means including this convenient gauge:
The U.S. Dollar Index
The U.S. Dollar Index is calculated by averaging the exchange rates between the US Dollar and six major world currencies: Euro, Japanese Yen, British Pound, Canadian Dollar, Swedish Krona and Swiss France. It gives an indication of how well our currency is doing against the rest of the world with the components illustrated as follows:
| Currency | Weight |
| --- | --- |
| Euro EUR | 0.576 |
| Japanese Yen JPY | 0.136 |
| British Pound GBP | 0.119 |
| Canadian Dollar CAD | 0.091 |
| Swedish Krona SEK | 0.042 |
| Swiss France CHF | 0.036 |
The USDX averages the exchange rates between the US Dollar and six major world currencies.

These world currencies are those of 17 countries (12 countries of the Euro zone plus the five other nations whose currencies are represented in the USDX) which constitute the bulk of international trade with the United States, and have well-developed foreign exchange markets with rates freely determined by market participants. In addition, many currencies not included in the USDX move in close correlation with those that are included. The USDX is computed 24 hours a day, seven days a week.

This index started in 1973 with a base of 100 and is relative to this base. This means that a value of 120 would suggest that the U.S. dollar experienced a 20% increase in value over the time period.
The historical performance chart of this index depicts the depth of the slide, showing how the USDX is now touching 80!
U.S. Dollar Index Chart (1972-2007)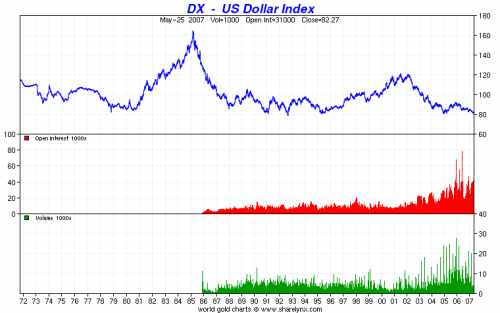 Looking at this graph, it's hard to believe the dollar can fall further now that it's scraped the bottom in the last 35 years — but it certainly can. I'm not too happy as this is making me stingy. No matter, I'll still keep a stiff upper lip and play the good hostess to anyone who decides to visit us. They'll need to repay the favor when the tides turn…. which I hope won't be too long from now. In the meantime, here's where you can keep an eye on the dollar.

Image Credit: Time Magazine; Chart Credit: ChartsRUs.com
Copyright © 2007 The Digerati Life. All Rights Reserved.