What happens when the U.S. dollar is weak? There's a general ongoing trend that has been simmering for quite sometime now. No, it's not global warming though it's also a global matter: it's the "Buy America" trend, which you'll note through stories like the following.
In the American suburbs around where I live, there is a lot of foreign money flooding in, snapping up properties that have been greatly devalued in terms of foreign currency exchange. If the dollar is weak, then the goods here are cheaper and we become a magnet for big time bargain hunters everywhere else. To foreign interests, we are hosting the biggest garage sale there is.
As a result of the economic imbalances we are seeing, you'll be reading more news articles like the following: in this New York Times article, Overseas Investors Buy Aggressively in U.S, we see that the falling dollar and the credit mess have been turning troubled American companies into yummy fodder for foreign investors.
On investments:

For much of the world, the United States is now on sale at discount prices. With credit tight, unemployment growing and worries mounting about a potential recession, American business and government leaders are courting foreign money to keep the economy growing. Foreign investors are buying aggressively, taking advantage of American duress and a weak dollar to snap up what many see as bargains, while making inroads to the world's largest market.

The weak dollar has made American companies and properties cheaper in global terms, particularly for European and Canadian buyers. Even as Americans confront the prospect of a recession, economic growth remains strong worldwide, endowing oil producers like Saudi Arabia and Russia and export powers like China and Germany with abundant cash.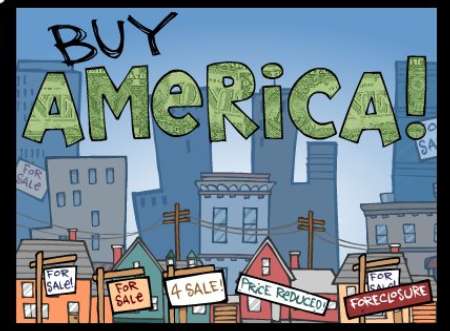 In this CBS news article, A Feeding Frenzy For Foreign Shoppers, we see that a good percentage of retail shoppers from abroad are flocking to our malls for super discounts (relative to prices in their own lands), thanks again to the weak dollar.
On malling, shopping and store-hopping:

We've always had Brits. We've always had Irish people, Europeans," said Parisi, director of Elegant Tightwad shopping excursions. "But now they're coming in droves. In droves!"

Because with the dollar near record lows, to Europeans like Elizabeth Morton, it looks like we're giving it all away.

The influx has been awesome. One million Europeans are expected to visit New York City this month alone. That's about 50,000 more than last year. Picking the foreigners out at Big City Outlets is easy. They're the ones dragging suitcases behind them.
and in Foreign Buyers Snap Up 2nd Homes in U.S., squeezed property owners are parting ways with their real estate as they get bailed out by international buyers.
On real estate:

The events of 2007 have made the U.S. much more affordable for international home buyers. Severe dollar declines against the euro and pound have made U.S. homes much cheaper for Europeans. But even foreign buyers without that sort of currency advantage are benefiting from sharp drops in housing prices at a time when problems in mortgage lending are keeping many Americans out of the market.
I've also heard about this huge piece of land covering 1000 acres in Napa county complete with king-sized mansion that is on sale right now for $35,000,000. Who's buying? Someone from France.
To overseas investors, our cheap real estate, cheap dollars, cheap companies and cheap merchandise are great bargains for the picking, and these investors are not wasting any time gobbling up these assets. Plus, they're probably setting up shopping trips to Saks Fifth Avenue and Rodeo Drive while we all visit K-Mart and Target. Hmmmm….. 😉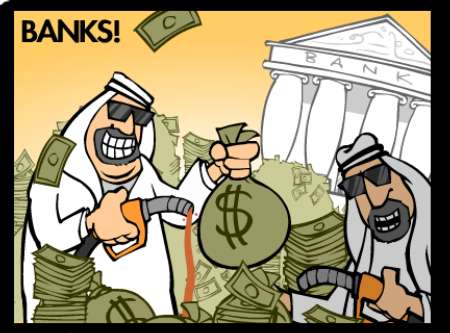 We need foreign investments to keep our economy oiled and chugging along, but when I hear of iconic companies and valuable real estate changing hands outside of local borders, I can't help but feel a little nervous. Where will this lead us? But we don't have much choice here — as Senator Charles E. Schumer (Democrat of New York) has expressed about major Wall Street banks that have been offering up their shares for sale: "Given the situation that these institutions find themselves in and the fact that there's a pretty strong credit squeeze, there are only two choices: Have foreign companies invest in these firms or have massive layoffs."
So welcome to the Sale of the Century!
It's just a shame that we're the ones on the other side of these fantastic deals.
Image Credit: All cartoons on this post are stills from a clip created by the well known political animator Mark Fiore. The video is a great satirical animated cartoon about the U.S. economy.
Copyright © 2008 The Digerati Life. All Rights Reserved.