Still keeping an eye on unemployment numbers: watching this is like rubbernecking at a train wreck.
Sometimes, the economy defies logic, such as when the stock market appears to rejoice while the economy is on a decline. No, I'm not at all grumpy when these episodes defy logic ;), it's just that it's hard to prepare and plan when you're getting mixed signals and when you're living with the underlying threat of a double dip recession.

How has the job market fared over time? Let's look at a few charts (current and historical) to see where things stand.
National Unemployment Statistics: When Job Losses Are At Record Highs
The Calculated Risk blog points out that the latest unemployment figures (for last September) were very dismal for many states, with the following info from the Bureau of Labor Statistics (click to enlarge):
Michigan again recorded the highest unemployment rate among the states, 15.3 percent, in September. The states with the next highest rates were Nevada, 13.3 percent; Rhode Island, 13.0 percent; and California, 12.2 percent. The rates in Nevada and Rhode Island set new series highs. Florida, at 11.0 percent, also posted a series high.
Here's another look at this through the eyes of Google. Check out the interactive graph for the whole scoop: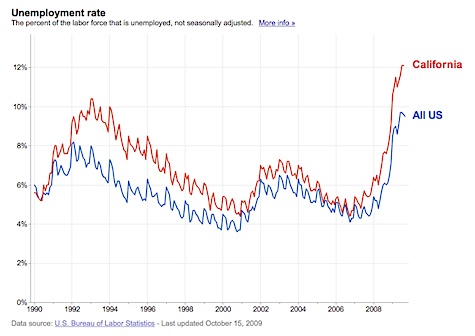 Let's see: since I live here in California, how about I dwell on this a little. I've been following California's unemployment rate for a while now, and it's ugly. From what I hear and read, it's dreadful. And from what I know, the numbers don't tell the full story either: a local radio station here reported a state unemployment rate of around 20% if you count discouraged workers or those who've given up on unemployment benefits. This MSNBC article discusses just how underestimated and under-reported the job numbers are:
Counting people who are no longer collecting unemployment, never received unemployment because they didn't qualify or people who are working part time just to have a little income – [the unemployment rate is] more like 19-22 percent.
We've just seen the grim employment statistics. Regardless of where the stock market stands, when the economy begins to sputter, you'll find very little optimism about the job situation in the years that follow. When the economy is compromised, don't expect economists to predict much of an improvement with the employment scenario. So far, the unemployment rate is hovering at double digit percentage figures and supposedly, that's one number we should get used to seeing if the national debt picture remains the way it is.
Here's the job picture over the last 30 years (from 1980 to 2010):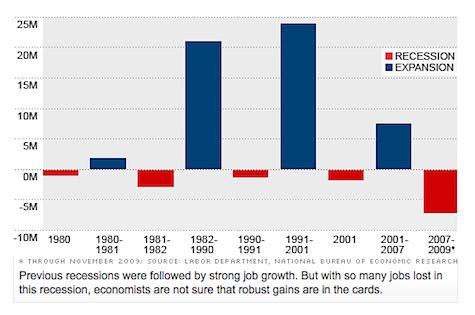 You can see that more jobs have been shed (7 million) over the last several years than during any other period in the past 3 decades. Not a pretty sight. This is why I'm still wary of the investment markets — with consumer confidence still low and people perhaps continuing to keep their purse strings tight, I don't see any kind of robust recovery ahead. Here's a quick list of helpful resources for those who are still looking for employment:
Are you looking for a job today? I know quite a few people who have been pounding the pavement for a while now, and who are still making do with filler part-time jobs while they seek better paying positions in their particular field.
My personal vantage point also coincides with these findings: for instance, at least one family member and one good friend are struggling with work issues right now, taking on jobs that aren't really along their lines of work because there's nothing else available. Call after call to headhunters aren't yielding results, with interviews not really amounting to much at this time. I'm not participating in this job market right now, but I can feel the discouragement, frustration and pain from those around me. It's contagious.
Oh yeah, there's also the latest news bomb that Sun is slashing 3,000 employees from its workforce while waiting for Oracle to take on the reins (recall that Oracle is absorbing Sun). That's 10% of Sun's workforce, and another 3,000 more technologists, engineers and other personnel who will be competing with the unemployed, here in the Valley.
These days, I'm just urging and advising those around me to go after any job that catches their eye. Cast a wide net and take a job — any job. At this point, any kind of paid work is a good thing. Care to share your thoughts about your (and the nation's) employment situation?
Copyright © 2009 The Digerati Life. All Rights Reserved.