When there's smoke, there's fire.
The latest unemployment numbers are finally pointing to something we've been suspecting all along: that we're now in the midst of a recession. But for those folks out there who aren't thoroughly convinced, or who would like to become acquainted with the topic of recessions — after all, this is something that may have some influence on our spending and saving habits in the near term — I'd like to present this FAQ on recessions. So let's get to know our personal finance's public enemy #1… 😉
Signs and Predictors of a Recession
What are the symptoms of a recession? Here are some of the signs that the recession is finally here:
three sequential months of job losses
the largest number of job losses in 5 years occurred in March 2008
the national unemployment rate rose from 4.8 percent to 5.1 percent
increase in mortgage defaults due to subprime loans
financial institutions are in near collapse (Bear Stearns?)
foreclosure spikes nation-wide
stock market down from previous highs
Definition of a Recession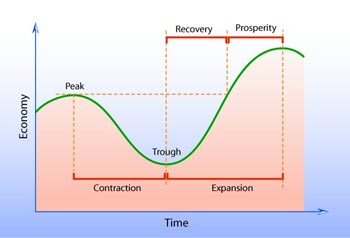 Though it may sound like the end is nigh when the media starts to freely promote the notion that we're finally in the thick of an economic storm (but really just the trough of an economic cycle), you may want to put things in perspective. A recession is part of a normal economic cycle and is defined as follows:
According to the National Bureau of Economic Research, or NBER, a recession can be defined as "a significant decline in economic activity spread across the economy, lasting more than a few months, normally visible in real GDP (gross domestic product), real income, employment, industrial production and wholesale-retail sales."

While other sources officially describe it as "a decline in a country's gross domestic product (GDP), or negative real economic growth, for two or more successive quarters for a year."
The determination of a recession is typically delayed, and identified only after some months have past where weakness has been tracked and recognized on various economic fronts and in market indicators.
It may not be so bad when you know it's just temporary. Or when you realize it's already happening way after it's already started. Or maybe it's not so bad because you happen to be lucky enough to live and work in a recession-proof locale. Or we could just be lulled into a false sense of security since the last couple of recessions we've had haven't been painful enough to be truly memorable.
It is worth noting though, that recessions have been shorter and shallower than they've typically been way back in history. Following are some interesting tables and charts depicting the history of recessions in the United States.
History of Recessions
This table from CNBC shows us a history of recessions:
Recessions of the 20th Century
| | |
| --- | --- |
| Date | Duration (in Months) |
| Sept. 1902-Aug. 1904 | 23 |
| May 1907-June 1908 | 13 |
| Jan. 1910-Jan. 1912 | 24 |
| Jan. 1913-Dec. 1914 | 23 |
| Aug. 1918-March 1919 | 7 |
| Jan. 1920-July 1921 | 18 |
| May 1923-July 1924 | 14 |
| Oct. 1926-Nov. 1927 | 13 |
| Aug. 1929-March 1933 | 43 |
| May 1937-June 1938 | 13 |
| Feb. 1945-Oct. 1945 | 8 |
| Nov. 1948-Oct. 1949 | 11 |
| July 1953-May 1954 | 10 |
| Aug. 1957-April 1958 | 8 |
| April 1960-Feb. 1961 | 10 |
| Dec. 1969-Nov. 1970 | 11 |
| Nov. 1973-March 1975 | 16 |
| Jan. 1980-July 1980 | 6 |
| July 1981-Nov. 1982 | 16 |
| July 1990-March 1991 | 8 |
| March 2001-Nov. 2001 | 8 |
| December 2007 – June 2009 | 18 |
As you'll see, the last couple of decades have yielded some pretty tame recessions that have lasted us only 8 months each. Will this current one be any different? Many say we're due to return to "normal or average recession standards". For clarity, this is how recessions are classified or characterized:
A "mild" recession is one whose duration is less than 10 months and which results in small declines in jobs, retail sales, output and real GDP.

An "average" recession typically persists for 11 months with more moderate declines in the jobs, sales, output, real GDP and interest rates.

While a "severe" recession is known to last for 16 months, with economic indicators experiencing more dramatic drops.
Should we then expect a longer down period? Given the causes and triggers of this downtrend, and the general difficult financial landscape our nation is facing, it may not be surprising to see a more protracted contraction this time around.
How The Economic Cycle and The Stock Market Are Linked
All this recession talk is of course, fascinating, but as investors, I'm sure you'd be more interested in finding out how recessions affect the stock market and consequently, your portfolios. Well, looking back through history (from the 1950's) and at how the stock market has behaved during some of these periods, I can see that the 16 month recession triggered by the global oil crisis in the early 1970's as relatively being the harshest and having the most devastating effect on the average investment portfolio.
Here are some statistics from Vanguard showing how the S&P index has performed during economic slumps: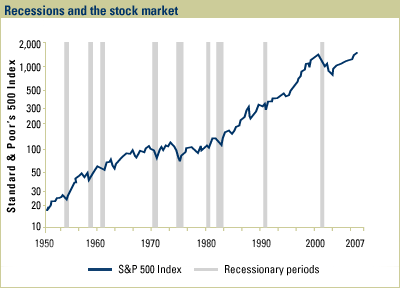 | Recession | Nominal S&P 500 Return | Real S&P 500 Return* |
| --- | --- | --- |
| July 1953–May 1954 | 23.63% | 23.10% |
| August 1957–April 1958 | –1.31% | –3.64% |
| April 1960–February 1961 | 20.04% | 19.02% |
| December 1969–November 1970 | –1.92% | –6.96% |
| November 1973–March 1975 | –7.79% | –22.82% |
| January–July 1980 | 9.53% | 3.64% |
| July 1981–November 1982 | 14.22% | 7.11% |
| July 1990–March 1991 | 7.89% | 4.59% |
| March–November 2001 | –0.90% | –1.70% |
* Adjusted for inflation using the Consumer Price Index. Data sources: Vanguard and the National Bureau of Economic Research. While business commentary typically defines a recession as two consecutive quarters of negative real growth gross domestic product, the National Bureau of Economic Research (NBER) is the recognized arbiter of U.S. recession dates. The NBER has identified nine recessions in the U.S. since 1953, with an average duration of 11 months.
These numbers can give you some perspective on how your portfolio may behave during recessionary conditions. Despite the grim mood that recessions can evoke, the positive takeaway here is that the general long-term stock market trend is UP.
Other insightful words about the relationship between economic cycles and the stock market come from Joseph Davis, Ph.D. (a principal and economist for Vanguard's Investment Counseling & Research (IC&R) and Fixed Income Groups):
Just as recessions haven't always heralded a bear market for stocks, periods of economic growth haven't always been accompanied by major gains on Wall Street. Vanguard IC&R research has found that the average monthly return on the S&P 500 has been higher during economic expansions than during recessions (1.05% versus 0.76%), but the difference is not statistically significant statistical noise," Mr. Davis suggested. Perhaps less surprising, stock market volatility has been significantly higher during recessions, as risk premiums rise during periods of economic uncertainty.

"The primary reason there hasn't been a strong relationship between recessions and stock market returns comes down to timing," Mr. Davis said. "It's inherently difficult for equity investors to 'time the economy' by getting out of—or back into—the stock market at just the right moment."
Sounds to me that this is just one more argument for avoiding drastic changes to your investment strategy or portfolio as a knee-jerk response to economic tidal shifts.
Ack! We're In A Slump! So What Can I Do?
Even with the existing coverage I've done on this subject, plus the healthy list of stock investing tips I've gathered in earlier posts such as the following:
I don't feel I've quite wrung everything I can about this topic just yet, so I'm sure I'll have much more to say about this later on. For now I'm hoping this compilation helps you a little.
I'll close by saying that recessions are part of the natural scheme of things, just like bad hair days, ant infestations and ugly weather. But if you've braced yourself for it, are flexible enough to go with the flow and think far enough ahead, you'll realize just how quickly even unfavorable times fly by.

Image Credit: Recession History
Copyright © 2008 The Digerati Life. All Rights Reserved.