Last time, I wrote about how we can predict inflation using a market index as an inflation indicator. For the chartists and other crystal ball readers out there, here's something else for you: is there a way to predict when the economic downturn has ended?
Is The Economic Downturn Really Over?
Based on some simplistic observations, here's how I can tell when things are getting better: the stock market has recovered somewhat from its lows (despite claims by some technical analysts that it's supposed to "retest" previous lows before any meaningful recovery can resume) and the job market has either stabilized or begun to improve, with more companies looking to hire again. I'm actually getting more inquiries from headhunters about my availability for technical jobs around here in Silicon Valley (imagine that: they still have my resume!), and I'm getting more inquiries from online advertisers as well. Signs of life?
According to a certain economist, the recession is indeed now over. Do you believe it? It may be hard to catch on to the idea that we're now supposedly out of the economic slump that was so dramatically sparked by the twin American nightmares that were the subprime mortgage mess and credit crisis. Then again, the thing about recessions, they're in with a bang and out with a whimper (or if you prefer another analogy, they're in like a lion, but out like a lamb).

Robert Gordon is the economist who's responsible for this call. He is using a single indicator upon which to base his conclusions: unemployment benefit claims. According to MSN Money's article on this, history has shown that when the number of employees who file for unemployment benefits has peaked, the recession bottoms out shortly after that. It appears that this has in fact been true over the last 6 recession cycles we've had. Just check out this intriguing chart, care of MSN Money: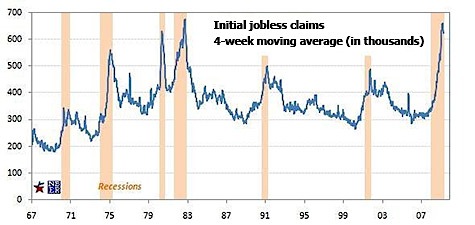 The chart plots the recession cycles (pink shaded areas) against Initial Jobless Claims. As you can see, the peak in claims coincides with the end of each recession since the late '60s. But if you aren't entirely convinced that you can read the recession this way, then there are also a few other variables that have been used to make determinations about the health of the economy: total payroll jobs, industrial production and the unemployment rate.

Well, I'm all for better times ahead. So what happened to all that talk about the "Next Great Depression"? Do you feel that we're finally out of the woods? I want to exhale just a little, but my spouse is still waiting for the next shoe to drop. I wonder if he'll be waiting for a while.
Copyright © 2009 The Digerati Life. All Rights Reserved.