With housing at the epicenter of the financial earthquake that has rocked our nation, more and more beleaguered homeowners are growing progressively concerned about their homes. There are long-time homeowners who are now facing foreclosure and who now believe that declaring bankruptcy will save them from losing their homes. If I were in their shoes, I wouldn't be going down without a fight.
When bankruptcy laws were reviewed in 2005 at the prodding of credit cards companies, it was determined that people who opt for Chapter 13 (in most cases) would be able to restructure all of their debts — except for the house that they live in. As things stand now, consumers aren't seeing any support from the government as far as legislation that can be applied towards managing or controlling the hike in their mortgage terms. Many homeowners feel that they have limited options when their house payments begin to ratchet upwards, but hopefully, there are some things that they can do to mitigate the challenges ahead.
How Can I Avoid Foreclosure? Where To Get Help
If you're having problems keeping up with your home payments, you may be asking the painful question: should I consider foreclosure? After all, it has been reported by RealtyTrac, a site that serves as a marketplace for properties in foreclosure, that several million properties have been flagged for foreclosure in the past few years. That of course doesn't include the millions of homeowners who are struggling to make their mortgage payment and who just might default this year. It's unfortunate that some banks and financial institutions refuse to negotiate with mortgage holders, which to me, does not seem to make sense considering that a lower payment will always be better than having to sell a property at a huge loss.
While there is such a thing as Obama's foreclosure bailout plan, the requirements needed to qualify for help are pretty strict. So it's imperative for families who have trouble making mortgage payments to try to delay foreclosure as much as possible. Hang on as long as you can and you might eventually squeak by with eventual government assistance. So how can you stave off the threat of foreclosure? One important place to start is by managing one's debt. It's best to work out your own debt reduction plan, but if you need any kind of help in this area, here are a few resources to consider (some services here are free and some are not):
Always make a careful assessment before joining any community or subscribing to any service.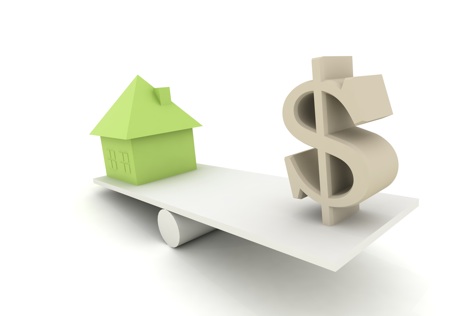 How To Keep Your House In Troubled Times
Also, the Department of Housing and Urban Development (HUD) advises the following:
Weigh your options and don't ignore the problem. Some owners believe that abandoning the house is the best solution because they have no equity. Depending on your situation, "walking away" may or may not be the way to go.

If you bought a $300,000 house with $1,000 monthly payments and you are now paying $3,000 per month because you signed an ARM (Adjustable Rate Mortgage) contract, and your property is now worth less than $200,000, there is a strong temptation to cut your losses. Unfortunately, going into foreclosure may make sense in this case, since this kind of situation isn't something the banks are typically sympathetic to. No way the bank will let you go back to paying the original amount.

However, if you signed a fixed interest contract and are facing the possibility of foreclosure due to other factors, then hang on as long as possible. Congress has approved the release of the other $350 billion of the mortgage bailout package, of which $100 billion will be used to help millions of homeowners avoid foreclosure. Cut your costs to the bone, get a second job, get a loan from friends and relatives, do whatever you can and more to continue paying your mortgage. Relief from the federal government should be available before summer so hang in there!
Contact your lender. There are some banks which will lend a favorable ear to your distress. After all, they're not exactly in the real estate business; I'd therefore expect the smarter financial institutions to prefer to make deals with responsible homeowners. Keep the communication lines open and make sure you know who your primary lender is, as mortgages have been sold, resold and repackaged to whoever was willing to buy them.
Evaluate your resources on foreclosure prevention. You may be able to find information about foreclosure prevention (also called loss mitigation) online at the Federal Housing Administration web site. For instance, it shows the program called Hope Now, an alliance among mortgage market participants that offers solutions to struggling homeowners.
Contact a HUD-approved housing counselor. They will help you organize your finances (free or very low cost), and help you talk to your lender. If your mortgage contract seems written in a foreign language, he or she will help you decipher the conditions so you may negotiate with a better understanding of your rights.
Set expectations. Not all homeowners may find solace in a housing assistance program. Unfortunately, there may be some situations that may not qualify for assistance, so this is something you'd need to investigate if you've decided to go down this path. While I would do whatever it takes to try to escape foreclosure, I'd look at possible solutions with a healthy dose of realism: hope for the best but prepare for the worst!
Avoid bankruptcy if you can. It may be a tough hill to climb, but people have escaped the clutches of bankruptcy and foreclosure through strategy and sheer will. Check out this piece we published on how to avoid bankruptcy and stay solvent.
Check out Fannie Mae's KnowYourOptions.com site. You can get additional, helpful foreclosure information through the site called KnowYourOptions.com. Before doing anything radical, it's good to know what kind of assistance is available out there, or what you can do to stave off foreclosure.
Above all, do not despair, no matter how bad the situation looks. Remember that you are living in one of the most prosperous countries in the world, with a government that does its best to help its citizens (some of you may disagree, but it's really all relative). It could be a lot worse; imagine living in a third world nation where millions of citizens receive no help whatsoever, or in some other areas of the world where millions continue to regret the Communist era. If you live in this country, what you do have is hope — that there will be better times ahead and that things will turn up eventually.
 
Created: May 21, 2009; Updated: May 2, 2011
Copyright © 2011 The Digerati Life. All Rights Reserved.