This house for trade!
There are a couple of ways that homeowners engage in home swaps. We'll talk about both of these ideas.
How To Trade Your House In
The first method is to actually swap your home permanently for another residence. Sounds like an outrageous thought, but there are services that actually support these types of transactions. Earlier on, we talked about what you can do if your house won't sell. Now that the real estate market has taken a breather from its once frenzied pace, selling a house may not be as effortless as it once was. But fear not, there's another way to relocate these days. If you're running out of ideas, maybe you can try this: go through a service that allows you to trade your house for another. Here's a story I found on this subject.

The story tells us that there are now a few services that will help you unload your home in a more unconventional fashion. If you're thinking of selling your house, and planning to buy a new place to live, well, why don't you just take care of this whole situation in one fell swoop? There are a few websites that have been helping people perform house swaps, allowing homeowners to do direct real estate trades.
And if there are any discrepancies in the prices of homes, homeowners can just work out the differences on their own. I guess this is something people are now more open to trying out, given the longer wait involved in the whole buy and sell process. Plus, it can be one way to take the pain out of "mortgage juggling".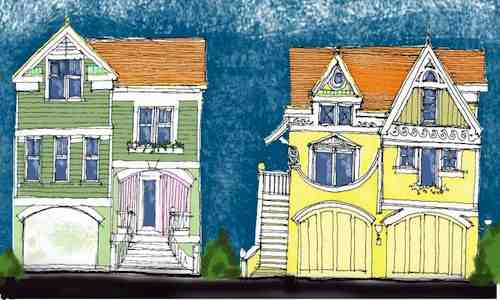 Image from myredshow.com
Would you be willing to try out this trading scheme? As an aside, another unusual way to unload a house is to use online auctions to buy and sell real estate.
Home Swapping For Profit & Travel
Performing a house trade doesn't have to be so radical though. Just like you can buy and sell property, you can also rent. House exchanges are even more popular in the rental and vacation business, where you can work out a trade with another family who'd like to visit your area. You may decide to arrange for a house exchange with someone in Switzerland, for example. Both sets of homeowners would be able to save money this way.
These types of transactions can be pretty flexible though: while people are visiting your home, you don't necessarily have to visit theirs. You can pick out a different destination to visit entirely, if that's more convenient. If the time isn't right for you to leave town, you can find a cheap local rental of your own. That way, you can generate an income from your listing. Let's look at a few sites that support this type of market:
#1 HomeExchange.com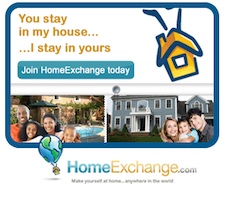 HomeExchange.com is one site that invites people to swap homes. It was featured in the movie "The Holiday", when two ladies traded homes to their mutual benefit. It claims to have more than 29,000 listings in more than 130 countries. Some states have thousands of listings, but others only have a handful. Like other services of this kind, there is an annual membership.
In their FAQ page, they make a distinction between two types of home exchanges — one involving a direct home swap that can take place when the time is right for both exchange partners, and another type called "hospitality exchange" that allows for exchange partners to host each other at different times.
To get you started, there's a sample agreement; a guarantee that if you don't find an exchange in the first year, you'll get a second year free. There's a resources section that can connect you with a number of travel assistance providers. There's also free trip cancellation insurance for members.
#2 HomeAway
The terms "home exchange" or "home swap" can also be used loosely to refer to the concept of a "vacation rental". As far as such networks go, HomeAway claims to have over 185,000 vacation rental listings.
Sites like this one usually cover both local and international destinations. Large vacation rental sites will showcase listings for Canada and Mexico, and destinations in the Caribbean. You can also check out locales elsewhere in the world, such as Europe, Africa, Asia, and Australia. If you're looking to lease, then by using a home swap or vacation rental service, you're more likely to live like the locals do — and you'll enjoy the benefits of not having to tip a lot for room service.
If you're interested in listing your property, you can sign up online. There's an annual fee, but the site points out that it might be possible for you to recoup that expense with your first booking. You won't have to pay extra booking fees to list your property.
For a few hundred dollars, the 12 Month Listing gives your home a lot of exposure on multiple sites. You'll be able to have a dozen photos of your listing, and you'll have access to tips and advice. The cost breaks down to less than $30 a month. You may want to determine if this cost is worth the exposure you'll get online vs what you could receive from a classified ad in your local newspaper.
For a little bit more, their Featured Directories section will allow you to have your listing spotlighted for activities and features. For instance, if your home is near a great golf course or ski resort, potential visitors can find your listing when they look for "golf" or "ski". There may also be special offers that can help you draw in last minute renters or attract vacationers who book early.
Helpful tools from HomeAway include text message inquiry alerts, guest reviews, and Google Maps. In addition, you can sign up to accept credit cards, gain the expertise of a tax professional, and download a free guide to learn more about renting out your vacation home.
#3 Vacation Rentals By Owner
Another such service that's in this business is VRBO.com, which has been around since the mid-90s. They claim that each of their listings generate an average of 130 inquiries per year, and that their database contains over 160,000 entries. But be aware that this website looks to be a sister service to HomeAway, which we've mentioned above. These sites appear to be dedicated to one way rental transactions rather than to full fledged vacation home swaps such as HomeExchange.com.
If you decide to list with VRBO, you'll be able to access booking tools, an availability calendar and reviews, and you'll get a chance to showcase your property best through a video tour, travel map and other personalization features. The downside here is that the annual subscription is at least three times more expensive than what Home Exchange charges (as of this writing; prices are subject to change). When you are dealing with sites in this niche or industry, what you pay is typically commensurate to the amount of exposure and marketing that you expect to receive.
A Few Reminders Before You List
Potential swappers should be aware of fees and privacy concerns. You might end up paying more than you expect if you don't read the terms and conditions closely, or you might find yourself on a telemarketer's calling list. When in doubt, read the fine print and contact the home swapping service with your concerns.
Keep communication lines open and ask the homeowner you're working with any questions that you may have. That way, you'll gain a better understanding of what their home is like (and in the case of a vacation home rental, you can also be informed of any household rules). This can also help to clarify your own guidelines for your own property. Of course, if you're planning to own a home via a trade, you can expect to do a lot more legwork since you're putting in the effort and time involved in buying and selling property into a more condensed and accelerated transaction.
Created April 16, 2009. Updated January 11, 2012. Copyright © 2012 The Digerati Life. All Rights Reserved.