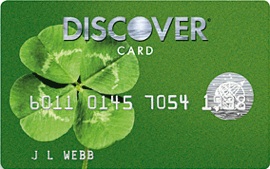 I cover quite a number of outstanding cash back credit cards, and one of the more well known names happens to be the Discover More credit card. It's a great option, as it stands out as having some of the highest cash back offers I've come across. Like many other credit cards, it occasionally changes its terms, particularly for new customers, so it's good to keep tabs on it if you're looking to pick up a new credit card.

Let's take a look at what Discover More is currently offering:
Discover More 5% Cashback Rewards Bonus Schedule (2011 – 2012)
When it comes to rewards, how does a 5% Cashback Bonus sound? All Discover More card holders will be able to enjoy such high rewards regardless of when they sign up for this card. As an example, for a particular quarter, you can earn 5% cash back of up to a certain amount (this amount is variable per quarter) for purchases in certain spending categories. Different time periods will yield rewards for different types of purchases such that one month, you may be rewarded for spending at restaurants, while another month, you are given the 5% cash back on fashion buys. These categories change throughout the year, so your favorite categories will likely be covered at some point. In the past, the categories have included gas, travel, and home improvement. One important thing you need to remember is that you need to sign up for each 5% rewards program each time.
Here are the cashback bonus categories for Discover More for 2011 through 2012. Also watch out for those 5% cashback bonus limits, which we've pointed out below.
| Months Applicable | Cashback Category | Description: 5% Cashback Up To… |
| --- | --- | --- |
| October – December 2011 | Fashion & Restaurants | $300 spent at clothing or department stores, restaurants and dining areas. |
| January – March 2012 | Gas & Entertainment | $1,500 spent on museums, movies & fueling stations. |
| April – June 2012 | Restaurants & Movies | $1,500 applied towards movies and dining places. |
| July – September 2012 | Gas, Summer Fun | Theme parks, gas stations, movies. |
| October – December 2012 | Holiday Shopping | Toy stores, electronic stores, department stores. |
Beyond these special categories, the default case is that you will earn cash back at a rate of .25% on your first $3,000 in purchases, and up to 1% in cashback bonuses after you spend above that amount. So, in reality, while Discover DOES have a 5% cashback feature, be aware that it has limitations:
#1 You are required to enroll in each cashback program cycle every time.

#2 You are subject to cashback spending categories per quarter. For some customers, this would mean planning their spending during given quarters in order to optimize their rewards.

#3 Your 5% cashback rewards are subject to a spending limit per quarter. This means that the cashback applies only to a few hundred dollars during certain quarters. So for instance, if you don't happen to spend on clothes, outfits, garments or home decor and materials during the Spring (e.g. April – June timeframe), then you won't be earning 5% cash back, unfortunately.
So to get the most money back from your Discover More card, you'll need to do a little planning.
Note that this card has NO annual fee and has never sported one. It does not charge for rewards redemption or for additional cards. But if you intend to do a balance transfer into this card, there is a fee for that. It's usually a percentage of the balance transfer amount or a fixed dollar amount ($10), whichever is higher. Also, there's a late payment fee of $35 and you'll pay the same amount if your payment's returned.
Other positives about the Discover More rewards program: there is no expiration date for your rewards unless your account gets closed or is inactive for a set amount of time, or you become delinquent with your card payments.
Current Terms of the Discover More Card
Here is how to apply for specific Discover More Card types:
One more thing to note about the Discover More card, it's been voted #1 in customer loyalty for 15 straight years, as pegged by the 2011 Brand Keys Customer Loyalty Engagement Index.
Shop At Discover's Online Shopping Site For More Rewards
Want to earn more cash back? There are a lot of cash back sites out there that are competing for your dollar, and credit card companies are certainly part of that mix. To entice you to stay as a loyal customer, they give you additional rewards and deals through their exclusive shopping sites. In the case of Discover, it's easy to earn Cashback Bonuses for your online shopping. You can do this by checking out ShopDiscover (Discover's online retail section), which offers 5% to 20% Cashback Bonus offers from a diverse selection of merchants and services.
You'll encounter favorites like Best Buy, Orbitz, and Sephora. Since you'll find more than 150 popular merchants and services, you're likely to find a cash back deal that suits you. Some of the partners sweeten their deals with free shipping, so check ShopDiscover often to catch the best offers. I explored it a bit and found that one of my favorite retailers, where I buy all my house-related materials (Bed Bath and Beyond), is on the list — so on top of those Bed Bath and Beyond coupons I already use, I'm thinking I could get the stuff I buy there further discounted by using a Discover card.
What are your choices when you want to redeem your Cashback Bonuses? You can redeem rewards for cash, merchandise, gift cards, or for donations to charity. Note that you can increase or double your rewards if you redeem your card rewards for gift cards through Discover's retail partners. But watch out for those events that can trigger the loss of your cash back rewards. It's possible to lose your rewards if you fail to make payments (ie. twice in a row), if your account status becomes inactive, or if your account gets closed.
Created August 15, 2008. Updated May 31, 2011. Copyright © 2011 The Digerati Life. All Rights Reserved.