Keep up with the latest rewards, sign up bonuses and promos from Discover Card.
New card holders can take advantage of deals and short term promos from credit card issuers. You'll find that Discover Cards is one of those issuers that comes up with generous deals attached to their products. Here, you'll find all of Discover's latest promotions, which are usually available for a limited time only and are frequently geared towards first time account holders. There are occasions when Discover also treats their current customers to great deals. We'll make sure to let you know about such opportunities when they happen!
Active Discover Credit Card Deals
Keep your eyes peeled for current active deals in this space.
#1 Discover Open Road – $150 Gift Certificate
The Discover Open Road card is a gas rewards credit card that is focused on providing you more rewards based on how much you spend at the fueling station. It also provides more cash back to those who love to eat out and visit their favorite restaurants and cafeterias. Here are the deals:
Get a $150 gift certificate from Restaurant.com once you become a card owner. The thing I'm not too excited about is the wait needed to receive the certificate. You'll have to make at least one purchase within 6 months of getting approved and you'll need to wait 8 weeks for the certificate code after making the required purchase. There are more requirements here such as the need to use the certificate only at select restaurants (then again, Restaurant.com has a ton of partners).
#2 Escape By Discover Card — Up To 25,000 Bonus Miles
Besides the 0% intro APR on balance transfers and purchases for 6 months, great travel benefits and travel rewards you pile on at a rate of 2x per dollar spent, you can accumulate rewards that amount to a maximum of $250 (or the equivalent of 1,000 bonus miles each month you buy through your card, for the first 25 months that you're a card owner). That's a total of 25,000 bonus miles total.
#3 Discover Student Card — $25 Cash Back
Right now, Discover's card geared towards college students is offering a cash bonus of $25. You can find out more about this particular offer in our special page for college student credit cards.
#4 Discover More — No Balance Transfer Fee Offer
The Discover More card with no balance transfer fee has made a comeback. You can check more details in our credit card deals and offers page, which also showcases a lot of other great cards with limited time offers.
Please keep checking this page for the most recent Discover Card deals. We keep this page updated!
Expired Discover Promotions
We also keep around a list of expired promotions from Discover on this page in order to keep track of the great product opportunities they provide on occasion. This gives us perspective on how Discover operates.
Discover & Zynga Partner Up For Holiday Game
This promo has expired.
This a joint marketing campaign between Discover and Zynga, and the card that is being promoted for this purpose is currently in limited quantity. I found this offer interesting as I come from a gaming family (my spouse is a video game developer). Discover has announced that they are sponsoring a version of FarmVille, which many Facebookers and social networking types know and love. This Zynga game will be ready to launch during the holiday season, on December 5, 2011 and is aptly themed for the holidays. So what can you expect from this development? Well, if you're a gamer, you might appreciate this particular tie-in. Here's how this particular promotion works:
On December 2, FarmVille players will be able to search for the "Discover" farm.
From the Discover farm, you'll be able to check out an expansion called "Winter Wonderland". This will be made available to all players on December 5.
You're promised free online/virtual gifts by Discover. Some examples are an "It Pays To Discover Tree", a "Cashback Bonus Castle" and a Yeti. These items can yield you hundreds of coins, but you'll have to perform certain quests or challenges to win or "unlock" these gifts.
Apparently, if you "Like" the Discover Facebook Fan page, you'll get clues to how to unlock the gifts. Here is Discover's Facebook Page for those who are curious.
This promo is only available for a short time: as a card member, you can exchange $25 cash back for a $50 Zynga Game Card, which can be used as game currency. And if you sign up for a new Discover More card by December 14, you can get a $100 Zynga Game Card after your initial purchase (check the Discover Facebook Page for more info). The Discover More card that you are signing up for here has a 0% intro APR on purchases for 9 months. Note that this promo is different from the others we've described above and cannot be used in conjunction with those other promos.
Here are some cool images that give you a feel for what's in the FarmVille Winter Wonderland expansion: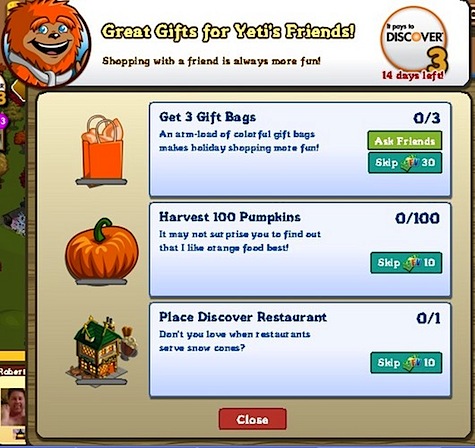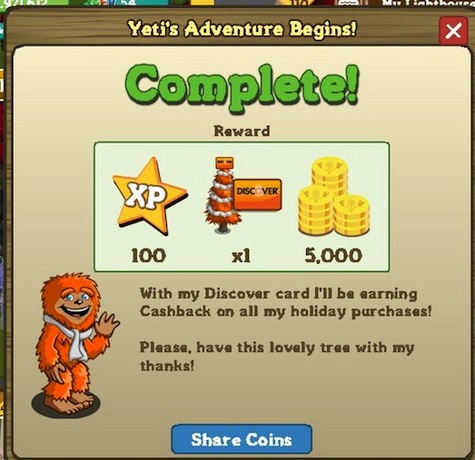 Have fun!
Discover More Card — $150 Cash Bonus, Limited Offer For The 2011 Holidays
While the Discover More credit card has gone beyond its vanilla version and now has a couple of 0% APR cards, there are also interesting versions of Discover More that may pop up under certain marketing campaigns. For example, this $150 cash back bonus card from Discover was available as a holiday promo for 2011. If you signed up and then made purchases that were worth $1,000 within the first 3 months, you would have been entitled to $150 in cash back. This card also had a 0% rate offer attached.
Created November 6, 2008. Updated December 2, 2011. Copyright © 2011 The Digerati Life. All Rights Reserved.