Who wouldn't want to score free airline tickets or travel for free? I'd consider travel as a big ticket expense, especially because I deal with a 5 member family and have to figure out how to transport an entire household from one point to another. One way I save? I just don't travel too often. But then those who do travel a lot turn out to become so savvy at cutting costs that I get pretty jealous of what they can do. One of our contributors, Millie Kay G., shares a few tips on how we can fly for free.
Getting to our favorite destinations by air can be expensive these days, but there's little reason to pay full price. Using different tactics can lower the cost of some of your future flights or even get you down to $0 cost, so read on for ideas on how to get free flights.
7 Ways To Fly For Free
1. Volunteer To Get Bumped
Chances are, you've heard the gate agents at the airport asking for volunteers to take a later flight because the current flight's overbooked. If you don't have an immediate need to be at your destination and you don't have checked baggage, raise your hand and profit.
When you're bumped, you could earn round trip airfare to another destination, vouchers you can use later, and even upgrades or cash! Don't forget to ask about covering your meals if you're going to be waiting around the airport for more than a few hours. I read that each airline has its own policy regarding compensation, so you should ask before you commit to getting bumped.
Have a lot of incoming flights been delayed due to bad weather at other airports? The people who need to have their flights changed may end up thanking you in spirit later if you give up your seat.
2. Seek Out Overbooked Flights
If you're willing to be flexible with your travel plans, you can attempt to take bumping to a higher level. For instance, if you're traveling on the first flight of the day to a popular destination, you might have a higher chance of being bumped. Are you flying around a holiday or through a major airline hub? Then you have an increased chance of picking flights that can get you bumped.
When you arrive at the airport, you can assess the situation at the gate and decide if it's worth it to speak to the gate agent about volunteering to be bumped. You may want to take the travel vouchers offered, if the fare offered to you isn't appealing.
3. Complain To The Airline
If you have a bad experience on a flight, don't keep your irritation bottled up. Instead, craft a well-worded letter detailing the nature of your complaint and your contact information, then contact the airline's customer service. You may end up with a free flight or some other type of compensation. Caveat: if you've got a legitimate complaint, then you have a better shot at having your concerns acknowledged (or any requests honored); however, certain customers may be unscrupulous enough to fabricate stories or exaggerate their experiences in order to score freebies. It's doubtful that such passengers will get far by going this route.
Tip: You can try checking in with the airlines via Facebook and Twitter. For example, American Airlines (@AAirwaves on Twitter) will respond to complaints and put you in contact with customer service.
4. Join A Frequent Flyer Program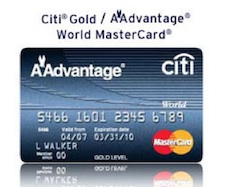 The frequent traveler or frequent flyer industry has grown quite sophisticated, so if you travel a lot, you should certainly belong to a program. One essential tactic is to sign up for a frequent flyer program such as AAdvantage from American Airlines or Delta's SkyMiles. When you purchase airfare, you gain miles or points that can be applied to future flights. So your flights for business throughout the year can end up paying for your vacation. If you're willing to fly economy class, it may take as little as 12,500 points for travel between U.S. cities. A membership like this can also connect you with discounts for car rentals and hotel offers.
Tip: Start out by enrolling in a frequent flyer program but you can also boost your miles by checking out frequent flyer credit cards that offer miles as rewards. Once you're in these programs, use tools like Yapta.com and Mileagemanager.com to find award tickets, organize your programs, track miles and balances, review your travel status and alert you to expiring miles.
5. Use Rewards From Travel, Hotel Or Airline Cards
Even if you don't have a ton of flights on your itinerary, you can still make a frequent flyer program work for you in conjunction with travel rewards credit cards. These credit cards allow you to accumulate miles or points on your purchases at stores and at online shopping sites. You can then use your miles or points for flights or other great rewards. A lot of these cards offer bonus miles or points, so you can get to your destinations sooner.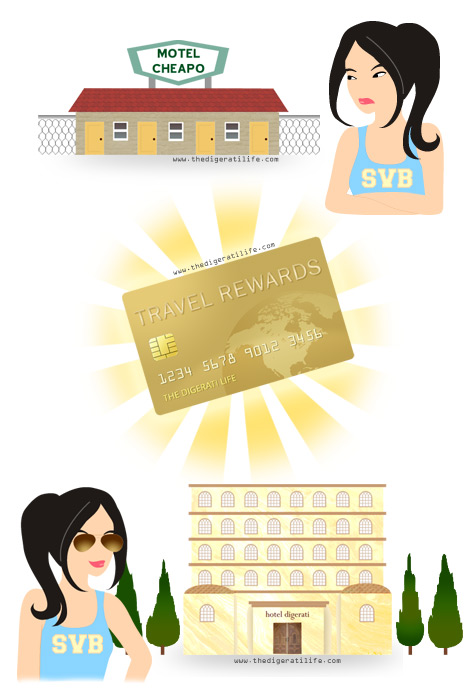 Get bonus miles, free flights or hotel and flight upgrades by using travel credit cards.
6. Check The Travel Sites
Does your favorite travel site have its own rewards program? Expedia has three different ways to earn rewards, and it only takes 20,000 points for a $200 flight. Travelocity also has a rewards program that partners with American Express. Check out some of the best travel sites here.
Tip: For great travel deals, do check out Expedia.com and Travelocity.com. We highly encourage you to look at each deal carefully, since cheap deals and freebies may come with tradeoffs.
7. Check Out Other Loyalty Schemes
Financial companies and retailers alike are courting their customers with rewards, particularly along the lines of travel. This report from CNN goes into a few specifics and examples. For instance, Lending Tree offered their customers free flights (via miles) for securing loans — a customer who took out a $200,000 mortgage qualified for a domestic flight (while those who took out larger mortgages picked up 2 tickets). Other lenders would reward miles to those who refinanced. Such rewards were also given out by investment houses and brokerages like Fidelity and TD Ameritrade for customers who opened new accounts or who added to existing accounts. It's also become much more common for retailers, stores and merchants to embrace loyalty programs that give away miles to their loyal customers and shoppers.
Tip: Reward programs and loyalty schemes change often so it's a good idea to check out a site like Points.com to help you manage, compare and monitor these programs.
Parting Thoughts
In times past, people used to be able to fly for free as couriers. However, resources such as the International Association of Air Travel Couriers and Courier.org don't appear to be around anymore, and Jupiter Air Oceania discontinued its courier service in 2006.
Nevertheless, if you want to fly for free, it's not an impossible task. With a little preparation and some planning ahead, you can get to your favorite destinations without paying full price.
Created February 22, 2011. Updated February 12, 2012. Copyright © 2012 The Digerati Life. All Rights Reserved.