If you fly a discount airline, are you getting value from your miles? I like discount carriers. I can remember 20 years ago when my family took a ski trip to Switzerland because the flight was less expensive than a trip to Colorado. With the penetration of discount carriers to nearly every market, airfares are remarkably affordable; they have remained flat for years despite inflation.
Unfortunately, airlines have substantially increased their mileage required for a round trip ticket, while curtailing availability. Many make the pretense of offering a domestic round trip for 25,000 miles, but offer little, if any, seat inventory on some routes. They are happy to offer you the award seat for twice the miles, destroying the value equation.
Smart Tips On Buying Tickets On A Discount Airline
So, at what point does cash back make more sense? When you purchase tickets with cash, you have more flexibility, and can also receive frequent flier credit for the flight itself. I was going to take a vacation to Florida this winter and planned to fly there from my home in Denver. I had wisely accumulated miles in Southwest, an airline that offers very reasonable availability of award flights. With the help of my Southwest Airlines Visa card, I had earned two award tickets. Each one was the equivalent of $19,200 spent on my Southwest Visa, although many of the miles were earned through promotions, transfers, and actual flying. This is better than with other airlines, were you would have to spend $25,000 to be eligible for the elusive 25,000 mile award.
When it came time to get the award, we realized that purchasing a seat (via rewards) was a mere $250. As we are a family of three, two of our seats will be on awards, and one will be purchased, so we are happy to fly for $250 rather than $750. On the other hand, I am questioning the value of my Southwest Visa card. For a $250 flight, my miles are only worth 1.3 cents each.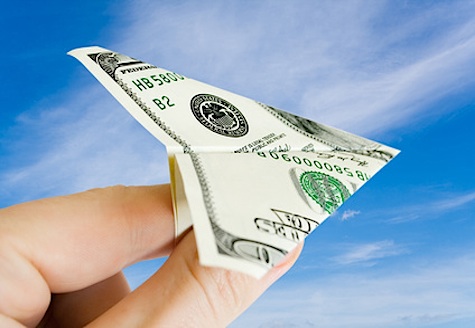 Image from GettyImages.com
Alternatives To Miles And Points
It might just be worth my effort to switch to a good cash back card, like the Amex Blue Cash, or perhaps even to the new Capital One Venture card. While technically not a cash back card, the Venture card offers 2% back as a statement credit good for airline travel, hotels, and car rentals. Obviously, 2% beats 1.3%, but the flexibility and the points accrual during reward travel (issued as a statement credit) should seal the deal.
Other dedicated cash back credit cards offer features like quarterly rotating categories where you can earn 5% rebates on certain types of expenses. Many also offer discounts and rebates when you shop online through their shopping portal and with their merchant partners.
By combining cash back cards or simply being savvy about using these cards, you can earn anywhere from 2% to 3% on average every year, and this can sure beat earning and using miles for domestic airlines.
In today's world where cross country travel often costs less than $400, and award seats are scarce, it may make sense for reward card holders to start weighing the benefits of airline cards against those of reward cards that offer cash back or a generous statement credit. You can find some great airline credit cards here.

This is a guest post by Jason D. Steele, who has been reviewing credit cards for askmrcreditcard.com since 2008. He also hosts his personal blog, Steele Street where he writes about Travel, Aviation, and Consumer Issues.
Copyright © 2010 The Digerati Life. All Rights Reserved.