You can save money with the right credit card. Some of the more highly touted cash back credit cards that you'll find are part of the American Express Blue Cash Card series. This time, it appears that AmEx is now offering two Blue Cash cards: there's the AmEx Blue Cash Everyday card as well as the Blue Cash Preferred. The terms also appear to be different from the original Blue Cash credit card, which was a pretty popular card in the cash back niche some time ago, especially during a time when many cards were yielding skimpier offerings, stricter redemption rules and more limitations stated in the fine print. So the question is, are these newer versions of the Blue Cash brand just as enticing? We believe so. Let's check them in detail!

The Blue Cash Everyday and Preferred cards from American Express both offer cash back and have good introductory offers. They even set you up with a savings program so you can get discounts on hotels, shopping, and more.
#1 Blue Cash Everyday Card From American Express: Features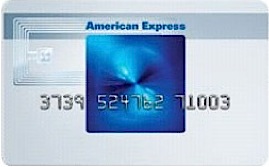 So first, let's examine the Blue Cash Everyday card. There's a new offer attached to this card: earn $100 once you've made $1,000 in purchases over the first 3 months of carrying the card. You earn 3% cash back on supermarket purchases and 2% cash back on purchases at gas stations and department stores. The rest of your eligible purchases earn cash back at the rate of 1%. These rewards are tweaked a bit differently from that offered by the original Blue Cash card (which had a maximum of 5% cash back on choice spending categories and 1.25% cash back for everything else). It looks like the rewards may have been dialed down a little this time around, but the Everyday card has some other attractive features to consider.
There's an introductory offer for this card: you'll get 0% APR for 12 months on your purchases. Once your introductory period ends, your regular rate will be adjusted according to your credit background. Like with all other cards, your specific terms and rates depend on an evaluation of your creditworthiness. For balance transfers, your rate will run similarly to the APR that is set for purchases. But watch out for the penalty rate, as it's pretty steep.
Here are a few more extras worth mentioning: It's possible for you to earn referral bonuses as well. For each referred friend who's approved for their own card, you can earn $25. And in addition to the cash back offered, there's a savings program. The Blue Savings Program can get you discounts at places like favorite shops, restaurants, and hotels.
This card doesn't have an annual fee. You don't pay extra if you want additional cards. In fact, you can earn cash rewards on the cards you share with family or friends. This is a credit card rather than an AmEx charge card, so you can have a balance from month to month instead of having to pay in full at the end of each month.
This card has a few more attributes that I can appreciate: it's one of a few rewards cards that won't insist that you perform certain requirements in order to have you fully enjoy its benefits. That is, the card has no spending/purchase minimum and has fixed rewards categories. This means that you don't have to worry about enrolling to any rewards programs or categories or need to keep track of rotating categories in order to maximize rewards. Just use the card and earn the rewards without fuss.
#2 Blue Cash Preferred Card Features
The Blue Cash Preferred card has some features in common, but there are some notable differences. For example, there's a $100 cash back Welcome Bonus up for grabs. To earn it, you need to spend $500 or more in purchases during your first 60 days as a member.
The cash back rates are a little higher for some of the categories. One of the most beneficial differences: you earn 6% cash back for purchases at supermarkets. When you shop at department stores and gas stations, you can earn 3% cash back for your purchases. Your eligible purchases in other categories earn 1% cash back.
Like the previous card, you can enjoy the 0% APR on purchases for 6 months or 12 months. After this period expires, you will receive a regular rate that will be set appropriately, based on the strength of your credit. The same thing will occur with regards to your balance transfer APR. Cash advances and penalty rates will be much higher, as you'd expect.
Signing up your friends for this card earns you a $75 referral bonus. And while there's an equivalent $75 annual fee for the Blue Cash Preferred card, the referral bonus or the cash back you earn can potentially wipe out the fee in a relatively short amount of time.
A Look At Both AmEx Cards
Now based on how most people spend their money, many AmEx customers claim an average of 2% to 3% cash rebate for each purchase they make through their cards, and with no limits on what you can get back, the Blue Cash series sounds like a decent deal.
For both cards, you don't have to worry about hitting a limit for cash rewards. When you're ready to redeem your Reward Dollars, they're good towards cash back and merchandise. The merchandise you can earn include electronics, sporting goods, and fashion. If you prefer, you can redeem for gift cards from shops and restaurants, which you can start doing so once your rewards account balance hits $25.
Other features available include extended warranty services, purchase protection, and return protection. You also have access to car rental loss and damage insurance, travel accident insurance, and other travel benefits.
In summary, both the Blue Cash Everyday and Blue Cash Preferred credit cards allow you to earn extra cash back in popular categories like stores and gas stations. They also give you a 0% APR introductory offer for your purchases and access to a useful savings program. These are just a couple of the flexible credit cards that AmEx has in its catalog. If you're interested in other cards from this issuer, then you can review some additional choices from our list of American Express credit cards and charge cards.
Don't forget though, that rewards cards are a best fit for those who can pay their bills in full each month and those who have good credit. If you carry a balance, the rewards you earn won't be worth the extra interest you would end up paying with these types of cards. For those in this predicament, you'll pay less in charges and interest by going with a low interest rate credit card that pays no rewards.

Disclaimer: This content is not provided or commissioned by American Express. Opinions expressed here are author's alone, not those of American Express, and have not been reviewed, approved or otherwise endorsed by American Express. This site may be compensated through American Express Affiliate Program.
Created March 26, 2009. Updated May 23, 2011. Copyright © 2011 The Digerati Life. All Rights Reserved.