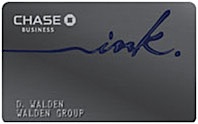 Having a business credit card can make it convenient to buy office supplies and to book travel, and can help you manage your business with a separate form of tracking for your expenses. Now I happen to have a soft spot for cash back credit cards as it's been the easiest way to get rewarded for using a card. If you're a business owner and want to keep track of your business expenses through your credit card, then the best kind of card to get would be one that paid you back for your spending. And the Chase Ink Cash (SM) Business Credit Card is precisely that kind of card that gives you cash rewards.
Chase Ink Cash Business Credit Card: Main Features
Chase has retooled this card so that it emphasizes the cash reward perks more strongly. Here's what you'll get:
This business card has generous cash back features, which starts off with a $250 cash back bonus in total, which is broken down as follows: $100 on the first purchase you make and another $150 once you spend $5,000 during the first 3 months as a Chase customer. This bonus of $250 is only available to new customers.
As for the everyday reward features of this card, here's what you'll get: earn 5% cash back on certain spending categories such as office supply stores, landline, cable and wireless services. The 5% earnings are made against a maximum of $25,000 spent each year. You'll also get 2% cash back when you spend at gas stations, restaurants and other dining establishments. Likewise, this 2% reward is generated against the first $25,000 that is spent annually. For all other expenditures, get an unlimited 1% cash back, by default. That is, the points you earn for all other categories won't be capped.
This card also has an introductory offer of 0% APR on purchases and balance transfers for 12 months. At the end of the period, your rate will reset after Chase reviews your creditworthiness.
There's no annual fee for this card.
When you shop through Chase Rewards Plus (Chase's online store), you have a chance to earn up to ten times the usual number of points. Be sure to enroll at Chase Rewards Plus to earn the points there.
Comparing Chase Ink Cash Business Card To Similar Business Cards
Here's how the Chase Ink Cash business card measures up against other business cash back cards:
| | | | |
| --- | --- | --- | --- |
| | Chase Ink Cash Business Card | Capital One Spark Cash Select For Business | American Express SimplyCash Business Card |
| Cash Back Bonus | Up to $250 ($100 after first purchase, $150 after spending a certain amount | 50% bonus on the cash back you earn annually | Automatic 3% to 10% cash back on business expenses from certain merchants |
| Everyday Rewards | From 1% to 5% on various spending categories | Earn 1% cash back | From 1% to 5% on various spending categories |
| Card Terms | 0% intro APR on balance transfers and purchases for 12 months | 0% intro APR on purchases for 6 months | 0% intro APR for 6 months, 9 months or 12 months, depending on credit history |
| Annual Fee | None | None | None |
From what we've seen, the Ink Cash card is a great choice given the combination of rewards benefits plus 0% APR terms that it affords a customer. But you'll need excellent credit to qualify for the card.
Chase Ink Cash Provides Flexibility
Here are a few more noteworthy characteristics of this card:
Redeeming your points is easy. With this card, redeeming your points is straightforward. After the bonus period, you'll begin accumulating everyday points. Once you've reached 5,000 points, it's possible for you to get $50 cash back. Or you can opt for gift cards to restaurants, various stores, services, and even hotels that you like.
You can manage your balance as you see fit. To help you manage your cash flow, you have several options. For instance, you can select your preferred payment date. Also, your credit line is customized to fit the needs of your business. You can also choose to carry your balance over time or you can skip the interest payments by paying your balance in full each month. It's your choice.
Get free additional cards for your employees. In the event your employees need credit cards, you can issue them Ink Cash cards for no additional charge. You'll earn cash back on their purchases as well. Follow your employees' expenditures by choosing spending limits for them and follow up with balance updates. If you like, you can receive alerts by text, email, or phone. That way, you have better oversight over your account's activity, even with multiple users.
The card has good security features. The card offers purchase protection, too. There's a Zero Liability Policy for times when you find unauthorized charges on your account, and there's a Fraud Early Warning Service that can assist you.
If you tend to use a business credit card fairly often, it may be a smart idea to upgrade to a card that offers cash back. As a business card that doesn't charge an annual fee, Ink Cash (SM) looks like a great choice to help you start earning cash back for your business.
Created October 17, 2010. Updated January 5, 2012. Copyright © 2012 The Digerati Life. All Rights Reserved.