Today I'd like to take a closer look at a popular credit card rewards program. What's in Chase's Ultimate Rewards Program and just how attractive is it exactly? But first, let's check out the credit cards that will allow you to participate in this program. Here are a couple of top Chase credit cards, which you can use to pile on the rewards:
| | | |
| --- | --- | --- |
| Credit Card | Rewards Type | Notes |
| Chase Sapphire Credit Card | Point Rewards | Get 10,000 bonus points after $500 is spent within 3 months. No annual fee. |
| Chase Freedom Visa or MasterCard | Cash Back | Earn 5% cash back, No annual fee, 0% intro APR on purchases, Cash back bonus ranges from $50 to $200. |
Note that Chase also has the Chase Slate card, but it isn't a rewards card.
Redeem Chase Rewards At The Ultimate Rewards Mall
So what can these cards do for you? Let's start with the fact that the Ultimate Rewards Mall from Chase offers a range of travel and shopping benefits to its users.
Earn Chase Travel Rewards
Instead of making it complicated to figure out when you earn points, Chase has a simple way to earn points on this program, just like many credit card rewards programs out there today: you just have to make purchases (hopefully for stuff you were already going to buy anyway). It's really simple: your purchases will earn you points for your purchases, with several opportunities to earn bonus points.
The most attractive feature of Ultimate Rewards is its travel benefits. You can take advantage of the program's Online Booking Tool for travel. This means that you can find hotel rooms, book flights, and even find car rentals without having to sign up to and use a separate travel site. The Online Booking Tool is available 24 hours a day, which makes it easy to get your travel plans in order.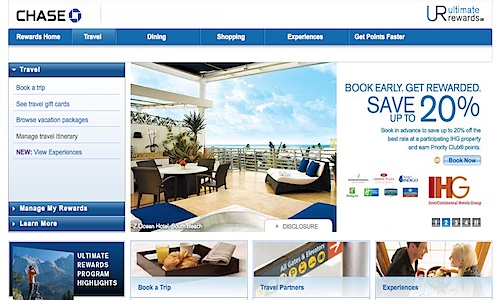 Let your points go further by using them for travel; most major airlines are available for booking. Note that your points will be worth 25% more if you book flights with the booking tool. You won't have to contend with blackout dates or restrictions, either. To pay for your trip, you can use your points, use your Chase Ultimate Rewards credit card, or combine the two.
What if you already belong to a loyalty program? Actually, it's possible to transfer your Ultimate Rewards points to certain airline and hotel loyalty programs. Also, you can redeem points for gift cards from a lot of popular travel partners, including hotels, cruise lines, airlines, and other companies that participate in these programs. Some of the partners who offer gift cards include Avis, Marriott, and SpaFinder, among others.
Enjoy Cash Back, Shopping & Sports Events through Chase
And it's not just travel you can enjoy in this way! As an Ultimate Rewards member, you'll be able to redeem points for tickets to sports, events, and shows. Plus, members can enjoy private chef dinners, wine tastings, and culinary festivals.
Then there's the shopping. You can redeem points for merchandise like electronics, jewelry, kitchenware, and other popular categories. If you prefer, you can redeem points for gift cards from stores like Best Buy, Macy's, Target, and other popular retail stops.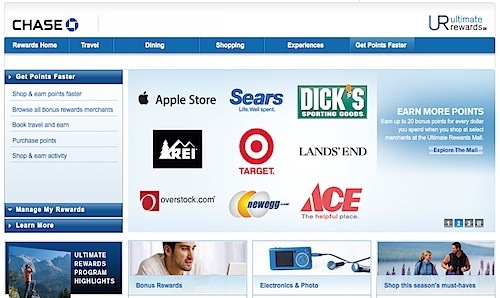 And let's not forget one of my favorite rewards offered by my credit cards: cash! It's also possible to redeem your points for cash. When redeeming, just pick out the Rewards Check option. That way, you can pick out your own reward whenever you like. Another way to earn cash back is through Pay Yourself Back. You have the ability to turn your purchases into a statement credit, making it incredibly simple to reward yourself.
You can also choose dining and entertainment rewards in the form of gift cards. Restaurants, movie theaters, and theme parks are among the choices, including Starbucks, Applebee's, and other well-known merchants. Ultimate Rewards even has tools to help you pick the right restaurant and book reservations. How's that for ultimate flexibility?
Get Those Bonus Points
To grow the number of points you have faster, you can employ a few tactics. As mentioned above, the Online Booking Tool is convenient for booking flights — and it will yield double points for flights.
You can also earn additional bonus points when you shop at the Ultimate Rewards Mall. It includes merchandise and services from several hundred vendors. Depending on your credit card, it may be possible to earn up to 10 bonus points per dollar spent here. You'll find favorites like Williams Sonoma, Ann Taylor, Saks Fifth Avenue, and even iTunes at the Mall, where it's easy to shop.
What if you don't have enough points to apply to an item? The program allows you to purchase the extra points you need, up to 5,000 in a month. This can be a great tool when you're just within reach of the item you want. What more, these points don't expire.
As mentioned earlier, several credit cards are available as part of the Ultimate Rewards program. One is Chase Sapphire, which offers 10,000 bonus points when you make your first purchase (the equivalent of $100 cash), enhanced identity protection, and no annual fee. Another is Ink Plus, which offers one point for each dollar in purchases, and other amenities for business travelers.
When you don't have a credit card rewards program or you want to upgrade to one with more benefits, Chase's Ultimate Rewards can be a viable choice. Look over the benefits and see if they fit your expectations. And it's easy to become part of the program — just apply for a Chase credit card and get accepted, and you're on your way to rack up the points. For those looking to find out where the Ultimate Rewards store is, do check out the site here.
For a look at another top rewards program, check out our coverage of the Citi ThankYou Points Network from Citibank.
Copyright © 2010 The Digerati Life. All Rights Reserved.