What do you expect from your credit card? Whether you're after rewards or just the convenience of using a card with great credit management features, Chase has come up with specific cards that fit the bill. The following card trifecta represents some of the most recognizable brands from Chase that provide attractive benefits.
Chase Freedom Credit Card
My #1 requirement for a credit card is that it has NO annual fees. I pay my credit card bills in full each month, so I'm most interested in credit cards with rewards programs, and in particular, cash back cards that have NO fees. On that note, I've decided to be proactive and discuss the Chase Freedom card, which fits these requirements. Chase's flagship card actually comes in a few versions, thanks to several ongoing promos that the issuer likes to run. We'll look at a few of them here, such as the Chase Freedom MasterCard with $100 Cash Back and Chase Freedom Visa with $100 Cash Back Bonus.

Let's talk about which aspects of this card are the same across all its versions:
Initial Bonus. The Chase Freedom Card is a cash back rewards card with very generous features compared to other cards that promise rewards. Each version offers an initial cash bonus, which is typically balanced out against its other features. A higher initial cash reward will normally mean a shorter bonus intro APR offer, since this card typically offers a combined reward and 0% APR offer.
Regular Rewards. You'll also earn 5% cash back on certain popular, rotating categories like gas, home improvement, dining, department stores, travel (airfare and hotel), if you're eligible. These categories are updated per quarter, so make sure you are enrolled in the rewards program at all times. And if you shop online through Chase's Ultimate Rewards Mall, you might find yourself earning as much as 10% to 20% cash back at select retailers and merchants.
You'll earn a full 1% cash back on every purchase you make, wherever you use any of these cards. Although there are some exclusions on what items you can earn cash back from — such as cash advances, balance transfers, and travelers checks — you'll be able to earn rewards for purchases online and at the brick and mortar stores you already visit. There are NO limits on how much cash back you can earn, which also has no expiration date. There are NO spending caps or tiers either.
0% Intro APR & No Fees. Better still is the lack of an annual fee. Now depending on which Chase Freedom card you select, you can get a 0% APR on pertinent transactions for a preliminary period that lasts several billing cycles (if you qualify). For those card variants with a 0% rate attached, the card's regular rates kick in after the intro period. Note that your credit history is assessed to check your standing as a potential customer.
Security. If you find unauthorized purchases on your account, there's Zero Liability. So if a thief lifts your card and helps themselves to a shopping spree, you won't be the one paying for it. Just be aware that ATM transactions and PIN transactions that aren't processed by MasterCard or Visa aren't covered by the Zero Liability policy.
While the Freedom card contains all the great features we've mentioned earlier, each flavor of this card contains distinguishing characteristics and features. You can apply for any one of these variants once you've determined which one has the terms you are seeking.
| | | |
| --- | --- | --- |
| Chase Freedom Version | Terms & Features | Sign Up |
| Freedom Visa: $100 Cash Back | Receive $100 cash back after you make $500 in purchases over 3 months. Also get 0% Intro APR for 15 months on new purchases & balance transfers. Best for customers who have a modest balance they want to get rid of. | |
| Freedom MasterCard: $100 Cash Back | Same features as the Freedom Visa with $100 Cash Back. This card won the "Best Overall Card" (CBS MoneyWatch 2011). | |
Chase Sapphire with Ultimate Rewards
While Chase Freedom is Chase's primary cash back card, Chase Sapphire is one that promises general rewards via points. It's geared a bit more towards travel expenditures but you can earn rewards that can be redeemed for a variety of merchandise, experiences as well as cash. As a typical Chase card, you can expect a healthy initial reward bonus as well — in this case, it's 10,000 points (equivalent to $100) once you've spent $500 in 3 months. Just like Freedom, you'll earn points for eligible transactions and you'll accumulate more if you use the Ultimate Rewards Mall. Kick things up even further by using Chase's proprietary Travel Booking Tool to help you rack in double points for tickets that you book.
If you like the flexibility of a general rewards no annual fee card, then Chase Sapphire may be more preferable than the Freedom card, since cash is just one of the items you can exchange for your points. You'll also get additional travel benefits such as trip cancellation insurance, travel and emergency services, and travel accident insurance. This card also comes with a few other features such as no preset spending limit, a choice of your payment due date and if you qualify, the Blueprint payment program. You can easily ask for additional cards.
Chase Slate with BluePrint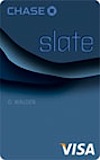 Now we come to a card with a different orientation: Chase Slate is not a rewards card but one that prioritizes payment and credit management. It has no annual fee just like all the other Chase cards. You'll pay only 0% APR for 15 months (or billing cycles). After this introductory rate period, the APR increases to a variable rate that's based on your credit background. The latest Slate offering also has one great feature: you'll pay no balance transfer fee if you transfer your balance within the first 30 days of account open. Any transfers that take place after 30 days will be subject to a transfer fee that's either 3% of the balance moved or a $5 minimum.
This card is exclusively customized to address spending behavior, by helping a card owner save on interest and control or resolve their debt balance. These goals are achieved by Slate's unique Chase Blueprint feature. While the Blueprint program is automatically available with Slate, it is potentially available on several other Chase credit cards, but only at the discretion of Chase. What does this program do?
Blueprint lets you manage your financial categories and how your payment's applied. You can opt to:
Pay off certain spending categories in full each month (Full Pay feature).
Create a custom payment plan for large purchases on your Chase card (the Split feature).
Create a custom payment plan to pay down your entire credit card balance (the Finish It feature). This feature is designed to help you pay down your balance more quickly.
Track your spending goals and review your spending history (the Track It feature). This feature allows you to see how your purchases are categorized.
Be aware that the Blueprint function is what distinguishes Slate from the other Chase cards. If you carry a Chase rewards card (or any other card that isn't Slate), then you may still become eligible for this function if you ask for it. But first, your spending patterns are regularly reviewed for a set 3 or 6 month period to see if this program is a fit for you. But with Slate, you won't be reviewed for eligibility — you will be able to participate in the program right off the bat.
True to its purpose, the Slate card also has this useful benefit: notification via email and text alerts. Receiving those alerts can help you manage your account wherever you go.
Wrap Up
All these cards will provide you protection and security benefits including identity protection, Zero Liability for purchases you don't authorize, extended warranty protection, and other services. I think that Chase has a good list of cards here. But before you sign up for any credit card, take a moment to consider how it will fit into your financial plan. Too many people are enamored by 0% APR credit card offers without taking a good look at the underlying terms and conditions. But not keeping an eye on when those rates jump can become troublesome later on. So ask yourself the questions: can you afford the payments and the APR (even if adjustments are applied)? Are there annual fees involved and what is the interest rate change after an introductory period? Are you going to pay the credit card bill off each month, or will you need to carry a balance? If you pay your monthly balance in full, you should definitely get a credit card that rewards you for using it.
Created January 3, 2010. Updated April 25, 2012. Copyright © 2012 The Digerati Life. All Rights Reserved.