When you have a credit card, it should do more than just let you pay for purchases. This is especially true if you're the sort of credit card holder who pays off your balance each month or if you carry a low balance. If you're interested in a rewards card, you may want to take a look at Chase Sapphire & Sapphire Preferred and see if their benefits are to your liking.
Chase Sapphire Cards Review: Ultimate Rewards and Points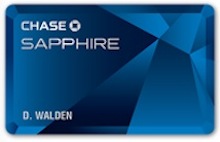 Once you start carrying a Chase Sapphire card, your rewards are earned and managed within Chase's Ultimate Rewards program. As part of our list of best credit card rewards programs, the Ultimate Rewards program offers easy ways to accumulate rewards points. Now the Chase Sapphire brand actually comes in a few variants: the regular card and the Preferred version (and their Mastercard counterparts). There are certainly some similarities as well as differences in the features presented by these cards. So let's check them out.

Here's how we compare the two cards:
Chase Sapphire

Chase Sapphire Preferred
Bonus of 10,000 points after spending $500 within the first 3 months. Worth $100.
Bonus of 40,000 points after spending $3,000 within the first 3 months. This is equivalent to $500 in travel benefits.
Earn 2 points / dollar on dining.
Earn 2 points / dollar on dining & travel.
Both cards earn 1 point / dollar by default on everything else.
Both cards get one extra point for each dollar you use towards airfare & hotel bookings made online via Ultimate Rewards.
Redeem for a whole slew of rewards such as cash back, travel merchandise, gift cards.
Redeem for 20% fewer points for travel expenses. Get a 20% discount on travel booked via Ultimate Rewards.
Both cards will earn unlimited points with no expiration.
3% per transaction (U.S. Dollars).
Immunity from foreign transaction fees for stuff bought outside of the U.S.
N/A
Earn additional points per year via a 7% dividend on total points earned annually. "Total points" include those you've redeemed.
No annual fee.
No annual fee on the first year, but $95 thereafter.
As you can see, there are benefits to either card. The Sapphire Preferred card also allows you to transfer your points to other travel programs on a one-to-one basis. You'll get more through a Preferred card, but you'll also need to pay a membership fee for this card over the long term.
Flexible Travel Rewards By Chase Sapphire
So how well can you be rewarded by Chase Sapphire? Let's count the ways.
#1 Many ways to earn rewards points.
Double the reward points you earn by using the Travel Booking Tool for airfare and to find hotels, resorts, car rentals, and getaways. Shop online through the Ultimate Rewards Mall and you'll earn as much as ten points per dollar, depending on the merchant and purchase. There are over 300 merchants at the mall, so if you were going to make a purchase anyway, you might earn points by checking out the Ultimate Rewards Mall first. Ultimate Rewards can also help you find restaurants and tickets to entertainment venues in a wide range of locations.
#2 Earn unlimited points that don't expire.
With Chase Sapphire, you'll receive unlimited rewards points that don't expire. You won't find a cap on how many points you can earn, and you won't encounter blackout dates when you're ready to book a flight.
#3 It's easy to redeem rewards.
Redeeming your points is pretty straightforward. You can request gift cards from familiar retailers like Best Buy, JCPenney, and others who are affiliated with Chase via their Ultimate Rewards Mall; or if you prefer, you can redeem the points for merchandise from Amazon. It's possible to start redeeming when you've accumulated even as little as a few hundred points (depending on redemption levels dictated by the merchants in Chase's rewards network).
#4 Flexible travel benefits and flexible payments for travel.
With regards to Chase Sapphire's travel benefits, you can use your card to book on most major airlines, and you aren't restricted to a certain seat, class, or destination. Plus, you'll have the ability to pay with a mix of points and credit. The program also throws in trip cancellation insurance.
#5 Use Pay Yourself Back or a Rewards Check for cash back.
What about cash back? For those times when you can't pick out a particular gift card or flight, then you can make your own reward by selecting Pay Yourself Back on your account. With this method, you can use your points for a statement credit to your account. This is also a segue to the fact that I prefer getting cash back, which is something that the Ultimate Rewards program is flexible enough to support. Aside from opting for Pay Yourself Back, you can also choose to get a Rewards Check as cash back. It only takes 2,000 points to get $20 back.
Chase Sapphire & Sapphire Preferred Card Benefits & Terms
Now that we've covered the rewards features, let's take a look at the terms of these cards, which are actually pretty much identical. If you decide to transfer your balance to Chase Sapphire or Sapphire Preferred, you'll pay either $5 or 3% of the amount you transfer, whichever is greater. And as rewards cards, the Chase Sapphire cards have an APR for purchases and balance transfers that's set at a variable rate, while the APR for cash advances is understandably higher. For more insight, you can compare these cards to other popular rewards credit cards.
One thing you do need to watch out for with this card is the penalty APR. A rather large penalty APR of 29.99% kicks in if you end up with a late payment or if you're somehow unable to make a payment to Chase. Your APR may also be readjusted to this high level if you exceed your credit limit on another Chase card or loan, so make sure you're on top of your bills when you decide to become a cardholder.
As for additional benefits, you'll find that Chase Sapphire comes with a concierge and Global Lifeline if you need help while traveling or want travel accident insurance and identity theft protection. You can also expect purchase protection, extended warranty protection, and return protection, as you would from other Chase cards such as Freedom or Slate.
Created April 11, 2010. Updated April 11, 2012. Copyright © 2012 The Digerati Life. All Rights Reserved.