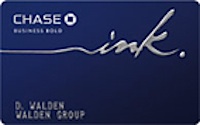 Being a business owner, I've contemplated picking up a credit card to handle my business expenses. There are actually a lot of good choices from some of the well known issuers, such as Chase and American Express. One of those I've had the chance to check out is this business credit card with a rewards program, the Ink Bold with Ultimate Rewards card.
Chase Ink Bold Business Card Review (Receive 50,000 Bonus Points)
This looks like a great business rewards card. Note that it's a charge card that requires you to pay your balance in full each month. Let me list some of the features that I like about this card:
The Ink Bold card offers rewards through the Chase Ultimate Rewards program.
You'll earn a one time bonus of 50,000 points after you make $5,000 in qualified purchases in the first three months. This is equivalent to $500 you can apply towards air travel or other rewards.
With this particular card, you can earn a point for each dollar you spend in purchases.
You'll earn double points on a few things, such as when you book a flight with the reward program's booking tool, and when you spend on gas and hotels (points are earned on a maximum of $50,000 spent on this category).
You'll also earn 5 points per dollar on regular business expenses of up to $50,000 annually. Basically, the maximum number of points you can accumulate per year is 200,000.
You'll earn up to 10 bonus points per dollar spent when you shop through the Chase online mall (Ultimate Rewards Mall). The mall features a wide array of merchandise and services for your needs, more than 400 partners total.
There are no reward point limits and these points don't ever expire.
Travel with no blackout dates.
You can transfer your points to Chase's transfer partners and other frequent flyer programs 1:1 (full value). For every Ultimate Rewards point you have, you'll receive the equivalent partner point or mile when you transfer to any of these programs: Continental OnePass®, United MileagePlus®, Hyatt Gold Passport®, Southwest Rapid Rewards, Marriott Rewards®, etc.
How To Get More Bonus Points & Employee Cards
You can also take out cards for your employees that are linked to this charge account. If your employees are card users on the account, they can also accumulate points for you. You can set spending limits for these employee cards and view reports to monitor their usage.
Once you've accumulated enough points, you can start to reward yourself. For instance, it only takes 2,000 points to get a $20 statement credit. Tracking your rewards is as easy as dropping by your online account. You'll be able to check your points balance and redeem rewards without waiting an eternity for rewards paperwork. Unlike some rewards credit cards, you won't be exasperated by sudden expiration dates or caps on your points.
While you're traveling, you can use the amenities of various airport lounges, courtesy of your rewards program. You'll have access to over 350 VIP airport lounges globally. Actually, you're entitled to two free visits a year, but if you want to use airport lounges more often than that, then you'll pay $27 per visit.
Other travel benefits include trip cancellation insurance, a baggage delay refund, roadside dispatch, and more.
Fraud & Purchase Protection, Pay in Full Each Month
In addition to the rewards, the Ink Bold with Ultimate Rewards card offers its users several forms of protection. If you determine there's an unauthorized charge on your account, you'll have the backing of Zero Liability Protection. If there's some kind of suspicious activity on your account, you'll be alerted by the Fraud Early Warning service. Price, purchase, and return protection services are available, too.
With this business credit card that's also a charge card, you won't have to keep track of fluctuating interest rates because you need to pay the balance in full each month. You'll also have a flexible spending limit — your limit will change as your business does, so you aren't likely to be constrained to your initial spending limit.
During your first year of membership, the annual fee is waived. But here's the downside: after that, it's $95 a year. But then again, if you consider all the points and rewards you can accrue, it may be possible to more than make up for that annual fee each year.
Other things to note: there are late payment and return payment penalty fees that range from $15 to $39, depending on the size of your balance. Also, if you're more than 60 days late with your payment, Chase may impose the 29.99% penalty APR on your account. If you need to travel outside the U.S. for your business, note that foreign transaction fees are now waived (there used to be a charge of 3% of the transaction amount in U.S. dollars).
Comparing Other Cards To The Ink Bold
There are a few other alternatives to the Ink Bold, and we'll take a look at a couple of them. If you're after a business card, an alternative is the Ink Classic card, which also falls under the Ultimate Rewards program. But as far as similar features go, the card that most closely resembles the Ink Bold is the Chase Sapphire Preferred card, which we've covered in this review. The Chase Sapphire Preferred Card also gives you the ability to do point transfers with other travel programs, much like what the Ink Bold card allows. Both cards have a focus on travel rewards. Here's a quick look at these options:
| | | | |
| --- | --- | --- | --- |
| | Ink Bold With Ultimate Rewards | Ink Classic Business Card | Chase Sapphire Preferred Card |
| Bonus Rewards | 50,000 points after $5,000 spent (first 3 months) | 25,000 points after $5,000 spent (first 3 months) | 40,000 points after $3,000 spent (first 3 months) |
| Everyday Rewards | From 1X to 5X per dollar on spending categories (focus on travel rewards) | From 1X to 5X per dollar on spending categories | From 1X to 2X per dollar spent, 7% annual points dividend (focus on travel rewards) |
| Card Terms | No 0% Intro Rate | 0% Intro APR for 6 months | No 0% Intro Rate |
| Annual Fee | $0 for first year, $95 thereafter | None | $0 for first year, $95 thereafter |
| Card Type | Business Charge Card (pay balance in full) | Business Credit Card with regular APR | Consumer Credit Card with regular APR |
Many businesses have opportunities to use credit cards, whether for basic supplies or for travel requirements. If your business needs a credit card, you can gain the advantage of a rewards program with Ink (SM) Bold with Ultimate Rewards (SM). Look over its advantages before you sign up for your next business credit card.
Created September 30, 2010. Updated January 23, 2012. Copyright © 2012 The Digerati Life. All Rights Reserved.