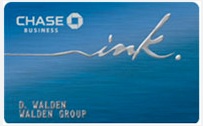 If you're running a business, one way to conveniently make purchases and manage your expenses is to segregate them by using specific credit cards. Sure, you can put your expenditures on a consumer rewards card, which can work pretty well. But if you'd like to get special rewards that are potentially advantageous to business owners, then you may want to check out a business card. For entrepreneurs and business owners who like rewards programs, there are some top cards you can turn to from AmEx and Chase. In particular, Chase offers the Ink (SM) Classic Business Card. We've previously reviewed the Ink Bold Credit Card and the Ink Cash Business Card. Ink Classic is another successful business card from Chase.
Ink Classic Business Card Terms & Features
So what's good about this card? To start with, there's a 0% introductory rate for both purchases and balance transfers. This rate lasts the first 12 billing cycles that you have the card. The promotional rate doesn't last forever so once it's expired, your APR for purchases will ratchet up to a regular rate, depending on a review of your creditworthiness. If you're after cards with longer intro rate periods (beyond 12 months), then you may want to consider other products from this list of 0% intro APR credit cards.
So if you're carrying an expensive balance on other business cards and would like to take advantage of balance transfer offers, then this Ink card could be a good bet. Note that the transaction fee for balance transfers has been adjusted to 3% of the transaction or a minimum of $5.
You don't have to worry about an annual fee with this card, though. It's also a good choice for travel, because it's well accepted worldwide.
Receive Great Incentives: 25,000 Bonus Points Plus Regular Rewards
This card offers a great bonus (like all the other Ink cards). You'll receive 10,000 in bonus points once you make an initial purchase. On top of this, you'll also receive an additional 15,000 bonus points after you make $5,000 worth of purchases in the first 3 months. So all in all, you can conceivably earn up to a total of 25,000 rewards points (or $250 you can use towards travel).
As for regular rewards, the Ink (SM) Classic Card lets you earn 5 points per dollar spent on the first $25,000 per year that you apply towards landline, cable and wireless services as well as office supplies. You'll also earn 2 points per dollar on the initial $25,000 per year that you apply towards lodging and gas. For all other purchases, you get 1 rewards point per dollar.
If you need to book a flight, you can use the program's booking tool to earn double points. And when you shop with certain merchants at the Ultimate Rewards Mall, you might be eligible to earn up to 10 times the number of points as usual.
When it's time to redeem those points, you have a variety of choices. If your business requires you to travel or you want to take a leisure trip, then you can redeem points for airfare. You won't be limited to a specific class or flight, and you can bypass fears about blackout dates or pesky restrictions.
You can also find tools and assistance when it comes to planning your trip, down to details like car rentals, hotel reservations, finding the right table for dining out, and even help finding airport parking.
As far as other rewards, you can receive gift cards, cash back, and merchandise from familiar brands. Your points aren't capped and they don't expire, so it's possible to save for the rewards you really want.
Helpful Business Tools
To assist you with your business, you can issue cards to your employees, then set the spending limit you like for each individual. Tracking spending isn't difficult because you can set alerts and check out reports online. Along with rewards and reports, you gain travel accident insurance, rental car insurance, and additional cardmember services.
Watch Rates for Cash Advances, Overdraft Advances
With regard to cash advances, business owners might want to source alternatives. That's because the APR for cash advances starts out at much higher interest rates. If you happen to have the higher APR for purchases, then you may find yourself facing a steep APR. For transaction fees, you'll pay 5% of the cash advance amount or a minimum of $15.
These same terms mirror the rates for overdraft advances. In addition, foreign transactions have a fee of 3% of the transaction amount in U.S. dollars.
To open an account, you'll need to provide some information so your identity can be verified. Expect to share your date of birth, address, and possibly your driver's license number as well as other personal details. You'll need to be 18 or over to open an account; in some states, you must be at least 19.
For business owners who prefer to make purchases with credit cards, a card rewards program can offer some choice amenities. The Ink Classic is another highly regarded Ink card that's worth a review.
Copyright © 2010 The Digerati Life. All Rights Reserved.