What do you think of the Citi ThankYou Points network and rewards program? If you've got a Citi Forward credit card, you'll earn and redeem your rewards through this program.
Shopping For A New Bank
Things have been in flux lately due to the current state of the financial industry. For instance, with banks failing and merging in the past year, it's been a challenge for customers to keep up with the changes. In my case, my personal and business accounts with Washington Mutual are now with Chase. Our mortgage with Countrywide is now with Bank of America.
Because of the transitions going on, my spouse and I have decided to make a fresh start with a new bank: might as well, since loyal customers are getting the shaft in more ways than one anyway. The banking industry should look upon this as a ripe opportunity to grab disillusioned customers (like me) who are seeking some stability.

So we decided to check into Citibank and met with a Citibank advisor to take a look at what they've got. I discovered that Citibank's accounts and products are extremely competitive compared to the "free checking" and other perks offered at my current banks. Furthermore, I came across their "ThankYou Points Network", a rewards program that helps you earn points every time you use your credit or debit card.
For my next steps, I wanted to do a bit more research on the Citi ThankYou rewards program before making our final decisions about signing up with Citibank. Here's what I found:
Citi ThankYou Points Network: Rewards For The Shopper
With the ThankYou network, I discovered that you not only get points for using your Citibank checking account, credit card or debit card, you also get points for every $1 spent on purchases made with a Citi Credit Card.
Here's a sampling from that list:
| | | |
| --- | --- | --- |
| Credit Card | Rewards Type | Notes |
| Citi Forward Card | Point Rewards | Rewards card, No annual fee |
| Citi Forward Student Card | Point Rewards | Rewards card, No annual fee |
| Citi mtvU Platinum Select Visa Card | Point Rewards | Rewards card, No annual fee |
| Citi PremierPass Elite Level | Point Rewards | Earn points for every purchase, $75 annual fee |
This is an advantage I don't have with other banks. As a dedicated online shopper, I take advantage of multiple rewards programs ranging from Upromise to MyPoints and Memolink. The idea of earning points for gift certificates and merchandise for simply doing what I usually do is very appealing.
Other ways to earn points include: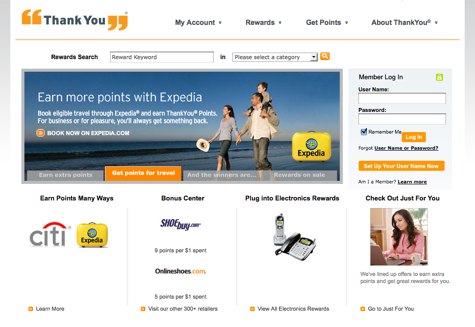 Booking eligible travel through Expedia.com, regardless of how you choose to pay,
Shopping at your favorite retailers (including Macy's, Target and Best Buy) through thankyou.com or in-store using a Citi Credit Card,
Using your Citi Card at certain specialty stores such as FAO Schwartz, Eddie Bauer and Timberland,
Making purchases from participating catalogs and buying gift certificates.
When you accumulate points, you get to cash them in for rewards. Cash outs start at 1,000 points. You can redeem your points online or on the phone. If you have 10,000 points or more, you can create your own reward through the "Your Wish Fulfilled" option (just contact a "wish specialist"). As for standard rewards, here's a sampling:
Gift certificates including the Gap, Bath and Body Works, Macy's, Hard Rock Cafe and many more,
Merchandise including books, DVDs, sporting goods, home and garden, kids and baby, electronic and office and more,
Cash, savings or charity,
Travel and experience.
With countless rewards to choose from, I was sold on this program. My other banks do not have an extensive rewards program like this plus they've also been hitting me with sneaky bank fees that I'm not thrilled about. As an alternative, Citibank has comparable financial products and accounts as other banks do, and I like how the Citibank representative offered to help me with several strategies for avoiding charges and for keeping my banking free. Adding the ThankYou Points network was enough to sweeten the deal. On top of capitalizing on the ThankYou rewards program, I'm also planning to use my Citibank debit card to accumulate other rewards such as those from MyPoints, thereby maximizing the rewards I earn.
Although switching my business and personal bank accounts with direct deposits to another financial institution can be a hassle, it's worth it when you have such an alluring incentive. We're going to be bracing to make the switch in the next few weeks after taking care of all the necessary arrangements.
Copyright © 2009 The Digerati Life. All Rights Reserved.