Citi Forward is both a great balance transfer credit card and a rewards card. We review this card here.
In the past, I've talked about how you can increase credit card savings by using debit and credit cards wisely. Well, a credit card company is taking this statement literally by offering a unique rewards card program.
Citi Forward Credit Card Review: Get Rewards For Good Behavior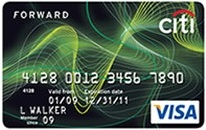 The rewards card is the Citi Forward credit card, and it's unique in this way: it encourages good behavior when it comes to managing your debt and spending. With it, you can accumulate reward points over time as you spend, but you'll also receive additional rewards when you use your credit wisely. Check out the details:
Rewarding Financially Responsible Behavior
Receive 10,000 points after $650 is spent and after you go for paperless statements (within 3 months of card receipt). This is equivalent to a $100 gift card value.
You can lower the interest rate (APR) on your balance. Reduce your purchase APR by .25% (up to 8 adjustments) if you make purchases, avoid going over your credit line and make payments on time for 3 billing periods. The maximum APR reduction for new purchases is 2%.
Get 5 points for every $1 you spend on books, music, movies and at restaurants, and 1 point for all other purchases.
Get additional points per dollar you spend.
0% APR for 7 months on purchases and 0% APR if you qualify, on balance transfers for 12 months.
No annual fee!
Your points are redeemable through the Thank You Network. You can even redeem your points for cash, much like what you'd receive from some of the best cash back cards available. There are also these other features I really like:
As a card holder, you'll be able to track your credit card spending and see how it compares to others, through a spend tracker tool (microsite). It reminds me of something that Mint or Wesabe already does.
You'll get custom bill dates and categorized monthly statements.
You'll receive email or text alerts that warn you if you're approaching your credit line or a payment due date.
You can check out UseCreditWisely.com, which is a free resource that offers information, educational materials and tools on the subject of credit management.
If you're interested, you can sign up through these links:
Rewarding Socially Responsible Behavior
In addition, Citi is also offering another version of this rewards card called Citi Forward by MySpace, which provides the same benefits as the regular Citi Forward card, except that you'll also get the chance to earn additional ThankYou points for participating in socially responsible and relevant activities such as volunteering, using energy efficient light bulbs, donating to food drives and going paperless. You can redeem points for stuff offered at MySpace, such as the ability to attend movie screenings, private concerts, special events and charity galas, and the ability to receive VIP concert tickets and music downloads.
All in all, with this card emphasizing rewards over penalties, I like how it's positioned. With a card like this, I believe that more people can be steered away from committing credit card mistakes. I'd love to see if other credit card companies follow Citi's lead.
For other top credit card selections, check out our lists:
Copyright © 2009 The Digerati Life. All Rights Reserved.